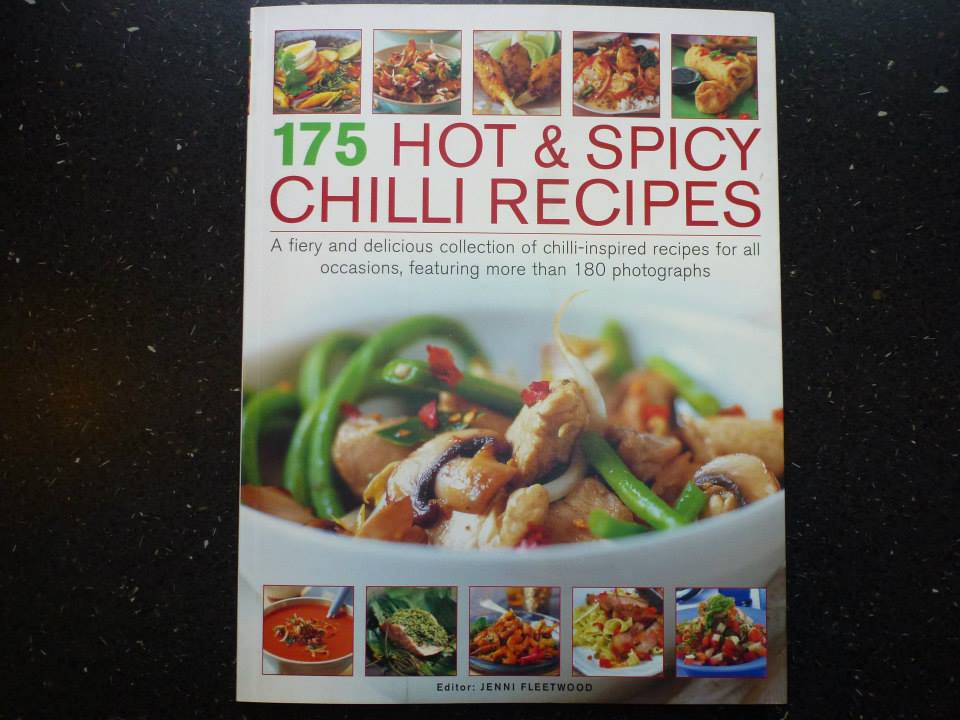 175 Hot & Spicy Chili Recipes – ISBN 978-1-84476-971-1
Author: there is no author listed, but an editor – Jenni Fleetwood
Language: English
Release: 2011
Publisher: South Water
Size: 23 x 30
Number of pages: 95
Number of recipes: 175
The book includes chili recipes from around the world. It is not written by a certain cookbook author, but are a collection of recipes. Where this kind of books are often filled with ghosts of the same 'classic' chili recipes, I think actually that this is doing well to deliver a more varied range. So even if you have one or more books with 'world-recipes' – so is this a good supplement. The recipes are such. from the Middle East, Southeast Asia, North Africa, Central America, Caribbean others.
The book is chapter-divided and covers areas: Introduction, Soups, Appetizers and Snacks, Fish and Shellfish Dishes, Chicken and Poultry Dishes, Meat Dishes, Vegetable Dishes, Pasta – Noodle and Rice, Side Dishes and Salads, Relishes and Pickles.
Introduktionen er på 2 sider forsøger på meget lille plads at fortælle lidt om hvad chili er og hvor det bruges. It's not the one you should buy the book. The rest of the pages is used in recipes.
The recipes are each accompanied by a welcoming and colorful picture of the finished 'right' og der er blevet plads til 2 opskrifter på hver side – in two vertical slots. Because the book is so great, so does it really OK. In smaller books can be a little pinched, but here it is fine.
It is one of the only cookbooks I, where there are both set goals in European and American units. A little annoying, but to survive.
Along with each recipe is a small info. An example from the recipe titled 'Scallops in Hot Chili Sauce' is this info: 'Shellfish are ofte cooked very simply in Mexico. Hot chilli sauce and lime are popular ingredients in many fish recipes'. Some of these are more detailed info and other – there are some fun new knowledge among them, I think.
The recipes are not very complicated and ingredient lists are not long. Anyone can join here. It is described in steps what to do and despite that there's not tremendously much space for each recipe, so are you actually helped and get all the essentials to know.
Although there is a yard long ingredient lists, so are the recipes really interesting enough – and I would say that the cookbook here has its greatest worth for those who want to make some quick chilimad without standing in the kitchen for hours, but nevertheless would like to try something new and exciting. It's no complicated processes and ingredients are almost all to buy in a well-stocked supermarket. A few dishes with galanga, lemongrass electricity. which can be custom-shop by, but it is not the most.