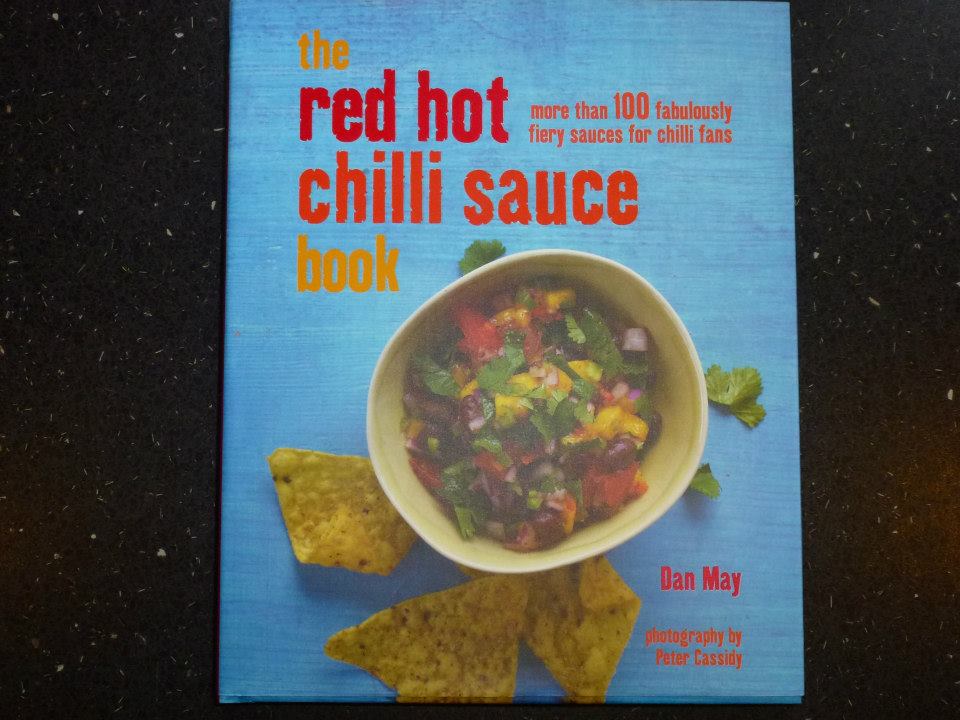 The Red Hot Chili Sauce Book – ISBN 978-1-84975-436-1
Author: Dan May
Language: English
Release: 2013
Publisher: Ryland Peters & Small
Size: 20 x 24
Number of pages: 160
Number of recipes: 100+
The book only contains recipes for sauces, marinades, dip and rubs.
After a brief introduction, we are taken on a tour to various countries / continents, where we are presented with a variety of savory delights from this very place. Each section begins with a page or two telling about how chili is typically used here and a little bit about what chili is especially used.
The book's section: Introduction, Mexico & South America, Africa, Caribbean, Mediterranean, USA, India, South-East Asia, China & Japan.
Each recipe begins with a few lines that provide information and / or tips. An example from the recipe 'Green Honey Salsa' are: 'Wild Mexican Honey kill a distinctive flavor and is not overly sweet, making it perfect for rounding off the flavors of this green salsa. If you can not get any fresh poblano chillies, try two find any large, very mild chili-to-use in it's place '.
The recipes are rounded all of the author's suggestions for use. The green salsa honey gets so these words to you: 'In spicy chicken fajitas' and other recipes have suffered a variety of proposals.
Some of the book's ingredient lists require that complements standarkøkkenet with some additional purchases, alternatively self hitter on ingredients that can replace them. A few examples are: aged tequila, dark Mexican honey, banana leaves, wild Mexican oregano, Annato seeds etc..
There are also many specific types of chili in the book, which of course definitely is both delicious and authentic. Here one must also have either grown a good selection itself or hunting for them elsewhere – aternativt use what you have just as reminiscent of.
The recipes are easy to go to. Sauces, marinades, dip and rubs usually requires not many utensils or funny techniques. There has sneaked a few decidedly recipes in here and there too, but it is not many.
A visually super delicious book without white pages with black text. Each double page has a new exciting colored background and the pictures of the food is delicious. All food is photographed in various clay pots, containers, on colored plates etc.. Things for the eye.
I think the book is wonderfully delicious in every way. I get the urge to go ahead with all the recipes and can easily see what they can be used on in the kitchen. It's great with a cookbook that feels authentic and specialized – there are enough other generic dishes and simplified ingredient lists. This has a place on the shelf among yndlingene.
Dan May has also previously written The Red Hot Chili Cookbook.