Spongy, praline-like, super delicious chocolate cake. Eaten in small servings, for example as. dessert – perhaps with a scoop of good vanilla icecream and fresh fruit or berries – or with cup of strong coffee anytime. The sweet potatoes – which in reality isn't potatoes at all – helps by adding sweetness and make the cake spongy and pralinelike, and makes sure it contains somewhat less calories than it tastes like. Cold from the fridge is like firm praline in the middle, warm is it like a real spongy chocolate'pudding'dessertcake.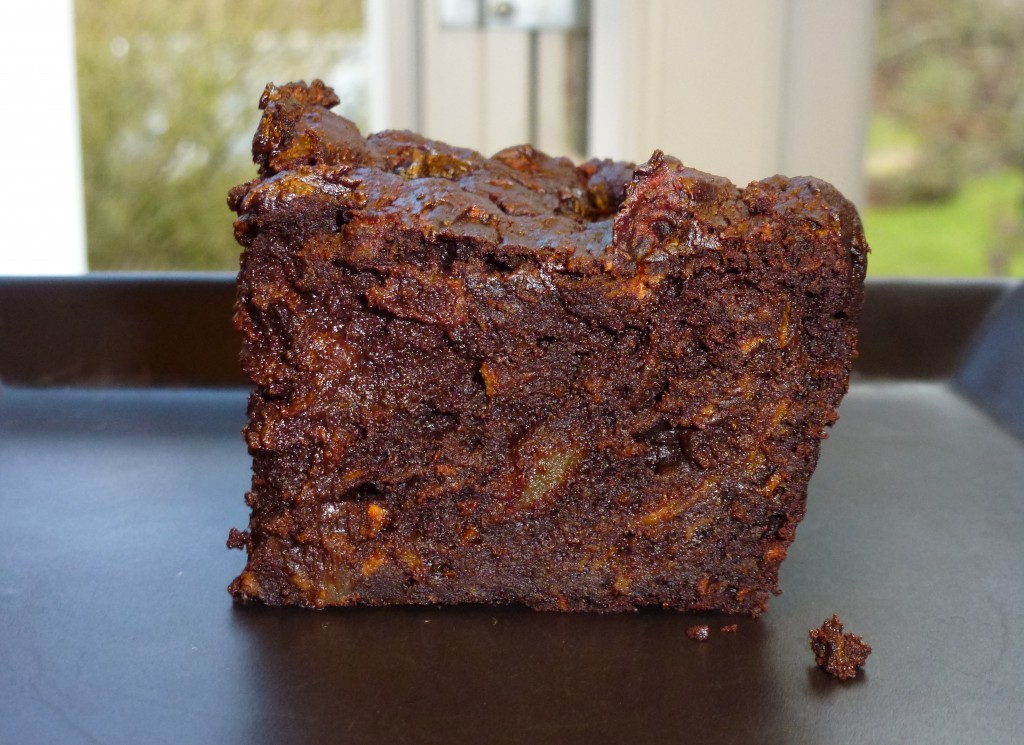 Ingredients:
200 grams of flour – eg. a coarse eco wheat flour as Dalar or try using a chickpea flour if you don't eat wheat
150 gr cocoa powder
60 gr sukrin+ (sweetener made from erythritol and stevia – the amount here is equivalent to 120 gr sugar)
2 topped teaspoons baking powder
Fresh chili or chili powder to taste
1 small teaspoon salt
400 gr dates – pitted weight
2½ dl water
500 g sweet potatoes (Sweet Potatoes)
50 g coconut oil
200 gr dark chocolate
1 can coconut milk – 4 dl
baking paper or coconut oil for the form
How to:
Sift the dry ingredients together in a large bowl.
Remove pits from the dates and chop them in the food processor along with the water until they become a mash. Starting only with dates and then add water little by little while blending.
Wash and peel the potatoes and grate them coarsely.
Chop the chocolate into small pieces if you don't use a type already in small 'drops'. Melt it in a pan over very low heat with the coconut oil. Stir into the date mash.
Mix all of the ingredients, except the sweet potatoes. well . Then stir in the sweet potatoes and put batter into a form that is either greased with coconut oil or lined with baking paper. I use a porcelain form of approximately 24 x 24 cm.
Bake at 175 degrees for about 45 minutes – baking time depends on your oven and the type of baking dish you use. Test with a clean wooden skewer if the cake has been baked enough after about 30 minutes the first time you bake it. If there is dough on the skewer, bake for a little longer in the oven and test again until it is done. The skewer should never be completely dry, it is a moist cake – i.e.. the skewer should be grasy and brown' when testing the cake, but there must be lumps of dough on it. If the cake must bake for more than 40 – 45 minutes, then cover it with baking paper for the rest of the baking time so it does not become too dark on top.
Serve slightly warm or cooled down. Stored in the refrigerator the cake becomes praline-like in the center.
This portion yields approximately 16 large or 25 small pieces.
Tips:
The batch is large, use a large bowl to stir the cake batter in – I use a 5 liter bowl – it just large enough.