Occasionally I'm out with my little booth at relevant events, Where you can taste something of what I go and do, As well as buy home.
The time for the next time you can meet me, will be announced here, when I know it.
Lige nu er der ikke planlagt noget salg i 2018, I stand just a little break.
Below you can see what I am right now standing and therefore expects to bring next time.
I do not sell through this site or online stores, Only for personal sales at these selected events a few times a year. That's one of the rules when the products are made in a private kitchen.
---
---
Smoking Hot Barbecue Sauce
Let smoked, tasted with bourbon and not too sweet.
250 ml
Kr 50,-
---
BOCalicious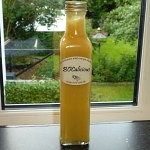 Fruity chilli sauce flavored with particular. orange.
Suitable as a salad dressing, chili sauce, marinade and for dessert.
250 ml
Kr 50,-
---
Dragon Blood (will be translated upon request)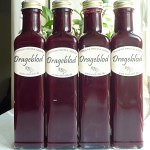 Looks a bit like a hot and fruity version of English sauce and used in the same way.
Delicious in the soft onions, On all root vegetables in the oven, steaks, Pig etc..
Kr 50,-
---
Pure Pain – Red Hot chili sauce (will be translated upon request) (superhot)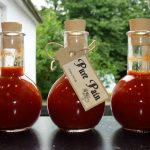 Mixed super hot chili, red wine, olive oil, tomato paste, raw cane sugar, salt, citronsyre, Sodium benzoate.
100 ml
Kr 50,-
---
Hot Bombay – hot curry sauce / dressing with chili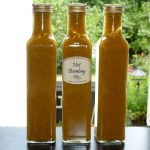 Carrots, pineapple, water, lime juice, apple cider vinegar, oil, garlic, sugar, salt, chili, spices, Atamaon.
250 ml
Kr 50,-
---
White Fire II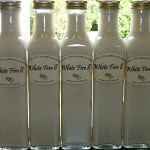 Asian tones of white and creamy chili sauce with lots of flavor. Dripping on to the fish, chicken or vegetables before or after it is prepared. Use it as salad dressing or dip.
250 ml
Kr 50,-
---
---
Sennepen is soft and dip friendly, while the whole mustard grain, so there is trust chewing. Chili is middelhot in the warm end so there are both fine strength which is rounded off by something in the air. The taste finishes with a small discreet touch of smoke.
212 ml
Kr 40,-
---
Tomato intense chilli ketchup, well seasoned and with a discreet little touch of smoke..
250 ml
Kr 30,-
---
The coconut-caramel sauce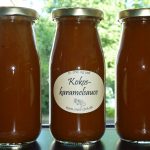 Thick and delicious dessert sauce with flavors of caramel, coconut and chili. Suitable for ice cream, cakes, dip fruit in – or maybe just to eat with a spoon.
283 ml
Kr 50,-
---
Hot Sweetie – Fruit / bærsirup with chili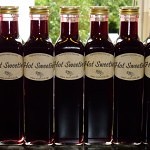 Lots of fruit and berry flavor from raspberry, strawberries, rhubarb and elderberry.
Suitable for ice cream, pancakes, Waffles and other desserts, Like dip to fresh fruit cut in bites, on cakes, in marinades and dressings and the right to give the sauce a nice finishing touch.
Kr 30,-
---
Apple-barley dessertsauce with chili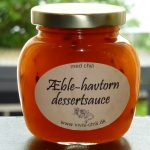 Apples, buckthorn, white balsamic vinegar, sugar, chili, xanthan gum, Sodium benzoate.
212 ml
Kr 30,-
---
---
Blackcurrant gelly with chili (will be translated upon request)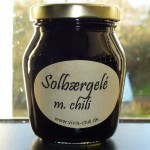 Intense blackcurrant flavor and seasoned with hot chinenser.
Contents: blackcurrant, sugar, water, chili (hot chinenser), yellow Melatin, Sodium benzoate.
212 ml
Kr 30,-
---
Æbleguf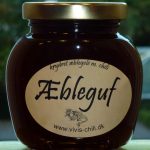 Apple leek / marmalade with delicious (mulled wine)spices and a little chili.
212 ml
Kr 30
---
Pineapple tranebærsylt with chili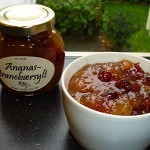 Almost exotic pineapple flavor with fine opponents of transparencies berries and chilli. Mild chili.
212 ml
Kr 30