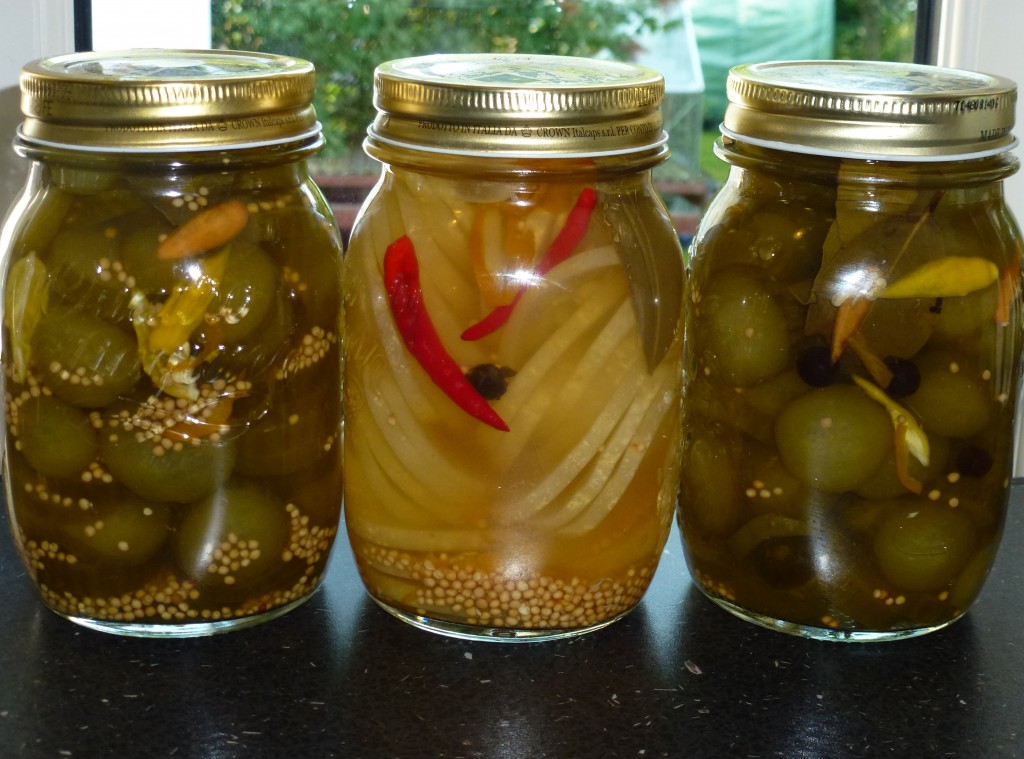 Ingredients:
2 large cucumbers or equal amount of smaller ones
3 dl vinegar of own choice – household vinegar, apple cider vinegar, malt vinegar i.e..
1½ dl water
1-2 dl sugar to taste, depends on preferred acidity
4 tsp salt
A couple of chilies to taste – cut into rings or simply halved and possibly cleaned of seeds
1 tbsp yellow mustard seeds
10 juniper berries
4-6 bay leaves
Sodium benzoat (E-211) - see instructions on bottle
How to:
Slice cucumbers into not too thin slices, and drizzle with the salt. Leave them in the fridge for 2 hours.
Let the cucumbers drip dry in a sieve for half an hour. Don't rinse them.
Fill into clean, sterilized jars and the rest of the ingredients (except Sodium benzoat) is brougt to a boil. Remove the pan from the heat and leave it to cool for 10 minutes, whereafter Sodium benzoat is added, pour over cucumbers. Close jars immediately.
Cucumbers must now be left alone for at least a week and may then either be eaten or stored for longer. Keep refridgerated after opened - also before if you've got the room for it.
If you have produced chilioil or -honey using the method where chilies are boiled in vinegar first – the vinegar can be used for this recipe afterwards. Fill up to measure with fresh vinegar then.
Including a version with small cucumber into thick slices, hvor lagen består af ren lagereddike med 500 gr rå rørsukker pr. liter.
Cucumbers are treated as described above.
I hvert 314 ml glas er agurkerne lagt lagvis med 1 gul Habanero i tynde skiver og ca 2½ tsk korianderfrø.
Husk at lade lagen stå 10 minutter inden du evt. Atamon comes in and pours it over.