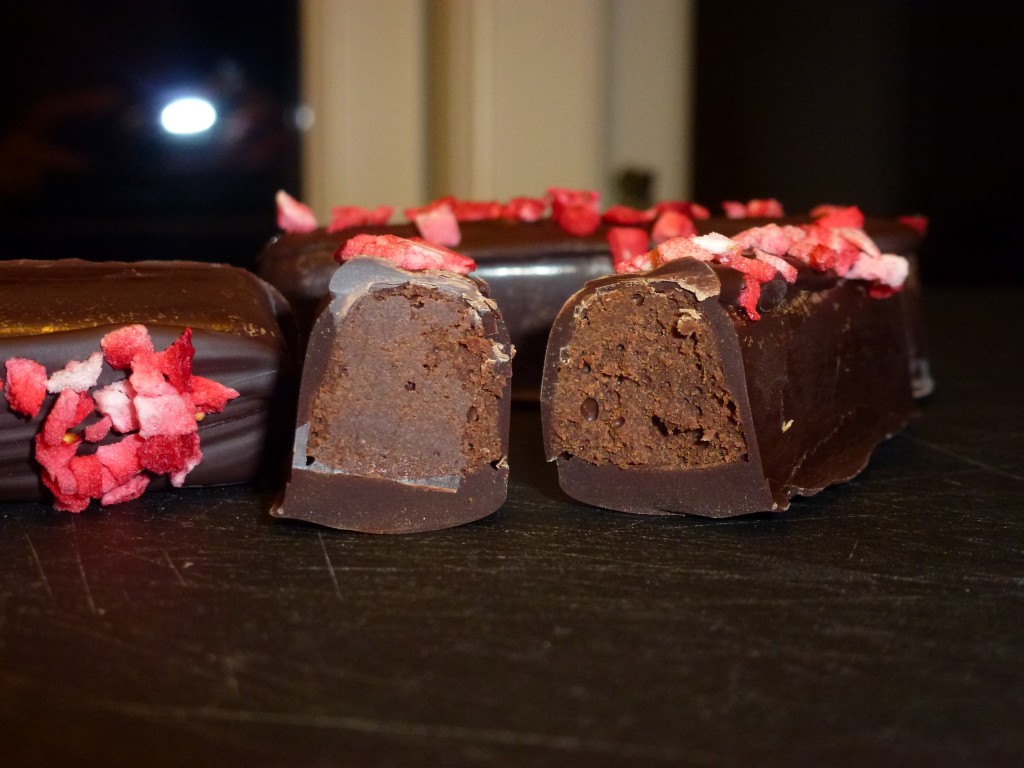 Ingredients:
Dark chocolate shells
2 dl cream 38%
1 stor spsk honning
250 gr god, dark chocolate
2 tsk chilipulver eller finthakket frisk chili efter smag
How to:
Make shells ready – see little about chocolate.
Finthak chocolate with truffle filling and place in a bowl.
Cream and honey brought quietly to the boil (must not boil) i en lille gryde under rolig omrøring.
Remove the pot from the heat and stir in the chili.
Pour it over the chopped chocolate and stir, starting in a small circle in the center of the bowl, until chocolate is melted and the mass is homogeneous.
Lad massen køle af til køkkentemperatur og fyld den derefter i chokoladeskallerne. Det gøres nemmest med en teske og duppes lidt til med fingrene. Fill almost to the edge – to just be room for molding chocolate bottom subsequent.
Set the truffle filled chocolates in the fridge ½ hour.
Melt the chocolate to the bottom (it's not always that I bother to tempered chocolate to the bottoms – but one should well).
Take the filled chocolates out of the refrigerator and casting bottoms.
Ask again the chocolates cool for half an hour – then easily be turned off.
If you use chocolate molds – tap edge look mod Køkkenbord – then pops the out. Do it in a clean tea towel, so little of the decline mitigated.
Silicone Molds first pull slightly on both leader – and then presses the chocolates out by press evenly on the bottom of each.