English here: Amarena-choco mousse cake with chili
This cake is a combination of two other recipes from the blog plus a little extra. It is easy to make and can easily be prepared the day before you would like to eat it.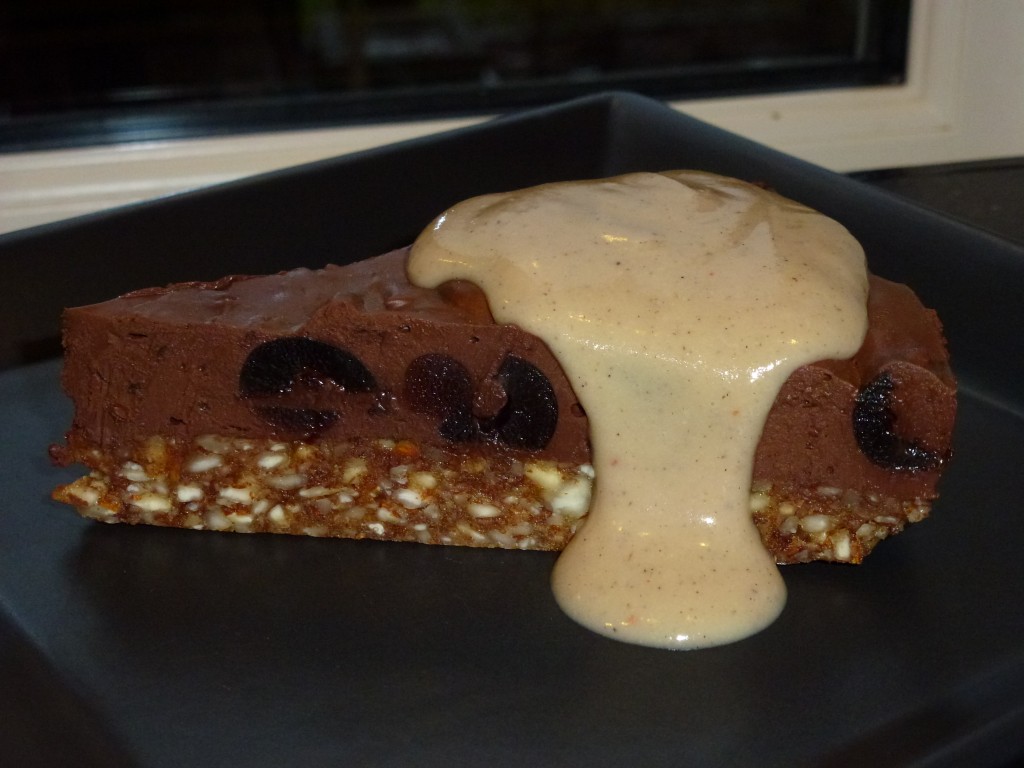 Ingredients – base:
500 gr almonds
6-8 bitter almonds or apricot kernels
4 tbsp honey or syrup – i.e.. maple syrup
6-8 tablespoons rum (Alternatively, other spirits, juice or just water - a powerful marzipan taste
is obtained by using Amaretto)
Ingredients – choco mousse layer:
1 large glass Amarena cherries, 600 gr
300 gr. silken tofu (1 package)
4 tablespoons. cocoa powder w. small top
150 gr. dark chocolate
50 gr. coconut oil
5 tablespoons. maple syrup (or agave syrup / other syrup or 4 tablespoons honey or blended dates or some stevia sweetener of choice)
A pinch of salt
A little chili powder
Ingredients – sauce:
50 g coconut oil
The syrup from the cherries
300 gr. silken tofu (1 package)
1 teaspoon vannilla powder
A little chili powder to taste
How to – base:
Line the bottom of a 25 cm springform with baking paper. Put paper at the bottom of the mold, close the mold and cut most of the excess paper.
Follow the recipe here: Marzipan – and make a rather coarse marzipan. Mix possibly. little chili powder in when the almonds are blended.
Press out the mass into the bottom of the form – as evenly as you can.
How to choco mousse:
Pour the cherries into a sieve and drain them – save the syrup. Chop the berries coarsely and place them and the bottom on the kitchen table ready for the next steps.
Follow the recipe here: Choco mousse – and immediately chokomoussemassen is finished, fold the cherries into it and distribute it over the bottom.
Place the cake in the fridge.
How to – sauce:
Melt the coconut oil at very low heat.
The rest of the ingredients are blended together to form a uniform créme. Scrape the sides down along the way.
Add the coconut oil while blending at medium speed.
Put the cream in a bowl, cover it and keep it chilled until serving.