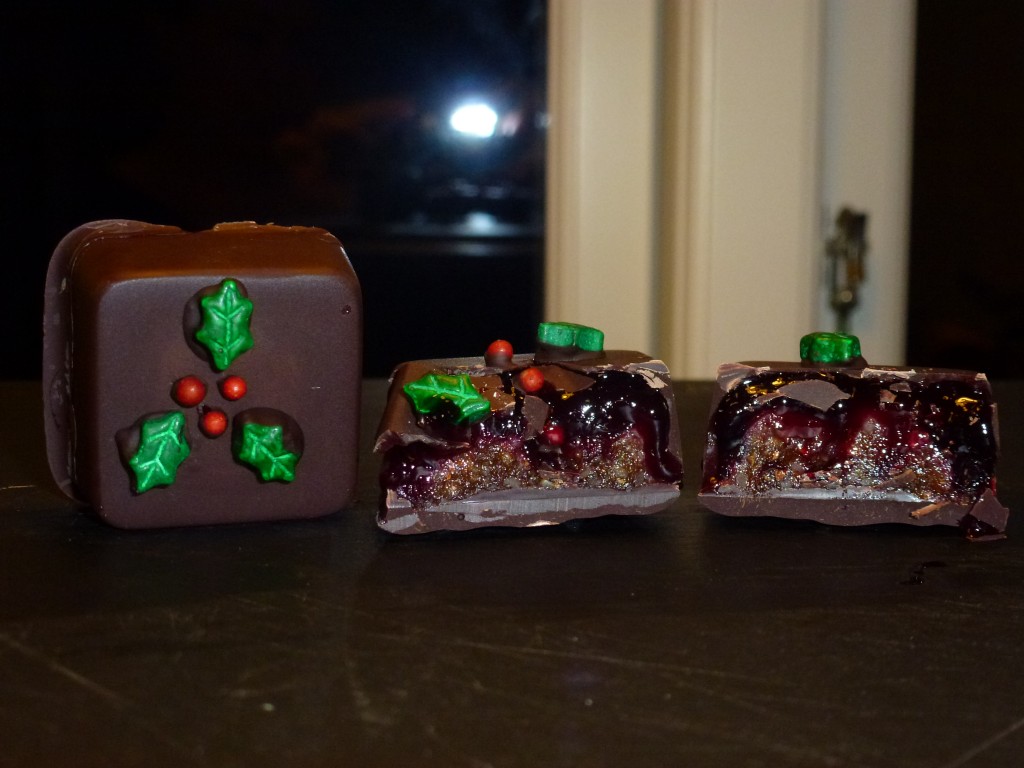 Ingredients:
Dark chocolate shells
250 gr mandler
3 – 4 bittermandler eller abrikoskerner
2 spsk honning eller mere
3 – 4 spsk Creme de Cassis eller anden solbærlikør
2 tsk pulverkaffe
1 tsk engelsk lakridspulver
½ – 1 tsp chili powder
god, strong, homemade blackcurrant jam – like flavored with rum
How to:
Prepare shells – see . little about chocolate.
Mandlerne hakkes – med skind – i en foodprocessor indtil de har en konsistens som meget groft mel – prøv dig frem hvilken konsistens du bedst kan lide. I think that this marzipan must be more coarse than the regular store bought marzipan.
Add honey, chili, licorice powder, Creme de Cassis og pulverkaffe og kør til massen er let sammenhængende – endelig ikke for længe. The mixture should be slightly sticky, måske skal der lidt mere vædske i – kommer an på hvor fint du malede mandlerne og hvor store skefulde honning der kom i.
Stir a little rum in solbærmarmeladen if not already.
Fill blackcurrant jam in the bottom of the shells
Add a bit of marzipan mass upstairs solbærmarmeladen – make sure there is room to cast off with chocolate.
Close off with melted chocolate, decoration CE. with whatever you find on.
It can be a little difficult to close them if the filling is very wet. Please start by pouring the chocolate around the edges when you close and then fill up to the middle – then it goes a little easier.