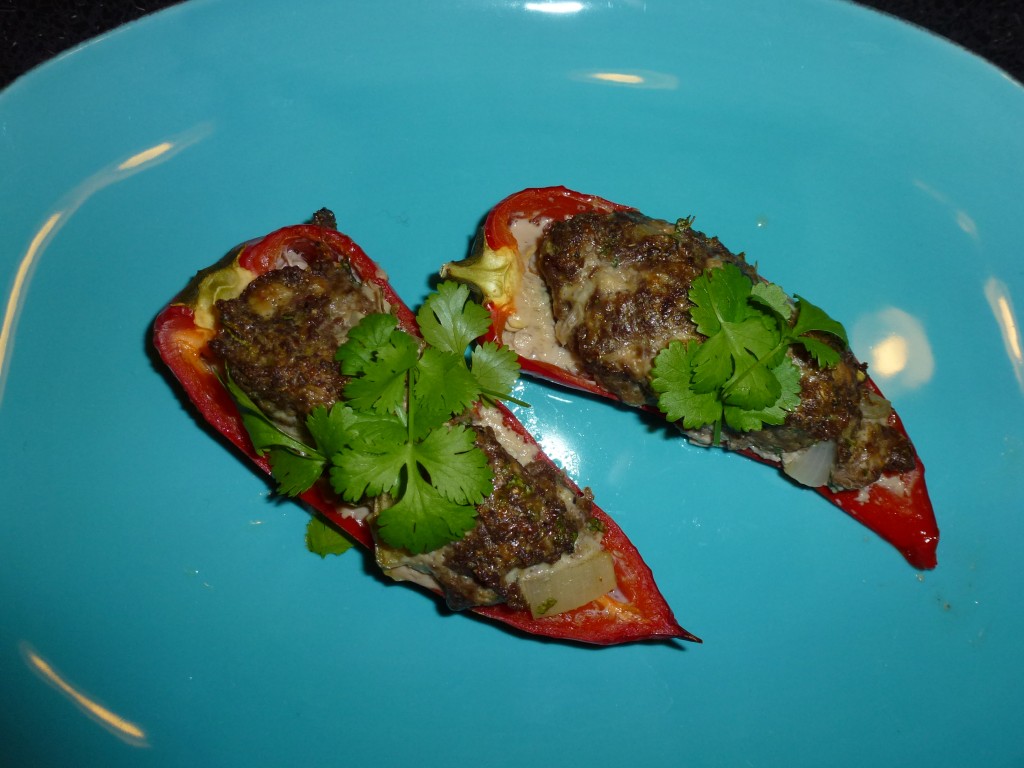 Ingredients:
8 – 10 store spidse peberfrugter – or a portion sized sweet chilies, such that when they are bisected fills the a large baking pan
ca 800 – 1000 gr økologisk hakket okse, ged, or lamb
2 store løg, chopped
4 æg
approximately ½ garlic, chopped
fresh chopped chilli, chili or hot chili sauce to taste
1½ topspsk stødt koriander
a great big bunch of fresh coriander, chopped
salt and peber
How to:
Rens og to-del peberfrugt/sød chili. Deseed them, but let the stem sit, so as not to cut a hole.
Mix remaining ingredients and fill in the halved fruit. Avg possibly. some fresh cilantro for garnish.
Bag dem i en forvarmet ovn ved 225 grader ca. 25 minutter – shorter time if it is less fruits.
Serve with ex. a large portion of green salad and sprinkle like a bit of fresh cilantro on by serving.
Variér selv fyldet ;o)
– Add ex. Feta
– Læg gedeost ovenpå de sidste 5 minutter af bagetiden – Drys, possibly. with sortløgsfrø
– Grate the peel of an eco-lime in
– Add the grated ginger
– Put small ærter in – or fresh sweet corn kernels or grated root
– Add the cumin and parsley instead of coriander
If they are made with chili instead of bell peppers can the cunningly used as snacks. Delicious with medium hot chili'skaller' I would think.