ca 18 stk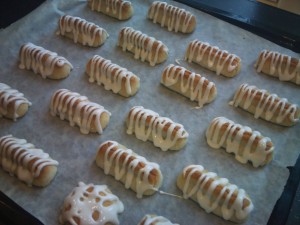 Ingredients, marzipan:
500 g marzipan
200 gr flormelis, as
1 æggehvide
Ingredients, glaze:
½ tsp vinegar – any apple vinegar
1 æggehvide
ca 150 gr flormelis
How to:
Knead the marzipan and icing sugar. Pisk æggehviden let med en gaffen og ælt den ind i massen lidt ad gangen. The mixture should be soft, but not glued. Being the sticky, can be adjusted with a little more icing sugar.
Mål massen af i klumper af 40 gram og form dem til små tykke pølser, where pressed look of the classic triangular shape.
Put them on two baking sheets (doubled) lined with baking parchment.
Bages ved 230 grader i forvarmet ovn 8 – 10 minutes. Keep a close eye on them and remove them immediately they are golden brown.
Let them cool on the plate – they are very soft when hot.
Mix the ingredients for the glaze and spray them on the cooled cake pieces. You can shape a cone of wax paper and use – or use a small freezer bag. Pour the mixture into the bag and cut a small corner of. Charge icing dry completely.
Store in a cake tin with baking paper.
Note:
You need two baking sheets on top of each other for not getting the cakes too dark at the bottom
You can not make cake with hot air – use conventional oven.
You can of course make them in a different form and in a different weight / size if you like – but since they have such a short time in the oven, it is important that they have the same size – try any of the.