Krokant er supernemt at lave og meget anvendelig i og til en lang række desserter og kager. Det kan drysses over næsten hvadsomhelst og bruges i eks. Apple Cake, is, chocolate cakes and more.
You can use whatever you feel like nuts and grains – like the mix if you like. The goals are not as important – but not low krokant before, you can use the recipe here as a starting point. Next time you might have more or less of sugar, salt or chilli. You can choose to chop the almonds / nuts before you get them in – I leave them all because I think it looks good to you see them clearly when krokanten cut..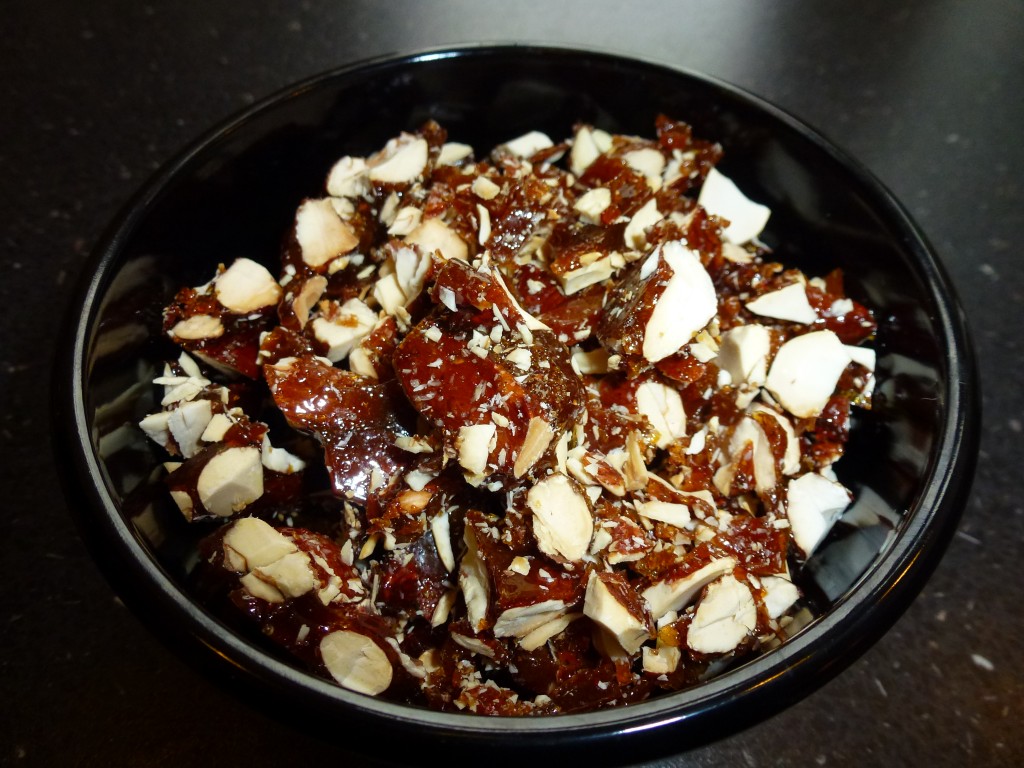 Ingredients:
100 gr sukker
100 gr mandler eller andet (possibly. coarsely chopped)
1 lille tsk flagesalt
1 lille tsk chilipulver
How to:
Find the ingredients and target them by.
The sugar melted quietly over medium heat in a frying pan. It is important that the temperature is not too cold – then melts it never – or hot – so it burns quickly on. Keep a close eye on it.
When it is turned molten salt and almonds well around the sugar mass. Let stand a minute or two and heat through – tonsils may begin to pop, it must be good.
Just inside the shell of the heat Stir chili powder around the mass. Do not pour it in before, then it can Branka in the hot sugar mass.
Pour the mixture onto a baking sheet and let it cool completely.
Hak den i stykker på skærebrættet med en stor skniv når den er kølet helt og brug krokanten med det samme eller opbevar det i en lufttæt dåse.
Tips:
It is important to krokanten are kept in fully air-tight container in order not to become soft. maybe some. residual is delicious finely chopped on morgenhavregrynene or youghurten – or just as a snack.
Of course you can spice up your crunchy with everything except chili – Try the items. with cinnamon also. Chili and cinnamon Smag also fantastic together.