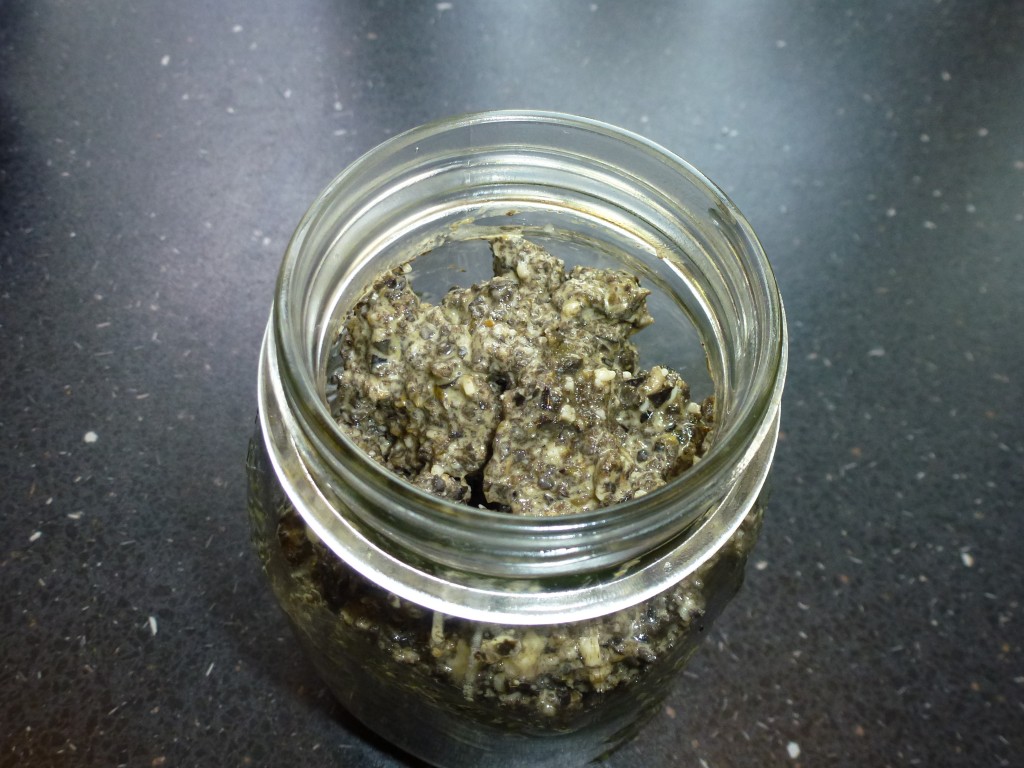 Ingredients:
Ca 250 gr sorte oliven uden sten – mild or strong for your taste, like mixed
2 fed hvidløg, pressed
1½ spsk saltede kapers – the best you can find
Frisk chili, finely chopped – amount to taste
1½ spsk citronsaft
25 – 50 gr frisk Parmigiano-Reggiano skåret i flager (Parmesan or Pecorino can be used)
½ – 3/4 dl koldpresset ekstra jomfruolivenolie
How to:
Hold lidt olivenolie tilbage. Everything else blended into a homogeneous mass. The final olive oil is poured in the end if necessary consistency.
If you fine hoes chili and garlic presses before blender, you can stop when you think that the olives have the right consistency. If you put them in coarsely chopped instead, bliver de også lidt rustikke i den færdige tapenade – which has its own charm.
Eaten with freshly baked baguettes, savory flatbread, breadsticks, chips, grønsagssticks or a few spoonfuls on top of stews or soups. Use it if necessary. as part of a 'tapas'bord.
Tips: if you like it you can add fresh chopped herbs – i.e.. basil or oregano. You can also pick a couple semidried tomatoes and throw back into the blender.
Sticking best in a scalded, closed glass jar in the fridge.
Pretty, it is not, but good it tastes. Parmigianoen provides a toplækker extra umamismag on top of the already present.