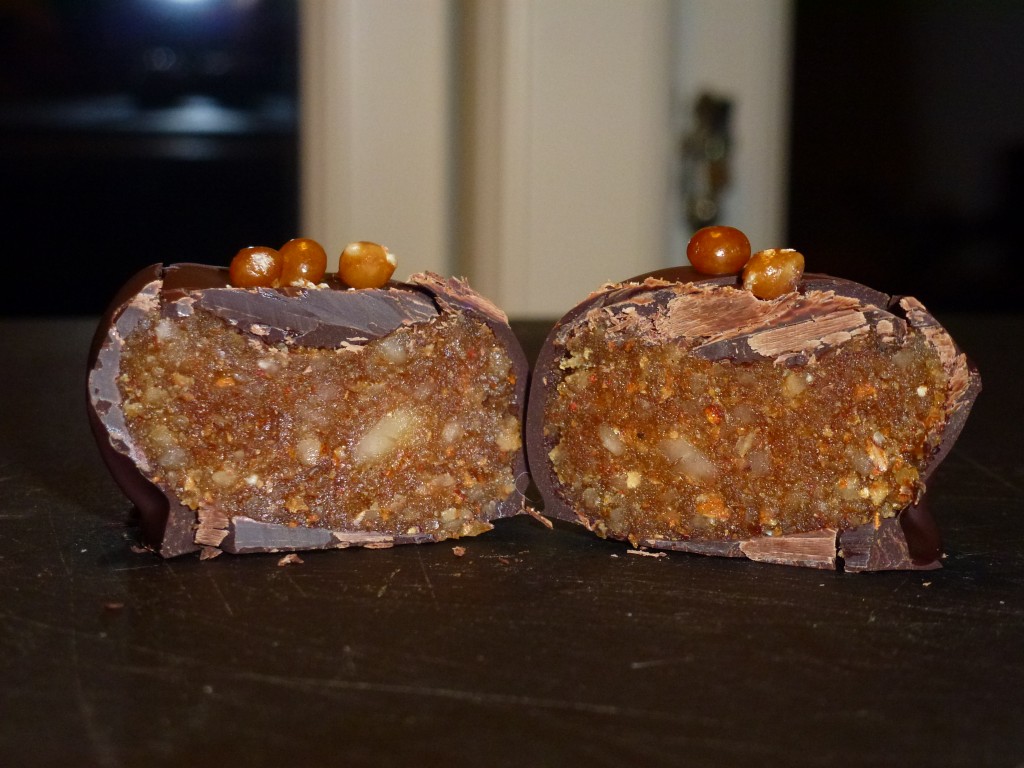 Ingredients:
Dark chocolate for coating
250 gr mandler
3 – 4 bittermandler eller abrikoskerner
2 spsk honning eller mere
3 – 4 spsk Amaretto
½ tsp chilli powder
10 grønne kardemomme
1 brun kardemomme
How to:
Mandlerne hakkes – med skal – i en foodprocessor indtil de har en konsistens som meget groft mel – prøv dig frem hvilken konsistens du bedst kan lide. I think that this marzipan must be more coarse than the regular store bought marzipan.
Honey is added and it is run some laps again.
Crush the green cardamom and remove the shell holders – crush the seeds.
Riv ca. ½ brown cardamom in a small nutmeg grater or whatever you use for the kind of. If it is a soft cardamom where you can easily get the seeds out, use only those, but from the capsule – crush them with the seeds of the green cardamoms.
Add the chilli, kardemommer og Amaretto til massen i foodprocessoren og kør til den er let sammenhængende – endelig ikke for længe. The mixture should be slightly sticky, måske skal der lidt mere vædske i – kommer an på hvor fint du malede mandlerne og hvor store skefulde honning der kom i.
Skrab pulp in a bowl, cover with film and place it in the refrigerator at least one hour.
Rul marcipanen til kugler som står og tørrer på køkkenbordet 1 times tid.
Dip them in tempered chocolate – see . little about chocolate, decoration CE. with whatever you find on and serve.
Lodtrækningsdag ;o)
Christmas draw are final and I very much hope that the last packets when out on Monday.
Meeeen – I had the thought me that we should continue to d. 24 – so should not we make a small New Year prize draw? – when I can not and will send rockets or cod – I have made a few packages with what I have now standing 'in the warehouse' for the last days.
If you want to participate in today's draw for a few samples of what I have on the shelves – namely a package with a glass of Tropicana yellow chili sauce, et chili med blue Æblegelé (Christmas Edition), a glass of yellow chilli jam and a small glass of red hot chili sauce……please write a comment here below by tonight: 22 december 2012, kl 23.59.
Packets sent from a post office d. 27 december.
If you can not see a place to write, click on the recipe title, then you come the right way.
It's OK just to write that you would like to participate if you do not have another at heart.
If you win, I will send you a private email, When I ask for your address, so I can send the gift to you. Your email address will not be published on this site or elsewhere, but I can see the 'behind' system.
If you have not written anything to me here at capacity before, you probably will not see your voice message pop up including all when you wrote the. This is because, I must approve all people the first time they write. Just calm – I can well see both OGM and the time it is written in – and it will show up when I have approved the – before the draw.
Winners' names will be published on the site. Winners will also be notified by. mail.
You can participate once per draw.
I reserve the right to delete all drawing related to the recipes when we reach January. I charge any other bemærkninger that you may have written to the recipe stand.
Everything is made in an ordinary household kitchen.
http://vivis-chili.dk/opskrifter/overtrukne-marcipankugler-med-chili-og-2-slags-kardemomme.html