When coming beetroot with the vegetable box, we use them often either raw in salads or baked with other root vegetables. But I came across a recipe for creamed beetroot other day as may be tested – and corrected slightly to our taste. It was really delicious and certainly not the last time we try it. We had both the general darkness and some beautiful striped this time – it looked festive out down the pan.
Share the Year in the picture is a confit of one of its kind which is toasted crisp on the forehead. It's from an organic farmer in western Jutland and purchased through the seasons. It is one of the best and as I've ever been. They sell it occasionally – Also the ducks away regularly – they are wildly good. Seasonal protein range varies widely – men det er alt sammen super kvalitet.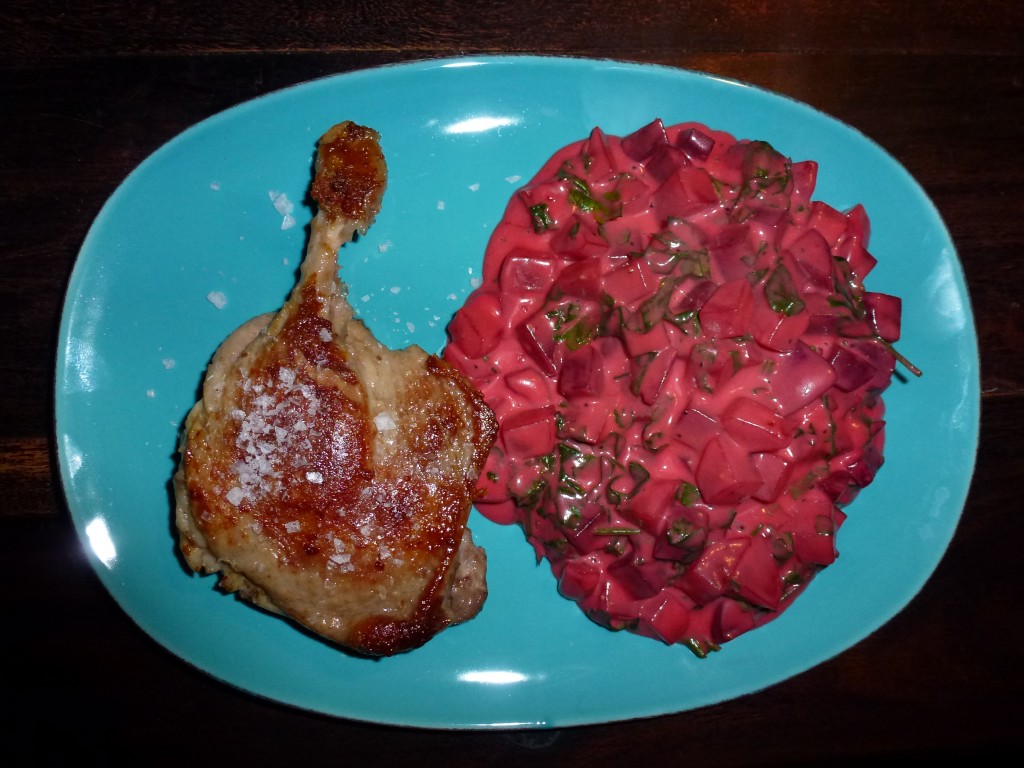 Ingredients:
1 kg beetroots, use the red, yellow, white, striped – what you have just
4 dl piskefløde
1 meget stort bundt bredbladet persille, grofthakket
1 topspsk dijonsennep
yellow chili sauce to taste
salt and peber
possibly slightly thickens
How to:
Peel the beets and cut them into cubes of about 1×1 cm.
Cook until tender with salt, covered in water just barely covers – det tager ca 5 – 6 minutter. Remember that beetroot is pretty solid, they have to be – taste your way if they have had enough.
Pour almost all the water from – there should be about ½ inch back into the pan – and add the cream.
Season with mustard, gul chilisauce, salt and peber. You should be able to taste all the ingredients.
Smooth any. right with a little of your favorite leveling.
Simmer card and turn the parsley in. Heat through and serve immediately.