Smørmørt comfortfood med max smag.
Til 4 – 6 personer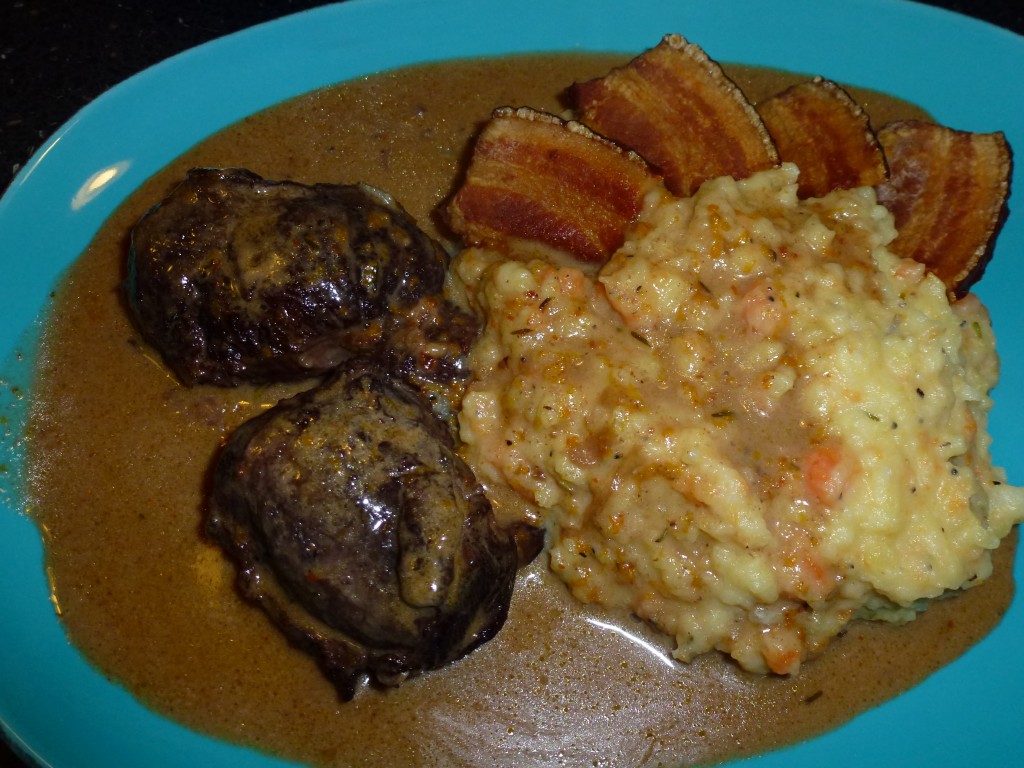 Ingredients:
12 – 16 svinekæber
1 flaske rødvin
2 øko appelsiner
Chili to taste
Olive oil
Butter
3 – 4 rødder – i.e.. gulerødder and parsnips
1 stort løg eller 2 mindre
2 – 3 stilke bladdselleri eller lidt knoldselleri
½ head of garlic
1 – 2 stilke frisk rosmarin
1 lille håndfuld frisk timian
as. 15 tørrede enebær
6 – 8 laurbærblade
Salt and peber
Et on sksk. danablue eller Roquefort
1 – 2 dl cream 38%
Accessories: i.e.. root vegetables and a little bacon
How to:
Wash the roots and peel them if necessary. If you use celeriac, hear it here. Cut them into approximately. 1 cm store stykker og brun/karamelisér dem ved god varme i en blanding af olivenolie og smør.
Shine while pig jaws of the largest tendons – or render them completely if you think – I mean only that it is the largest tendons which are in Vejen. Season them with salt and pepper on both sides.
Peel the onion and cut it into chunks.
Når rodfrugterne er brunede tages de op og løget får samme tur.
Up with it and now browned pork jaws at a few laps, so they only located in a layer.
When the last is browned, Pour onions and root vegetables back to the pan and add the red wine here, not kket chili, bladselleri i 1 cm stykker, grofthakket hvidløg, rosemary, thyme, juniper berries and bay.
Turn it all around and put a lid on the pot. Lad indholdet simre 2 – 2½ time. Turn any. rundt i sagerne en gang eller to undervejs.
Meanwhile wash orange founders, peeled grated fine and the juice squeezed out. Turn the juice and peel together in a small bowl and set it aside.
Når kæberne er simret møre tages kæberne op af gryden og lægges til side.
The sauce strained and poured back into the pot – pressure the last juice out of the mass with the back of a spoon. Add orange juice and peel – let reduce to appropriate kosistens. Round the sauce with only a few tablespoons. danablue/roquefort som simrer til det er opløst og så 1 – 2 dl cream 38%. Taste and. Add salt and pepper and warm it through with jaws. There should preferably not be touched – they easily fall apart now.
Served items. with a good moss and a little crispy bacon or pancetta on top.
Prepare any. accessory while waiting at the jaws. We make usually a coarse root vegetables to. Det kan være med 3 – 4 stykker af flg.: potatoes, celeriac, pastinakker, parsnips and carrots.
Skræl rødderne og skær dem i nogenlunde ens størrelse.
Steam until tender in a little water without salt.
Mash them coarsely with a little milk, butter, salt and peber and stir CE. eventually one tablespoon Roquefort in.
Tasted like further with a little chopped herbs and / or a little dried chilli flakes.