English here: Smoking Hot Barbecue Sauce
A super delicious and versatile barbecue sauce that is worth the effort. If you do not have the opportunity to smoke the tomatoes, then theres mentioned an alternative at the bottom of the page.
Use the sauce as it is on grilled / fried / roasted vegetables, meat, poultry and oily fish. Use it in sauces and dips – alone or whisked together with other kinds of dip. Use it in burger, on hot dogs, French fries and pulled pork, etc..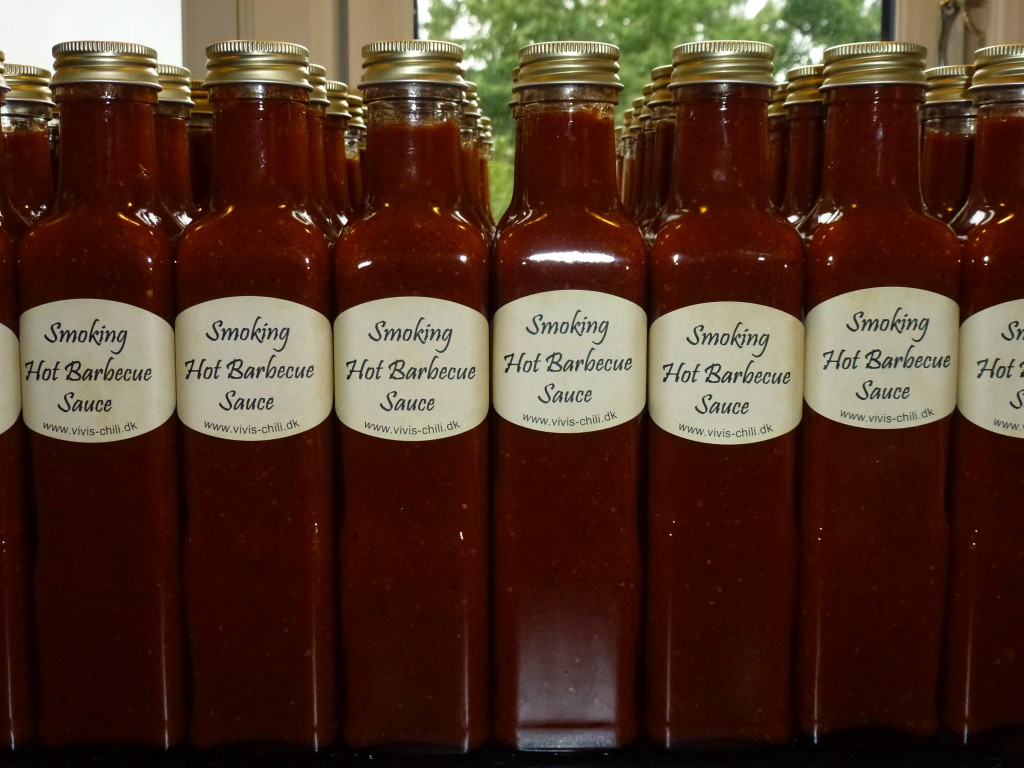 Ingredients:
10 kg tomatoes
5 dl virgin olive oil (or other oil)
10 large or 20 small onions – approx 1500 gr
5 litres of applejuice (or freshly squeezed juice or must)
1 liter apple cider vinegar (preferably a sharp tasting version)
5 dl dark sweet soy sauce
5 dl mushroom soya
5 whole garlic – approx 250 g
Fresh or dried chilli to taste
10 tsp allspice
150 gr Brown mustard seeds
700 gr tomato paste / tomato concentrate
250 g tomato powder or 4-500 gr tomato paste/tomatkoncentrat extra
250 ml maple syrup
muscovado, brown sugar or other dark sugar, possibly. liquid smoke salt to taste
1 bottle of bourbon
Sodium benzoate
How to:
Wash and halve the tomatoes. Dry them in the oven at low heat (50 degrees celsius in my oven) until they're about half the size of what they started out as, maybe a little larger – but they must have evaporated some liquid. It can take up to 24 hours.
Now cold smoke the tomatoes for 24 – 48 hours. I use a mixture of beech- and alder chips an smoke for about 48 hours..
Peel the onions and chop them roughly. Brown the onions at low heat in half of the olive oil. They should be browned , a little more than golden. Be careful that they do not blacken.
Then add the remaining oil, tomatoes, apple juice, the vinegar and the two kinds of soy. Heat it over a low flame while you prepare the rest of the ingredients and put into the pan.
Finely chop garlic and chilli (easily done in a food processor) and add them.
Grind the mustard seeds in a spice mill/grinder (remember that they 'grow' to about. triple in volume in the mill when they're ground) and add them to the pan.
Allspice is ground the same way and added to the pan.
Leave the mixture to simmer for 20 minutes or a bit longer. Stir frequently so it does not burn. Puree with a hand blender.
Add the maple syrup, tomato powder and tomato concentrate and let simmer again for 15 – 20 minutes. Stir again regularly in the pan. Puree again with the hand blender (Now it becomes finer in texture and more consistent).
Season with more maple syrup or muscovado / brown sugar, salt and possibly. some liquid smoke if you like.
Remove from the heat and add the bourbon and Sodium benzoate.
Immediately pour into clean, scalded and optionally. Sodium benzoate rinsed bottles which are closed immediately.
Tips:
If you are unable to smoke your tomatoes, you can use a little Liquid Smoke to taste instead. For this portion here I have used 1 bottle of Stubbs Hickory and 1 bottle of Stubbs Mesquite.
If it is not possible to get good, tasty tomatoes (and if you do use Liquid Smoke) – then use about 7 ½ kg good canned tomatoes or tomatoes from glass instead (peeled, possibly. chopped). Cook them along with apple juice to about 2/3 volume before using them.
This portion will yield about 15-18 liters of sauce, depending on how much moisture you got evaporated from the tomatoes. Divide the amounts in the recipe down to something that you think is appropriate.
Use good canned tomatoes and / or Liquid Smoke if you do not want to dry the tomatoes and / or smoked them.