A delicious, spongy banana cake with chili and thick, lightly salted, chilli caramel flavored topping. It tastes great both freshly baked and after being cooled down in the refrigerator and can easily be varied with different toppings and / or spices, nuts etc..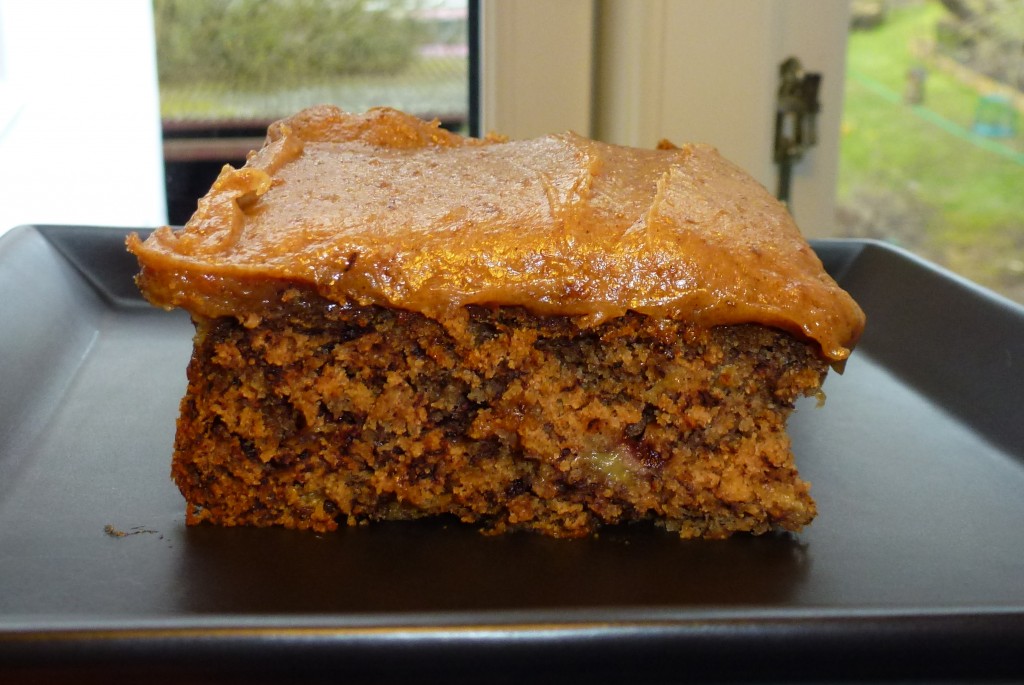 Ingredients – the cake:
300 g. good quallity wheat flour (Ø) or for example. chickpea flour if you do not eat wheat
60 gr Sukrin+ (sweetener made from erythritol and stevia – the amount here is equivalent to 120 gr sugar)
2 tsp. baking soda w. small top
2 tsp. baking soda w. small top
1 tsp. salt w. small top
1 tsp. vanilla powder w. small top
1 tsp. cinnamon w. small top
A little chili powder or freshly chopped chili to taste
100 gr. coconut oil
6-7 large or 8-10 small well ripe bananas
2 tablespoons. lemon juice or apple cider vinegar (activates the baking soda)
Caramel Topping:
500 gr of dates
1 dl water (use soak water from the dates, hvs possible)
200 gr smooth peanutbutter
1 teaspoon salt
chili to taste, fresh or powder
50 g coconut oil
1 dl maple syrup
1 tsp vanilla powder
How to – cake:
Turn on the oven at 175 degrees celsius.
Line a form of approximately 25 x 35 cm with baking paper.
Mix flour, Sukrin , baking powder and -soda, salt and spices in a large bowl.
Melt coconut oil at very low heat .
Mash the bananas thoroughly – easily done e.g.. with a fork on a cutting board – or use the food processor. They must be almost liquid, since they are the only, along with coconut oil and the little bit of acid which is' liquid' in the recipe. Put them in the bowl with melted coconut oil and vinegar or lemon juice.
Stir the batter well.
Fill the cake batter into the form and smooth out the surface. Bake approximately 45 minutes.
Remove cake from oven, place it on a wire rack and let it cool completely.
This portion yields about 12 large pieces or 20 smaller.
How to – caramel topping:
Melt the coconut oil over low heat.
If the dates are quite soft, skal de udblødes mindst 1 time i varmt vand, Pour boiling water over so they are covered and leave them on the kitchen table. Then pour water from – gem 1 dl til næste skridt ( the rest can possibly used in a smoothie or other).
First blend the the dates in the food processor while slowly adding water.
Add remaining ingredients and blend until the texture is smooth and a like a very thick caramel sauce.
Fordel karameltopppingen over den afkølede kage.
Can be eaten immediately or after setting in the refrigerator for a while, the caramel toppping will firm up a bit in the fridge.
Store the cake refrigerated.
Tips:
Try . to spice the cake with a little nutmeg or mace – that suits the banana taste really well.
You can also replace wheat flour with gluten free flour or ex. defatted coconut or almond flour.
Try adding a little dried berries – i.e.. cranberries, cherries or blueberries. Fresh can also be used, of course, – but it makes the cake a little more wet.
Instead of caramel topping you can use e.g.. the chocolate topping here: Chocolate Topping
If you use chocolate topping it may be nice to add whole or coarsely chopped nuts in the cake batter. It may be e.g.. walnuts, pecans, hazelnuts, pistachios, almonds, etc..
Caramel Topping:
Cake with chocolate topping after this recipe: Chocolate Topping