Mango chutney is suitable for many kinds of food in both the cold and the hot kitchen. It can be used in the laying, wherein the whistle egg food, pate, the cut meat and cheese etc.. up – turn it with a little sour cream and use it in sanwich- or burgerbollen – or as a sauce for vegetables. Delicious on tallekenen as an accompaniment to many hot dishes as well as on top of rice dishes. As accessories / dip for good bread – like with other kinds of 'dip'. Try it also on fish – både som tilbehør til den færdige fisk og som marinade i pakken med den bagte fisk.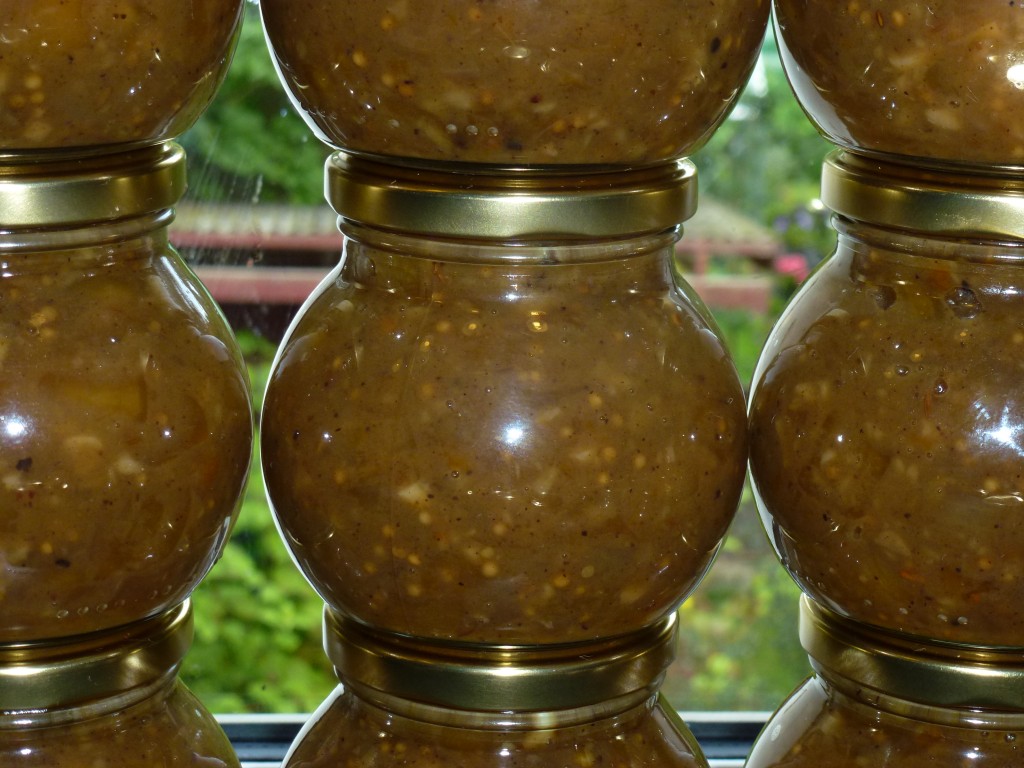 Ingredients:
5 kg mango i tern eller stykker (gutted weight)
1 kg ingefær
2½ kg store løg
5 hvidløg
fresh or dried chilli to taste (to both – i.e.. chillies and dried flakes)
5 dl hvidvinseddike eller æbleeddike
1,5 kg brun sukker (muscovado, brown sugar power)
1,5 kg rå rørsukker
5 dl neutal olie eller extra jomfru olivenolie
10 top tsk ingefærpulver
5 tsk allehånde
10 stykker muskatblomme
2½ muskatnød
2½ tsk nelliker
5 tsk spidskommen
250 gr salt
30 top tsk sennepsfrø
maybe some. Sodium benzoate
How to:
Mangoes are peeled and cut into cubes or pieces to taste.
Ginger and garlic peeled and finely chopped.
Allspice, mace, muskatnød, and cloves ground to (rough) powder in spice mill.
Peel the onions and cut them into cubes. Heat the oil to medium temperature and onions fry until transparent – like lightly golden.
Add the vinegar, chili, the two kinds of sugar, ginger powder, the painted spices, cumin, salt and mustard seed. Bring it quietly to a boil and simmer, uncovered, for a few minutes.
Add the mango, garlic and fresh ginger and let it simmer until it is cooked into the proper consistency. Det tager typisk mellem ½ og 1 time. Stir into the pot along the way and pay particular attention towards the end of indkogningen, so the mass does not burn.
Remove from the heat and add Atamon if you use it.
Fill immediately on cleaned, scalded and optionally. Atamonskyllede glass which immediately closed.