A hit on weekend breakfast table and a good way to use marmalade and chili on.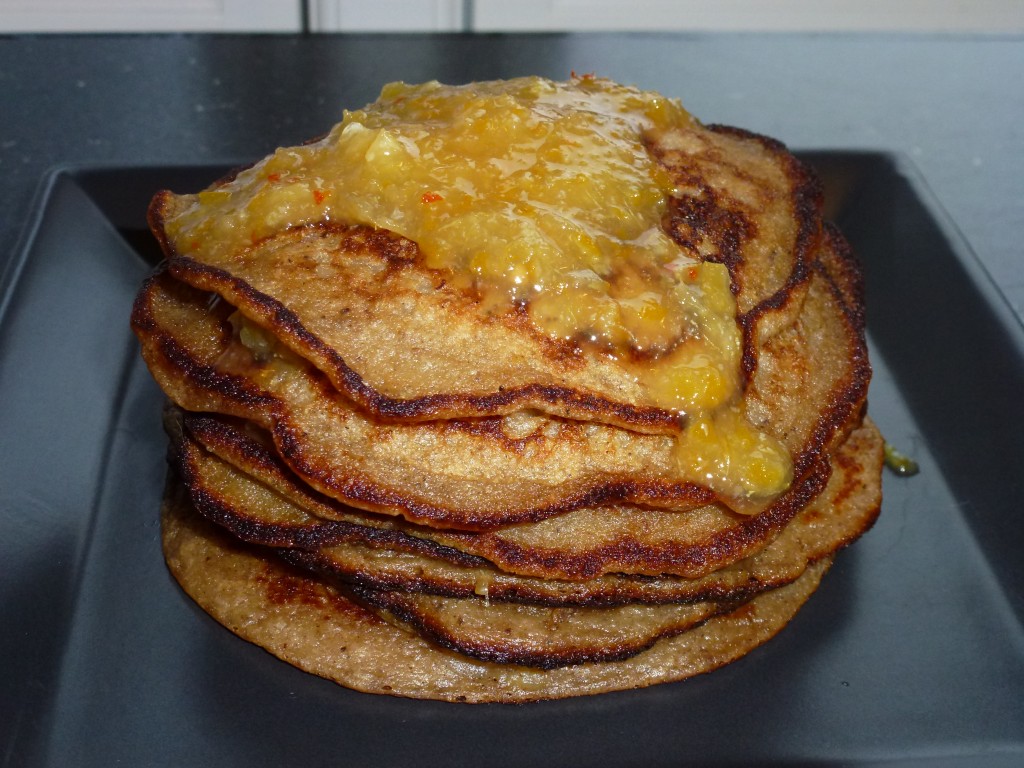 Ingredients:
1 ds kokosmælk – 400 ml
2 bananer
225 gr hvedemel
1 spsk sukker
½ tsp salt
2 tsk bagepulver
evt LIDT vanillapulver
butter or coconut oil for baking
How to:
Whisk coconut milk and flour together. Cutting bananas into small pieces, bare 4-5 stykker – håndmixeren can rest – and put them in with the rest of the ingredients. The bananas must be like to be in small pieces – not necessarily gone completely to mush.
Beat the ingredients well. The consistency should be thick pancake batter. Still fine liquid, but very thick. Juster evt. with a little milk or flour if necessary. There are differences in how liquid the various coconut milk is.
Bake in a small pan in a little butter or coconut oil. Using a small heavy-based frying pan and put fine 'droppings' the center of the – but you are the happy owner of a blinispande is also excellent although they are a little small. The pancakes should now not be too large in circumference at regular brow nor – 10-12 cm er passende.
Hold pandekagerne lune i oven på 50 grader imens du bager resten færdige.
Serve with chili orange marmalade – or whatever you like.
Tips:
You can get almost anything in these pancakes – try to taste them with things like currants, fresh berries – blueberries are a classic, cardamom, chili, grated orange- or lemon peel. chopped pistachios, fresh chopped chilli etc.
Upstairs and between the layers there are also many opportunities. Try items. with blueberry syrup, the classic ahornsirup, All chili mare barns are a hit, like fresh fruit and berries, chocolate sauce, bacon, fried eggs etc. Combine like some of the favorites.