English here: Fruit / berry crumble with chili
The classic crumble in a new version, discreetly flavored with vanilla and chili – and made with sweet dates, if you like. How discreet the seasoning is, will be up to you – I think it depends on what fruits / berries are used how much it can take.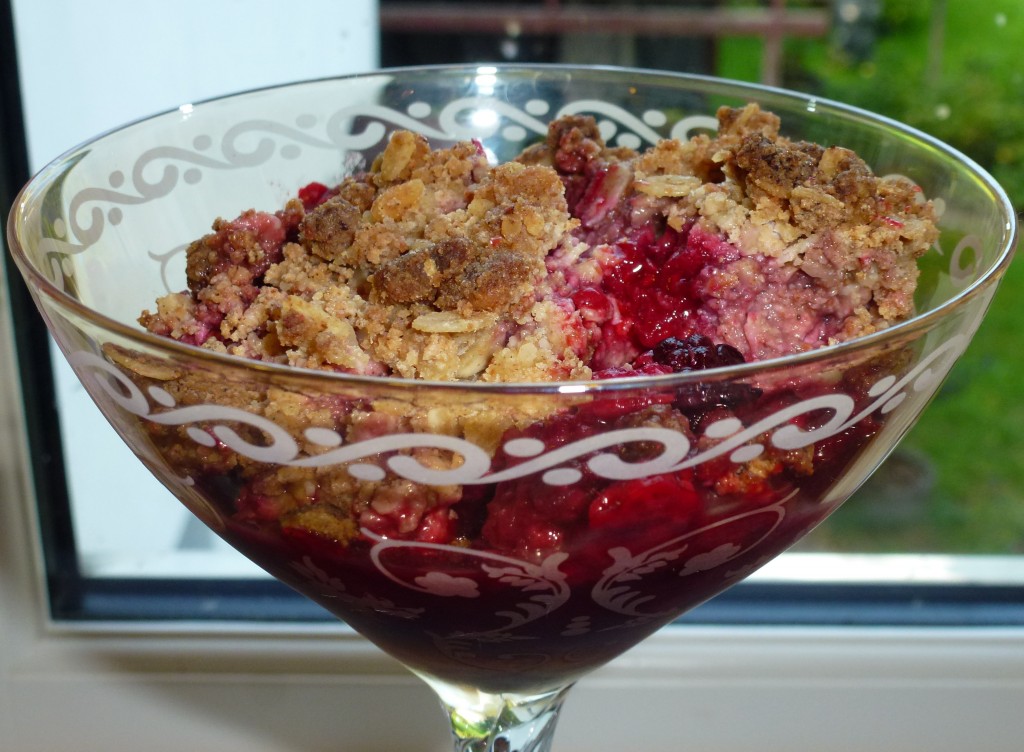 Ingredients:
about 1 ½ – 2 kg of berries or fruit cut into small pieces, it could be frozen thawed and drained
2 dl organic wheat flour – like Dalar (a Skandinavian type - use you local), or another nice sort of wheat. (maybe instead use. coconut (could be the non fat ot the normal version) or almond flour )
2 dl rolled oats, coarse
1 ½ dl coconut sugar / coconut flower sugar
2 dl sukrin gold – Stevia / erythriolproduct used instead of brown sugar
1 dl/90 gr melted coconut oil
2 tablespoons melted coconut oil to grease the baking form
1 tsp vanilla powder
½ teaspoon chili powder or more
Possibly.: 200 gr almonds or nuts of some sort, or 200 g desiccated coconut
maybe some. a few handfuls of dates or three (especially delicious when using berries that's very acidic)
How to:
Turn on the oven at 175 degrees celsius.
Clean fruit / berries and cut fruit into small pieces if you use fruit.
Mix coconut sugar with ½ teaspoon vanilla powder and a little chili powder. Sprinkle the mixture over the fruit / berries and turn around so it's evenly distributed.
If you use dates, then blend them to a fine mash in the food processor with a little water – mix the mash with the berries.
Melt the 2 tablespoons of coconut oil and butter a form of approximately. 25 x 35 cm with it.
Spread fruit / berries in an even layer herein.
Mix remaining ingredients in a bowl. Remember the other ½ teaspoon vanilla sugar and a little more chili. If you are using almonds or nuts they can be chopped in the food processor to an almost flour or coarser if you like. Dessicated coconut is used as it is. The mixture must not be mixed too tightly into a dough, but just be crumbled together. Spread the crumble evenly over the fruit / berries.
When the oven is hot, bake the cake approximately 45-50 minutes. Look at the cake during that time – perhaps it should bake a little shorter or longer, it depends on your oven. Cover it with a loose piece of baking paper if it becomes light brown enough before it is done.
Tips:
Taste the fruit / berries when mixed with coconut sugar and possibly. mashed dates. Maybe you'd like to add more sweetnes? It depends on how acid they are and your own taste. Mixed fruits and berries will do nicely here.
If using almonds / nuts / coconut you may need a little more moisture to gather the dough into crumbs. Melt a little more coconut oil or use a little . water until you are satisfied.
Use also a bit of other spices if you like – a few ideas could be:
– ginger in crumble with pear, – cinnamon in crumle with plums, – ground star anise in crumble with apple, – ground black or green cardamom in cruble with gooseberry, – ground cloves in pumpkin / applecrumble, finely grated lemonzest- or orangezest in various crumbles. Vary for instance. the use of almonds, hazelnuts, walnuts, etc.. There are many possible combinations. One of my own favorites are the sour berries, the mashes dates and almonds in the crumble dough on top. Yum.
If you feel that the crumble is too wet, you can – next time you make it – put a few hundred grams of almond flour, desiccated coconut or tapioca flour in the bottom of the form before you put in the fruit / berries. This would absorb some of the liquid and give a good texture.