English here: Chickpea balls with chili
Definitely just meant as a basic recipe – do playwith the ingredients. See also the 'Tips' further down the page.
The mass before frying is also great as Jalapeñostuffing in halved, cored, stuffed Jalapeños, to be grilled on the outdoor grill or ovenbaked / grilled. They might be. brushed with chili sauce, Liquid Smoke or another good sauce before cooking or they can be sprinkled with a little cheese if desired.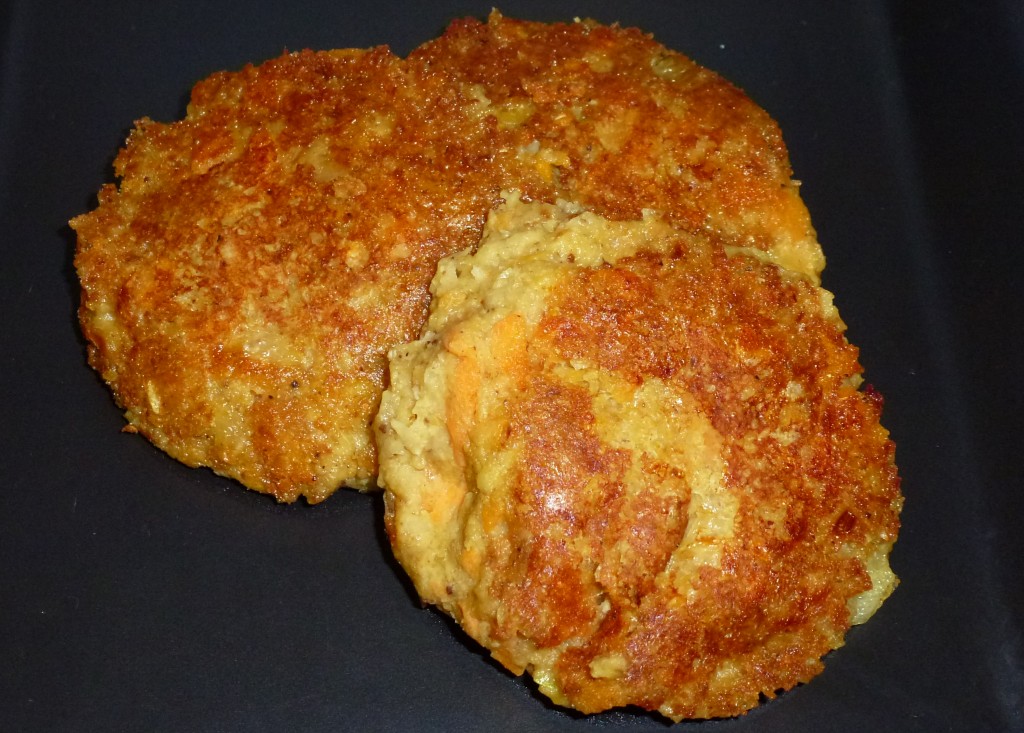 Ingredients:
about 800 g chickpeas – macerated, cooked and cooled
2 large sweet potatoes
2 onions
5 tablespoons olive oil some for frying
4 tablespoons psyllium seed husks (psyllium fibre / psyllium husk)
2 dl water
Fresh or dried chilli to taste
8 tsp coriander seeds
4 tsp cumin seeds
4 tsp sumac
4 tsp salt
How to:
Mix psyllium husk and 2 dl cold water in a small bowl and set aside while you prepare the rest of the ingredients.
Blend the chickpeas in a food processor until they are a coherent paste, but no longer – they must not be liquid. If they are a little dry , then just blend until they are very finely ground.
Grate the sweet potatoes on a grater or blend them until they have approximately. same consistency as if you had used the grater.
Do the same with the onions.
Pulverize coriander seeds and cumin seeds in spice mill.
Mix all ingredients well in a bowl and allow to sit for about. 10 minutes.
Fry one and see if you are satisfied with the result. Taste and. possible add more spice to the mass a little more psyllium husk if it is too liquid (if doing so it must sit for five minutes before continuing).
Now fry the balls in olive oil with a little distance between them over low to medium heat. Wait to turn them until they are completely finished on one side.
Tips:
If you are in a hurry, you can of course use drained canned chickpeas. Use all sorts of bean types (cooked) instead of chickpeas.
Use whatever fresh or cooked vegetables you have along with or instead of sweet potato – ideal with vegetable leftovers.
Can take lots of chili and other seasoning – add such as. fresh garlic, scallions (instead of onion), lots of herbs, other spices. Tastes nice in more subtle spicy versions, where there are maybe used a lot of herbs instead.
You should just be a bit careful when you turn them, they are softer and more porous than the usual meat balls- or fish cakes. A very flat spatula is a good idea – a wooden spatula eg. may be a little too thick when they are to be turned. Use a little less heat and cook for longer if they are too soft – it usually helps.
Psyllium husk works as a binder in the mass . If you eat eggs, they you can. replace them for the psyllium husks..