The next little while I will put some different vegedeller with chili on the blog. We eat them often in all sorts of forms and uses really recipe for everyday, but I would like to share a few different 'models' with you – as well as can be varied almost indefinitely. They work great with a good seasoning and therefore also with a good shot chili. I de første her er især de søde kartofler med til at give chilien et godt modspil og de kan tage en del chili synes vi.
Many vegedeller has a base of lentils / beans / chickpeas, but not the. The others will come, some also. You here is actually the hardest to roast, because they are the loosest in the structure – but now they just first in line on this blog.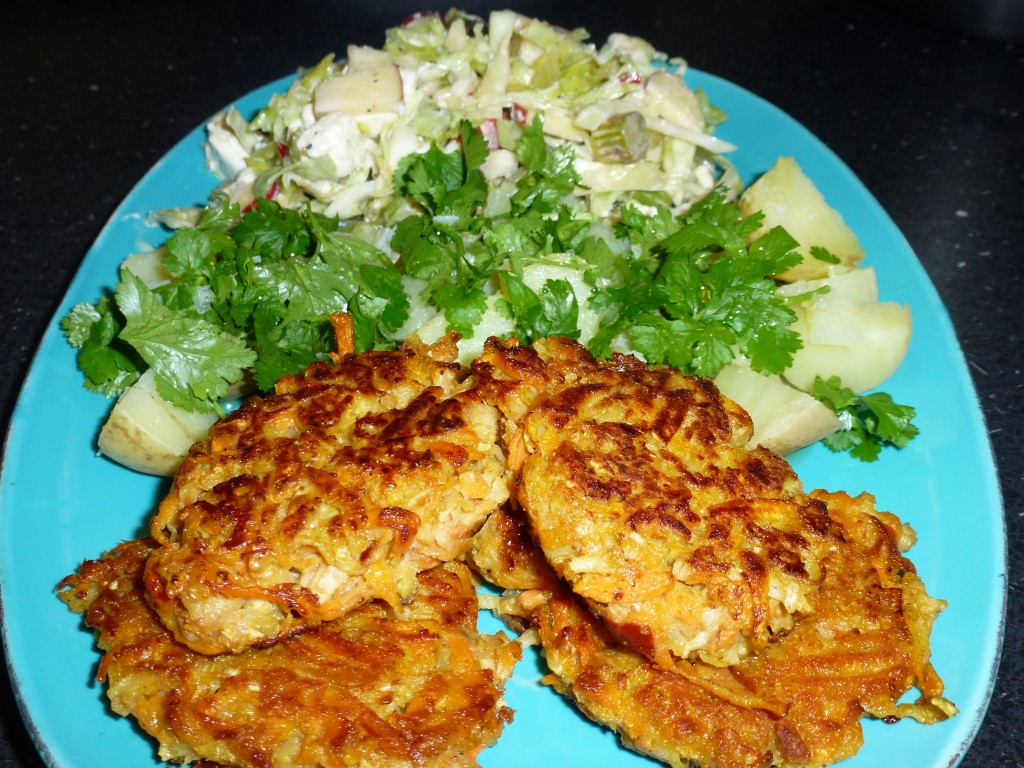 Ingredients:
Chili to taste – fresh, pickled or dried
1 knoldselleri
3 store søde kartofler
3 store kartofler (eller 2 bagekartofler)
3 løg
1 hvidløg
6 æg
2 spsk hel spidskommen
2 spsk korianderfrø
2 spsk salt
3 top-spsk hvedemel
3 top-spsk majsmel/Maizena
Olive oil for frying
How to:
Use a large bowl to mix the ingredients in if you make full portion – it fills a part. I use a large dejfad.
Peel the onions and the garlic and remove the stem from chillies. Also remove the cores and frøvægge from chillies if you do not want them in – but I now seem like they should be with. Chop the three things together in food processor or with a knife on the cutting board. In the large bowl of them.
Selleri, sweet potatoes and potatoes peeled and grated. If you have a food processor with rive'skive' – so things are going really sharpish. Otherwise, you start with the coarse grater. In the bowl of all three.
Mal spidskommen og koriander i krydderimøllen og tilsæt det sammen med salt og de to slags mel.
Mix well around the mass. Use your hands, it is by far the easiest. The mass is very dry – but it is now that it is easy to distribute the spices and flour.
Then add the eggs and mix well again.
Varm en pande op med lidt olivenolie og steg en enkelt delle som du smager på for at finde ud af om der skal krydres mere med salt eller nogle af krydderierne.
When you shape models specified, Taking a portion up by hand with a spoon and trying to make it a bit around it while pressing the mass lightly together. It works very loosely, but with a little caution as it goes and they are beautiful and a little more consistent when they are fried. Along the way, accumulate some liquid in the bottom of the bowl – it touches you straight up in the mass before each time you take a portion to shape. Fry over medium heat. Try not to lift them before they are ready – so goes the best. Turn them gently.
Tips:
The eggs and flour (both types of) may be replaced by either a batch blended beans, lentils or chickpeas. This will make them easier to handle and not as loose in structure – but of course also give a slightly different flavor.
Replace condiments or vegetables aftertaste – they are very easy to modify.
Bl.a. made with a few 7pot. It gives a nice and comfortable hot bite.