Ingredients: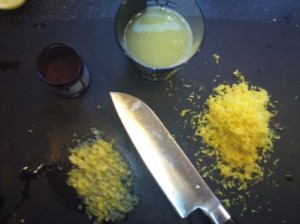 1 portion basis-karamelmasse
3 Aji chilier – like lemon or pineapple, or the like
3 økologiske citroner
3 teaspoons vanilla powder (not sugar)
1 ekstra tsk salt
How to:
Wash the lemons and grate skull pin. Save it for later.
Squeeze the juice of the lemons – the den, there shall be no flesh in – and save it for later.
Finthak chillies and save them for later.
Low caramel holders as described below basic caramels, med den forskel at når karamelmassen er næsten færdig hældes citronaften i (If you choose to use the) og der koges igen ind til karamelmassen har færdig konsistens. Add an additional teaspoon salt in this recipe, så der bruges tre i stedet for de to i basisopskriften.
Remove from the heat and add the lemon peel, pounds og vanilla – tubes really well and pour immediately in the form lined with oiled cookie sheet.
Continue as in the basic caramels.
Note:
Lemon Evening contributes little of the flavor you know from grilled lemons. It gives a good 'base' til karamellerne synes jeg, but if you prefer a more fresh and clean taste, kan du udelade saften og bruge den til noget andet i stedet (home lichen lemonade items.).