A little intro to chokoladetemperering, which is a must to get crunchy, delicious, blank chokoladeskaller sit on chocolates and her dessert.
Casting chocolate shells for dessert and chocolates
Chocolate-Pulling confections and other
What can tease and what to do about it?
The chocolate is delicious blank. Some chocolates can almost be completely plastic to look at. It can be super nice especially for molded chocolates. Non-tempered chocolate which has been some time, likely to be dull and greyish look at. It been partly due to the chocolate stands and 'working' and in the process penetrates cocoa butter or sugar out and forms a layer on the barn – usually with a slightly mottled appearance.
Temperate chocolate melts even when you touch it. By homemade chocolates, where you do not have tempered chocolate, you will often find that the chocolate melts on your fingers already in the short time from taking it on the dish, to put in the mouth. We want to avoid.
Tempered chocolate certainly also a great 'crack' when one bites into the, eller brækker det over. Chokoladen bliver nærmest sprød – However, without being in any way to be hard.
Tempering is to change the chocolate structure – in this case the crystallization of chocolate, such that it achieves the above-mentioned desirable properties.
Structure is changed by heating, cool and again heat the chocolate stirring. Altså 3 delprocesser. Heating of the chocolate to the correct maximum melting temperature, cooling the chocolate to the crystallization temperature, and last but equally important: slight heating to working temperature and maintaining the.
All three temperatures are intervals, which is different for the three typical overall chocolate types: dark, light and white – but also in the types. However, there are rules of thumb, if not specified by the manufacturer the correct temperatures for just the chocolate that you will work with.
During cooling the crystals in the fat (kakaosmør i god chokolade) lie 'neat and tidy' if the right temperature hit. Man siger at der er 6 krystalliseringsformer i chokolade, all of which have different properties. Only one of them is desirable in order to achieve what we are looking. Crystallization forms generated by each precise temperature – that is why it is so important in tempering.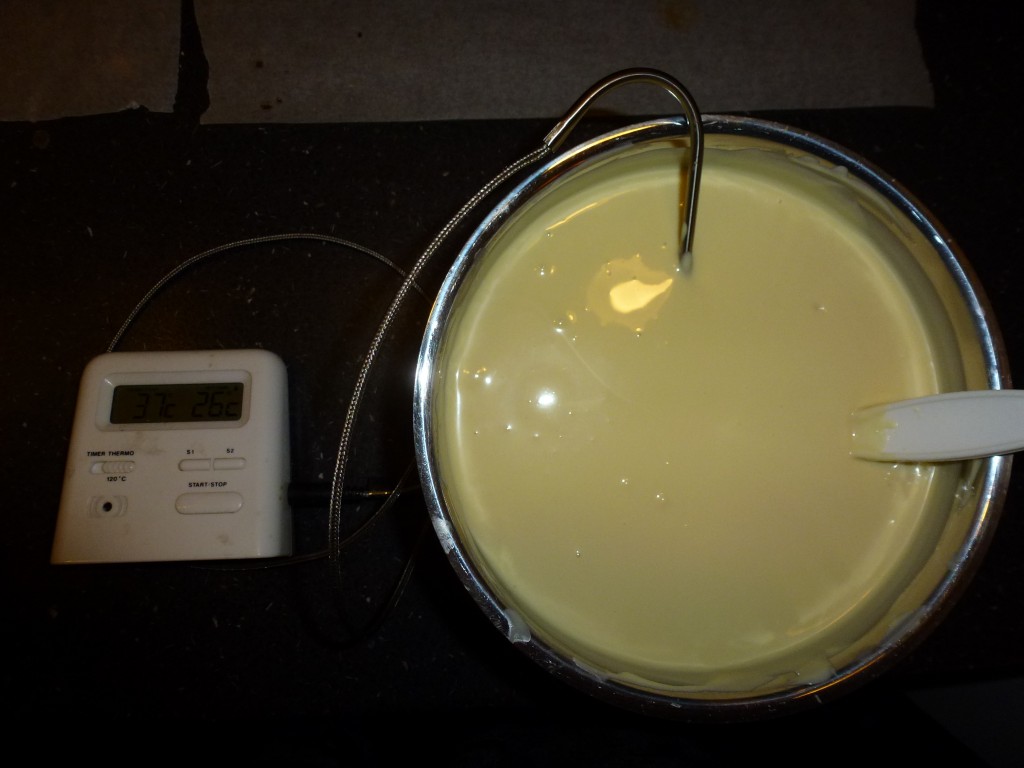 Chocolate is made from cocoa beans. Cocoa beans are the seeds of the cacao fruit, som plukkes på de tropiske kakaotræer. The fruits, which also grows in a slightly unusual way on trees – among other things,. directly on the trunk, håndplukkes helt modne og åbnes ret hurtigt derefter for at få kakaobønnerne ud. Der er mange bønner i hver frugt. The fresh beans taste bitter and not very chocolate-like.
The beans are then put in piles in the sun and covered by export. bananblade eller de lægges i bakker inde i et hus. The aim is to ferment them in the heat, en proces som typisk tager 5 – 8 dage. During the period inverts around the beans from time to time, to get them fermented evenly. It is during this process, the beans get some of their brown color.
After fermentation, the beans are dried somewhat. Det gøres oftest ved at de spredes tyndt ud på bakker i solen. Tørringen tager ca. a week – after which the beans now weighs about. the half of what they did before drying, and may be sent to the chocolate manufacturers.
At manufacturer toaster to the beans and grind them. The outer shell of the beans are removed and innards shredded to pieces. This is what you can buy as cocoa nibs – something like raw food movement has embraced. They taste now also brilliantly well.
In chocolate manufacturer nibs'ene painted on to a common, flydende masse. Mass becomes soft, because the natural cocoa butter melts. One can observe a similar process, if you have a good strong blender and blender export. almonds and peanuts long. They are then to tasty almond- or peanut'smør' (a butter product sold, called butter although there are solid particles in the).
Chocolate manufacturer adds now more cocoa butter and sugar mixture (Cocoa is not sweet by itself) and may need to be painted even finer. If backup light chocolate, added milk powder. There are often added lecithin and vanilla to chocolates.
As with coffee – there are also differences in how (tid og temperature) man rister forskellige kakaobønnetyper og hvilke smagsprofiler de har. There are several kinds of cocoa trees, and the good producers select and put together beans and roasts to achieve each desired flavor profiles. It's a bit of an art to making good chocolate – and if you have the taste buds to appreciate the – one is in no doubt why.
In a genuine, good chocolate there will not be another fat than cocoa butter (but it is allowed to be a little different in), whereas in the products as many supermarkets dealer as coatings buttons that look like chocolate, will include only – or almost exclusively – other vegetable fats. This Product, that Hedda vekao, kan smeltes og bruges som overtræk uden temperering – and is very easy to work with. If you can live with the taste of it in your painstakingly prepared homemade confections – so it's a quick solution with high success. If you love good chocolate, then you have probably, all that I, allerede dannet dig en anden mening om anvendelsen af disse vekaoprodukter ;o)
Read more about the rules for what is chocolate and what is vecao here: https://www.retsinformation.dk/Forms/R0710.aspx?id=7765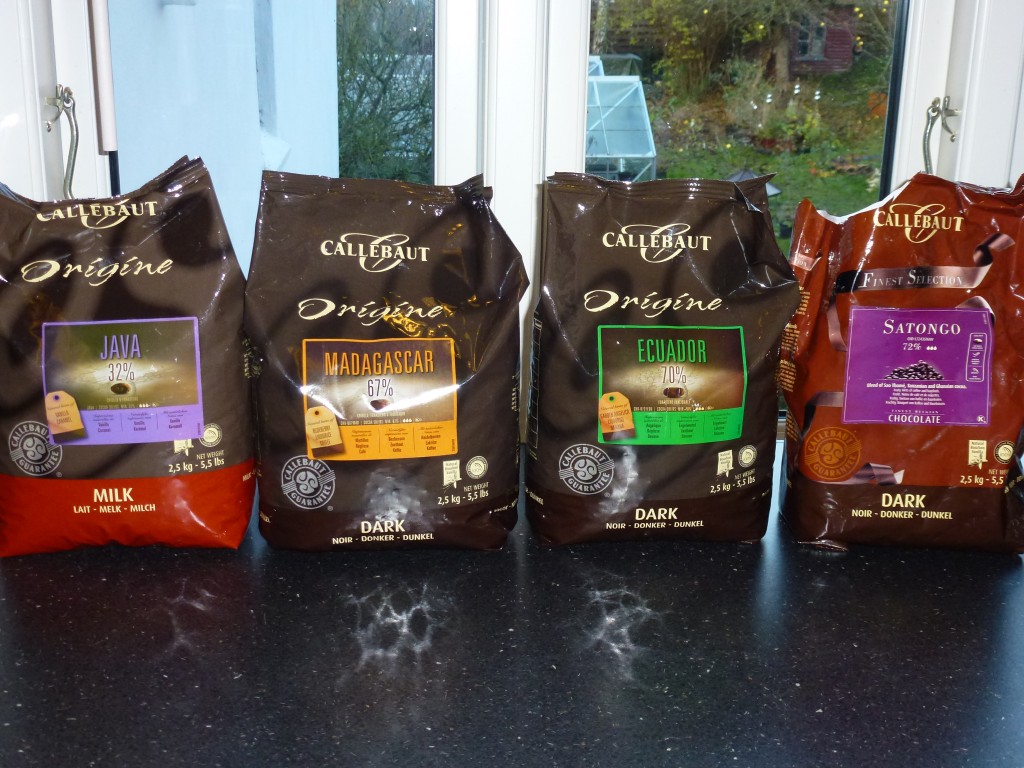 De 3 grundtyper af chokolade som vi arbejder med, all tempered, to achieve the coveted properties – and to make it extra fun, they must, as I said tempered at different temperatures. And just to contribute to the fun, then ex. all dark chocolates do not have exactly the same temperature by the various processes. Here there is nothing else to do than to try the process after some rules of thumb and then learn its chocolates to know. A degree can sometimes make a big difference.
Even a small crease is, the viscosity of the finished product temperate, are not identical from one to another chocolate. You might have gotten taken to temper his yndlingschokolademmærke (and suffixes), so that it is exactly as fluently as you want it – so you try a new variation, perhaps even from the same manufacturer – and doing business as usual and now with a chocolate as thick as a overjævnet duck sauce. Not easy to work with. Thus may be on again. Fortunately, you can always add some pure cocoa butter (or other vegetable fat) og prøve igen med samme portion chokolade – it takes just a new tempering.
The chocolate that has been tempered can easily be used again – either a new tempering, or where else you want to use chocolate in his desserts, cakes, Willow OSV.
How temperer you so?
This is done by first of all be well prepared. Ensure, that all you need is kitchen temperature – especially chocolate. Find the things that must be used up and chop the chocolate fine, if you use quality chocolate buttons. Some of quality chocolate producers are also kind enough to make chocolate for purpose in button shape – it's not just what unspeakable product which comes in the form. The buttons used as they are and should therefore not be chopped into smaller pieces first.
You also need a good thermometer – like a digital.
It is a good idea to temper a relatively large portion of chocolate at a time – mange anbefaler mindst 400 gram. It takes some time and there must be a certain amount of that process makes sense and that there is enough mass to measure the temperature in. It is also easier to keep a greater portion of steady-state temperature. It's also a good idea to have some extra chocolate ready to lower the temperature with if the driller.
To temper the water bath (I think it is easiest) or in chocolate melts, if it has the properties required to. This refers to the requisite cup size and adjustable heater that can heat accurately enough at several temperatures. The advantage of using a chocolate melts can be, that they are typically well insulated and therefore may be easier than a bowl to maintain the working temperature in – men som regel er de chokoladesmeltere som man kan købe til hjemmebrug for små.
3/4 af chokoladen opvarmes til smeltningstemperatur. There is stirred and turned well around the chocolate along the way, such that the entire mass constant has the same temperature all the way through the. It is important to be jeopardized quiet and calm, but regularly.
Once the chocolate has reached the melting temperature, tages skålen af varmen (Using the chocolate melts, take it out of the appliance) og ca. half of the unmelted chocolate is stirred for. It will melt into the liquid chocolate and the temperature will be lowered somewhat. If crystallization is not present moment (probably not) – vendes der fortsat rundt i chokoladen jævnligt indtil den nåes. You can add a little more of the unmelted chocolate, but pass by – there is a risk that the mass is not hot enough to melt the, med mindre det er hakket i meget små stykker. Det er igen vigtigt at hele chokolademassen har den samme temperatur – therefore should be stirred and turned regularly around the edges and scraped with down – otherwise put the chocolate here. It takes some time – og man kan sagtens lade chokoladen stå 3 – 5 minutter imellem hver omrøring og skrabning af kanter. Do not try to cool the chocolate too quickly (refrigerators and the like), it is not good.
When the crystallization temperature is opnået, the temperature of the mass was raised again to the working temperature – and not more. To do so, the bowl set over the bath again (or back in chocolate smelter at lowest heat). There is stirred and the temperature measured carefully. As soon as the operating temperature is obtained, Remove the bowl from the heat and chocolate can now be used. The challenge now is to keep the working temperature of the chocolate while being used by the. This is done ex. by packing the bowl into a clean håndlæde or otherwise, can isolate a bit. If one has melted a large portion, keeps the heat better than a small. Når temperaturen falder til laveste arbejdstemperatur eller 1 grad under, skal man med det samme sørge for at stille sålen tilbage i vandbadet og hæve temperaturen under omrøring. If the temperature rises more than about. 34 grader, you must start over with the temperament.
The temperature can also be maintained with a small heat mat or other, if you wanted the kind of (wrap it in plastic, so that it can be wiped clean if spilled).
If you use chocolate melts, can dish made back in the, when the heater has cooled slightly – most remelters good insulator. If the working temperature exceeded, you must start over with the temperament (Now it is to have chocolate enough).
Ved nekølingen til krystaklliseringstemperatur dannes der 2 af de tidligere nævnte 6 krystaltyper og ved opvarmning til arbejdstemperatur elimineres den ene, so only the last 'perfect' remaining.
The optimal temperature is not one by product, but here I have listed some common temperatures for the three main types of chocolate.
| | | | |
| --- | --- | --- | --- |
| Chocolate Type | melting temperature | krystalliseringsstemperatur | operating temperature |
| Dark | 40 – 45 | 27 – 28 | 30 – 32 |
| Light / cream | 40 – 45 | 27 – 28 | 28 – 30 |
| White | 40 | 26 – 27 | 27 – 28 |
If you search around online you will find tables where temperatures vary slightly from those – but it is minimal and goes in both directions.
On items. Callebaut's bags of buttons, it says on the bag which temperaturet it deploys just the chocolate as you stand with (they have a lot of different chocolates in button shape).
Casting chocolate shells for dessert and chocolates
There are three common kinds of molds for molding chocolate shells, so far as I know. Metal, hard plastic and silicone molds. I have not worked with molds in metal, so I can only talk about the hard plastic mold, silicon mold. Let's take one thing at a time.
The hard plastic molds are usually those with the most holes to cast in per. form – and providing more chocolates per. Workflow. They are quite easy to work with if you observe a few simple things.
The molds should be washed in hot water – never with soap. The small amount of cocoa butter as may be back, is what makes the chocolates can escape again and slips him out of the molds. Therefore, it is also a good idea, when you buy new molds, equal to wash them with hot water, brushing an ultra-thin layer of chocolate (not temperate, just melted) the holes and wash the molds in hot water again. Just before each use, take the small tuft of cotton wool and polish each hole easily – then there is no problem getting the chocolate to get rid. It's much faster with polishing, than it sounds.
The 'correct' way that the molding shells on, is to fill all the holes up with tempered chocolate – scratching the surface of the mold clean with a straight razor – and let them harden around. 10 minutter ved normal køkkentemperatur.
Then pour the chocolate from the molds and the surface scraped again clean. Now there is a fine layer of chocolate left in the molds to stand and stiffen the kitchen temperature before they are filled and sealed with liquid chocolate. Nogle slags fyld er for flydende til at det kan lykkes pænt med chokolade med det samme – Here it helps to make the finished chocolates ½ hour in the refrigerator before closing. It must not really with chocolate, but I have not had any problems for the reason.
Instead of casting, you can use a soft brush of appropriate size to 'paint' chokolade in forms with. De skal males 2 – 3 gange hver, for the chocolate to get a reasonable thickness is my experience. I almost always use this method – it suits me best, when I absolutely can even control the thickness of the skull. The downside is that you do not get a neat and uniform edge. You can also cast thinner shells than to paint, I think – but I prefer a really good chocolate in a thick layer anyway, so it suits me fine with brushes.
Along the way you brush stiffen. Just rinse it clean under warm water and dry it really well in the towel and continue.
Silicone Molds are usually larger and not so many form holes in. Man kan få dem med ret store huller hvis man ønsker at lave større dessertstykker eller chokoladebar'er.
I usually purchase at least two of the same kind to make a little more at a time.
In principle, possible to cast chocolate shells in the molds are also silicone – but in practice I think that it can be difficult to control the soft shape when to be scraped and poured – saw them 'painter' I always holes in. Herefter er proceduren den samme med fyld og støbt chokoladebund.
I think that both types of molds are nice to work with and therefore use to both.
Chocolate-Pulling confections and other
Chocolate coatings on confections, fruit, dessert and other goodies are really delicious and very easy with tempered chocolate.
A great surface without chokolade'fødder' Make with tempered chocolate and a chocolate grill. Chocolate grating is a grating which is slightly off the table and consisting of thin wires in a grid. The grille made of a piece of wax paper on which you subsequently can easily remove the solidified chocolate from. The topic that you want to draw, dipped in the tempered chocolate with two forks or gear which is suitable for the, moved immediately onto rack and drip af – and before the chocolate solidifies, the item is moved forward onto a clean piece of wax paper. Now there's no boundary around the subject, which would have been if you asked it directly on the baking paper after dipping. It is not a good idea to let the subjects stand too long on the shelf, then hardens chokolade caught in the fine mesh.
You can also drag by making its topic on the rack and pour the tempered chocolate over. It is by far the easiest way to coat the external. snowballs on successfully. Remember to move them on before the chocolate hardens.
The chocolate which ends on baking paper under the rack can be used in the next tempering or saved for the next time you need chocolate in a dessert or other goodies.
What can tease and what to do about it?
First Things First: You may have bought a little chocolate. It is resoundingly hard to say how much chocolate that goes to a portion confectionery exports. It'll come much depends on how thick a layer you get given it. Never run out of chocolate – det må være regel nummer 1.
Room temperature and humidity have a role in chokoladetempereringen. A very high room temperature complicates cooling and a low may make it difficult to maintain the operating temperature. Prøv om den kan holdes på 20 – 22 grader.
Now I have not experienced any major issues with the two – but with the thickness of the chocolate. I often bought chocolate that I have not worked with before, because the emergence of new attractive products up and because it is exciting to try something new.
The thickness of the tempered chocolate can be thin as a good organic cream or thick as a overjævnet sauce – and everything in between.
This is rarely a problem to deal with a thin chocolate – det er nu helller ikke dem der er flest af – men en meget tyk chokolade kan være rigtigt drilsk at få til at fordele sig pænt. Man kan sørge for at opretholde den maksimale arbejdstemperatur for produktet (but not more than the, and it shall be tempered on) – or you can choose to 'dilute' chocolate with a little extra cocoa butter. Other vegetable oils and fats can also be used. The colorless fat substance, must equilibrate again.
I tend to just use the chocolate in the thickness of the now – a thick layer of quality chocolate is good for many things – but if you want fine thin shells must try out either another chocolate or dilution with fat.
The dry matter content in chocolate is partly an indicator of thick chocolate becomes – so you can also try to go down a bit as a percentage, whose favorite brand makes a variant that meets this. It is now not a clear indicator of the temperate product viscosity, when other added ingredients does ind, so you have to try them. Now is not the worst job.
If water gets into the chocolate begins to gryne. It forms small clumps and can no longer melt out of the liquid form we need. Det eneste du kan skynde dig at gøre ved en grynet chokolade er at hælde noget fløde eller mælk i (or more water) until chocolate again becomes liquid. Nu kan du ikke længere bruge den som overtræk – but can make it into a cream, noget dessert eller hvad du nu finder på.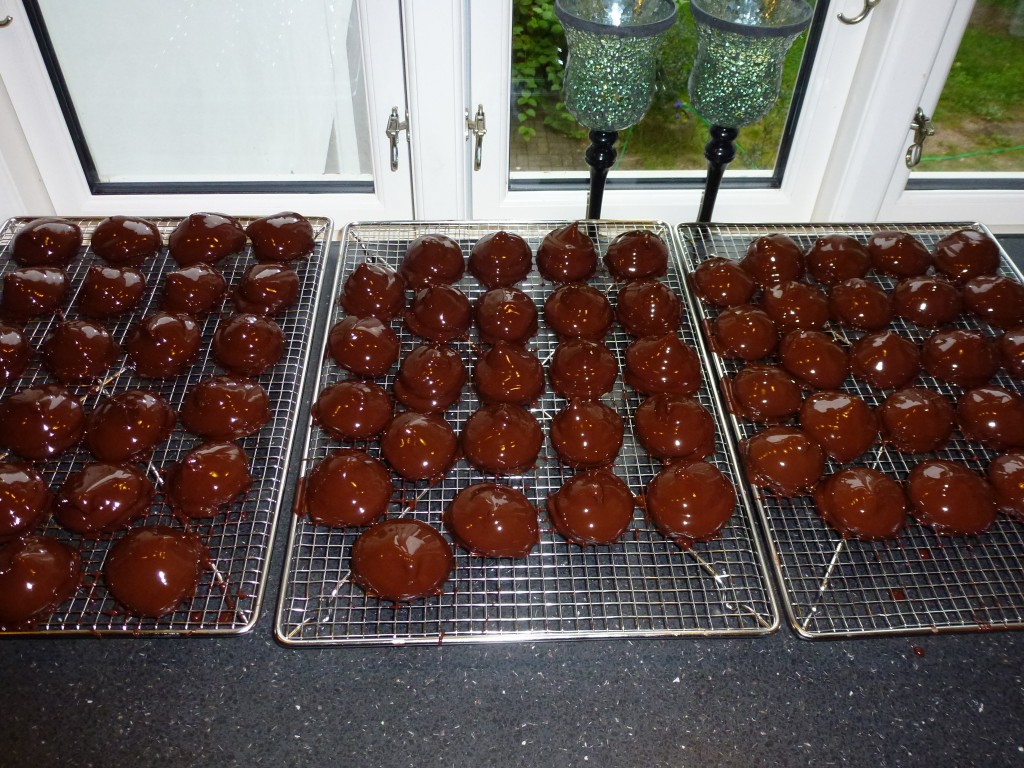 Chocolate – both in pure form and prepared for export. confectionery – best stored well wrapped, i.e.. lufttæt og ved 15 – 17 grader.
If the chocolate is used to coat any which must be kept cooler, is of course you have to make it.
Chocolate is not stored properly, can 'flowers' – et gråligt, mottled appearance due to either fat or sugar have leaked on the surface of the chocolate. If the chocolate is moved between changing temperatures or stored too hot – over ca. 24 grader – er det typisk fedt som trænger ud og danner blomsterne. If the stored cold for – than under. 15 grader – eller fugtigt, er det sukkeret som trænger ud og gør det samme. Begge dele er helt uskadelige og gør ikke den store forskel på chokoladens smag – but it does not look so impressive. Chocolate who received flowers can easily tempered and be fine again, or used for any other good.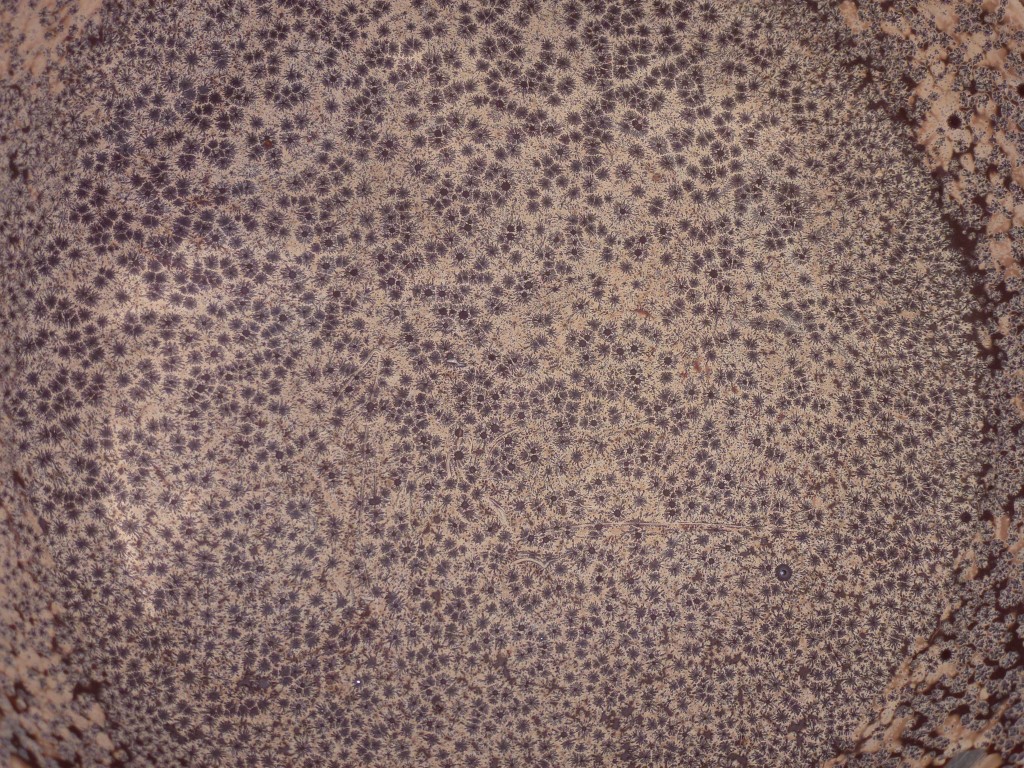 Enjoy with chokoladetempereringen. Practice makes perfect, also here – and it is both fun and delicious to 'play' chocolate. It is always impressive to have served a homemade chocolate-covered piece of candy with a perfect chokolade'knæk '.