English here: Abricot marmalade with chili, Amaretto and roasted almonds
Intense and beautiful jam – with flavors of concentrated sunshine.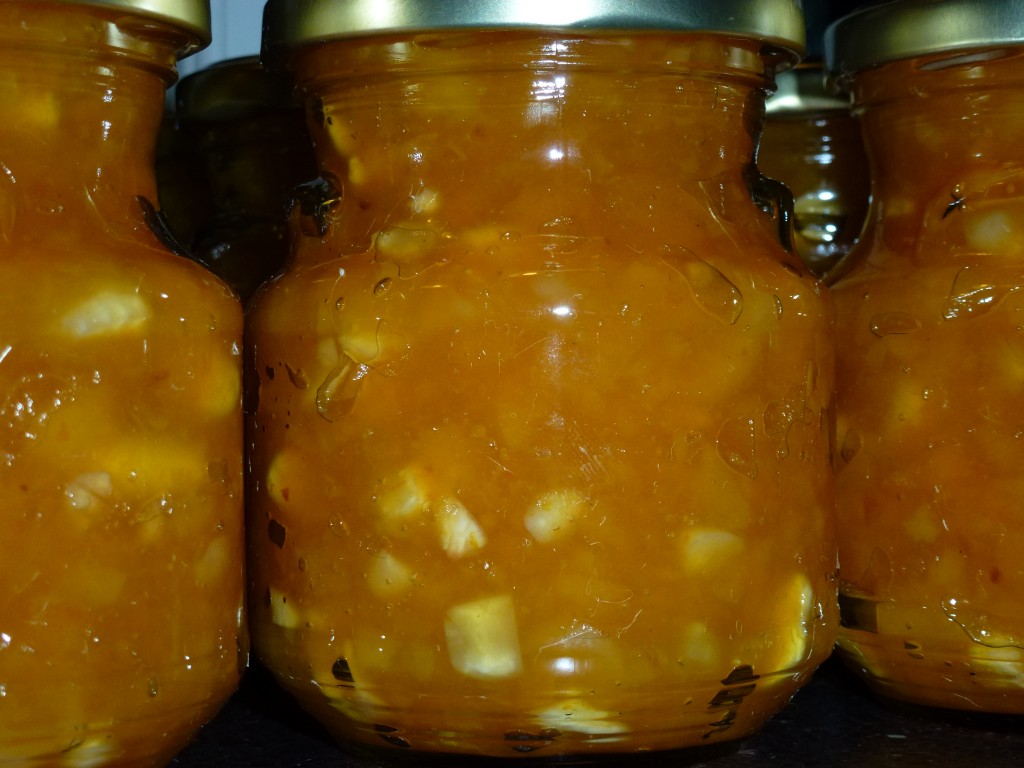 Ingredients:
1500 gr dried apricots
6 organic oranges
2 large or 3 small organic lemons
water
(fresh) chili to taste
1500 100 gr sugar
300 g almonds
3 dl Amaretto
Gelling agent for jam
maybe some. Sodium benzoate
How to:
Finely chop the apricots in food processor – do it in batches.
Rinse the oranges and lemons. Grate the peel finely and squeeze the juice out of them.
Pour the juice into a measuring jug and fill with water to a total of 2 liters of liquid. Putliquid in a large bowl with apricot pulp and lemon-- and orangezest. Wash and core the chillies and chop them medium to fine, put them in the Bowl as well – and stir well. Cover the bowl with film and put the mass in the fridge until the next day.
On the second day - remove the skin from the almonds an toast them. Pour boiling water over the almond so they are covered and let them soak for 1-2 minutes. Drain and refill with fresh boiling water. Now the almonds can be taken up and de-skinned after another minute or two. Pour a little of the hot water out of the bowl as you go along, so that you can get to ones on top without burning your fingers – but those below must still be covered by water.
Chop the almonds medium-fine and roast them on a medium hot pan until they start to smell good and have just a litte colour. They shoul be roasted until golden, but not dark.
Put the pulprikot pulp in a pot with sugar (the 1500 gr) and put it slowly to the boil. Add the almonds. Simmer about. 10 – 15 minutes while thoroughly stirring it – it'l burn easily. Season to taste along the way – is there enough of chili in it? Otherwise be fast to chop a little more and put in.
Stir the 100 gr of sugar with gelling agent in accordance with the instructions on the packaging and stir it in the jam. Let it boil ½ – 1 minute depending on the instructions.
Remove from the heat and add the Amaretto first and then possibly. Sodium benzoate.
Put into clean, scalded and optionally. sodium benzoate rinsed glasses, which immediately is closed and turned upside down and back again.
Note:
The jam is relatively 'stiff' when adding gelling agent – it must be, becouse youre pouring in the Amaretto subsequently. The final jam is slightly stiff (but not too much) – it is really good at using in honeycakes for instance ;o)
Amarettoen does not taste much through, but provides along with the almond a nice base' in the jam. If you want the taste more prominent, you can easily put in some more of it – but make sure to use plenty of gelling agent then.
This portion yilds approximately 4,5 litres of finished jam. As you can see it is easy to divide down if you are making a smaller portion.
Bl.a. made with 10 Aji Pineapple which gives a very subtle spicy flavor. One can easily put in more.