This is the ultimate chili chocolate confections. Pure in taste and very very addictive. It is a prerequisite for good taste, at du bruger en rigtig god chokolade til fudgen.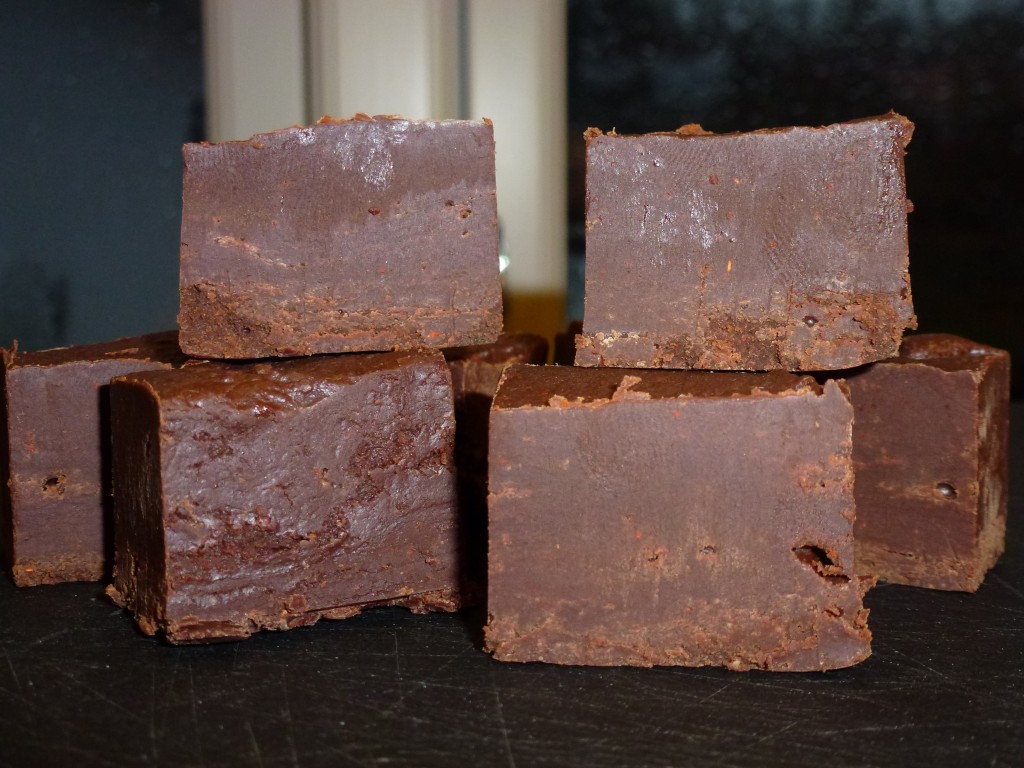 Ingredients:
1 ds kondenseret mælk (sweetened, it is commonly)
450 gr rigtig god mørk chokolade
50 gr smør – possibly. usaltet (I use regular salted organic butter)
2 tsk chilipulver eller noget meget finthakket frisk
How to:
Line a mold with baking paper – I like to use one bread form – I think it is appropriate in size.
Hak chokoladen fine, if not it is in buttons.
Mix all ingredients in either a bowl, as lunes a water bath, or in a pot if you can control your stove with low heat. Water bath is most certainly I think.
Warm ingredients quietly up until they are melted together. Massen må helst ikke komme over 45 grader pga. chocolate.
Pour the mixture into the mold and smooth the surface quickly roughly out with a spatula.
Let it stand for peace on the kitchen table at least a few hours before it is cut into squares or bars.
Fudge can be stored in a tin with tight-fitting lid at room temperature. Must keep them a little longer, can be stored refrigerated and can be frozen. You can easily cool or freeze a large piece down and only cut it out when it is thawed and you should use it.