For some time I have been playing around with seitan (see more under 'tips') and now I am satisfied with a variety of recipes that is spicy and to our taste. I will share some of them with you in this and the next posts. The particularly interesting thing about seitan production is that you can spice it completely as you like, and thus have a product which is not only seasoned on the outside.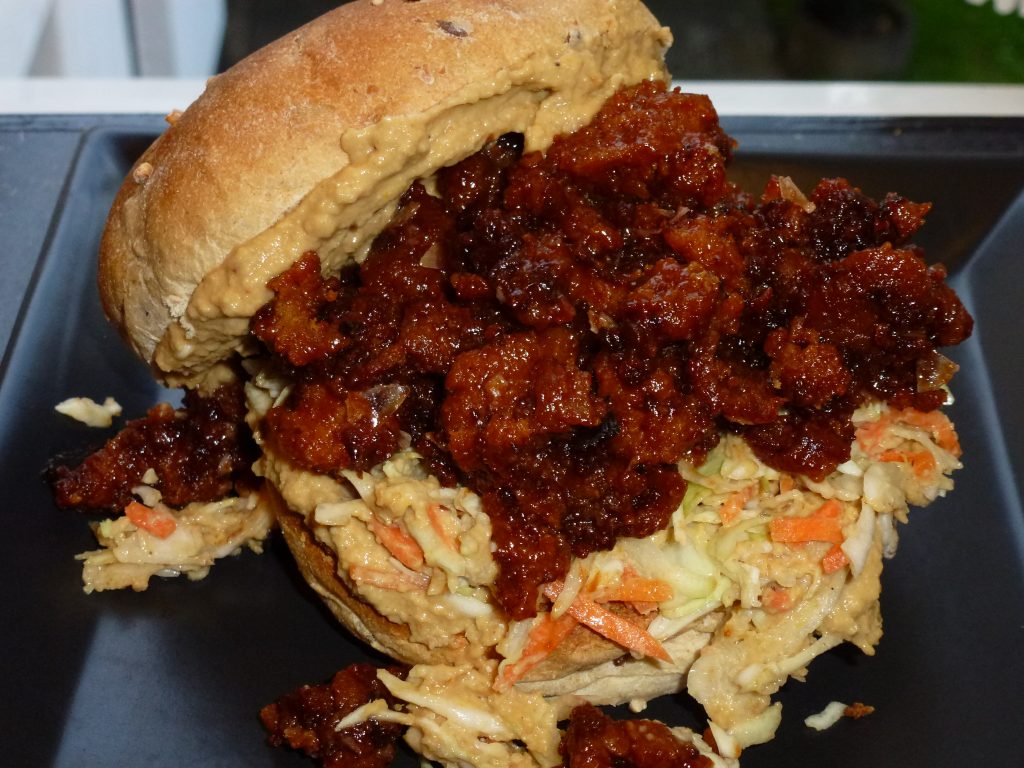 Ingredients:
4 – 6 dl wheat gluten
1 dl chickpea flour/besan/gram flour
1½ dl nutritional yeast flakes
4 tbsp smoked paprika
4 tbsp onion powder
2 tbsp garlic powder
1 tbsp fine salt
chili to taste
maybe some. barbecue spice or mex seasoning
6 dl water
8 topped tbsp tahin
4 tbsp soy sauce
1 tbsp liquid smoke
A sweet / strong barbecue sauce
How to:
Place a large pot of water with a little salt on the stove and bring to the boil while you prepare the rest.
Combine all the dry ingredients in a bowl.
Mix all the wet ingredients - except barbecue sauce - in a bowl. Be sure that the tahin is well stirred in. It's easiest if you start to press it into the liquid with the back of a spoon.
Stir the wet ingredients into the dry mix until it forms a homogeneous mass - the mass is poured onto the table, and kneaded and now you add more gluten flour if necessary. The consistency should be like a well kneaded bread dough. Now you form a bread.
When the water boils, drop the 'bread' in and turn the heat down immediately, so that the water is just simmering. Put a lid on and let it simmer gently for 60 minutes.
Take it out of the water and let it drip dry - let it be allowed to cool slightly or completely before the next step.
The next step is to 'pull' the seitan to pieces with either Pulled Pork Bear Claws, a pair of forks or simply using your fingers.
Put all the pieces in a pan with a little oil - or use the grill and a tray to roast them in. They may of course also be grilled in the oven.
They must be fried / grilled until there has evaporated some fluid and the surface begins to be chewy and toasted.
Now add barbecue sauce and fry / grill for a bit longer so that yhe sauce sets as a delicious, sticky layer.
You can smoke the 'meat' as you grill when BBQing outdoors.
Tips:
If you do not eat meat in general or maybe just want to cut down on the amount , but want to try something that can be used in the same way, seitan is a fun thing to play with. Seitan has many other names also: wheat meat, wheat gluten, artificial meat, 'Mock Duck' etc.. Common to them all is that they are made of the gluten part of wheat flour are kneaded together with a variety of condiments/spices and prepared – often in two steps – and then have a texture that resembles meat. You can get gluten either by 'washing' a wheat dough or by buying finished gluten flour. I use the last model. The consistency can be adjusted both by changing the amount of liquid and by the way you prepare it – but basically the structure is in the style of tender chops and sausages. Later, we look at how to make more firm products.
It is important that the dry ingredients are mixed with each other on theit own and the same goes for the wet ones - before the two are mixed together. The 'dough' forms quickly and it can be difficult to distribute the ingredients, if they are not well mixed as described, before dry and wet are mixed together.
You can freeze your Fooled Pork, both as a whole piece, when it has been pulled to small pieces or when it is completely finished, and grilled / toasted.
The different brands of gluten-flour behaves a little bit differently and there may be a difference in how much you need of the flour in the recipes. I denne skal du starte med 4 dl og så tilsætte mere under æltningen indtil konsistensen er rigtig.
If you find this portion too large – or maybe you just would like to try a smaller batch the first time – then you can halve it and then it only needs to simmer for 40 minutes.
If you fry it and use oil, try adding a little of the oil in the form of toasted sesame oil - it adds a delicious taste.
If you own a Multi Fry you can easily do the frying in it – use only bottom heat and level 4 (the highest) with the lid open.