So I joined the waffle wave and has played around in the kitchen. The waffles can be varied infinitely – there are some suggestions to variations at the bottom of the page. They can be made as savory and salty – or as sweet waffles for dessert or breakfast – though we eat the spicy for breakfast as well. There can be put a lot of vegetables or fruit in the dough – or you can make them quite simple and run wild in the toppings. They can be used in place of bread in a sandwich, alone as a kind of chips or crackers – or in a classic way topped with something delicious spicy and / or sweet.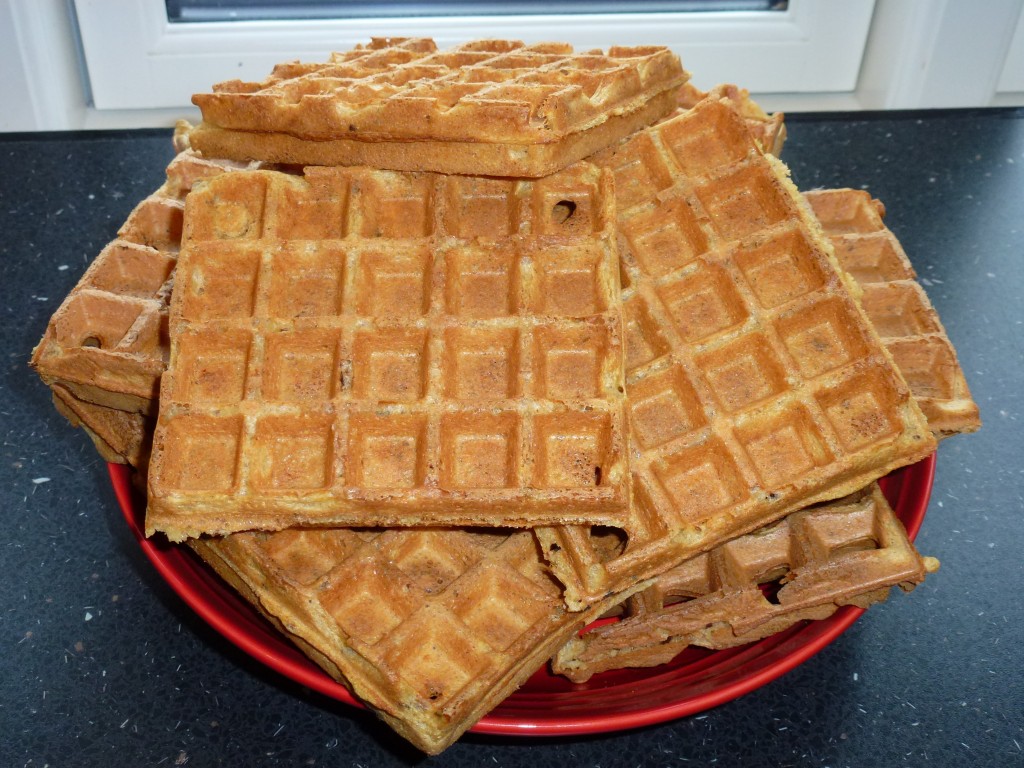 Basic Ingredients:
2 dl chickpea/gram flour
2 dl wheat flour (can easily be replaced by another kind of flour)
2 topped teaspoons baking powder
1 teaspoon salt
spices eg. chili to taste, 1 tablespoon mixed spice like barbecue / curry / garam masala etc., herbs, black onion seeds, coriander, sumak, granulated garlic, fennel, vanilla, cardamom, grated lemon- or orange peel – go wild
ca 4 – 5 dl water or plantbased milk
perhaps a little oil
How to:
Mix the dry ingredients in a bowl and whisk in water or plant milk until the mixture is slightly viscous. As a slightly thick pancake batter if you know that consisyency.
Let the batter rest uncovered on the kitchen table for half an hour.
Turn on your waffle iron and bake the waffles. In my waffle iron they must bake 5-6 minutes a piece, but it really depends on how thick wafles your iron makes and how hot it gets – try a few so you know it. In my waffle iron the basic portion here yields about. 12 waffles. Let the baked waffles cool on a wire rack while you bake the rest.
Serve immediately.
The waffles can be frozen and heated in the oven before serving.
Tips:
If you want to make sweet waffles, you can add about 2 tbsp coconut sugar or other sweetening to the batter. I like to add a little salt also when making sweet waffles – but it's up to you.
Try to add a few dl finely chopped vegetables – it tastes super nice. They can be raw or cooked. Chopped olives and sundried tomatoes also works excellent.
You can also add fruit in the same way and you can use oatmeal and / or desiccated coconut instead of some of the flour. On the whole, you can use different types of flour depending on what you fancy. For example, try. making waffles with coconut milk, banana and maybe toasted dessicated coconut in the batter.
My waffle iron can easily make waffles without fat without them sticking. If yours can't, you can add ½-1 dl oil to the batter or use an oil spray on the waffle plates before each portion.
I'll take pictures and come up with some ideas here below as we will be making some different kinds.
Below are photos of waffles made with 1 topped tablespoon of mex spice blend and chili in the batter. Topping in the first picture is black bean hummus with red pepper and soft, fried onions. In the other picture is toasted pumpkin, chipotle and silk tofu cream with cress and ancho flakes.