Syltede valnødder som gør sig rigtig godt på diverse oste m.m.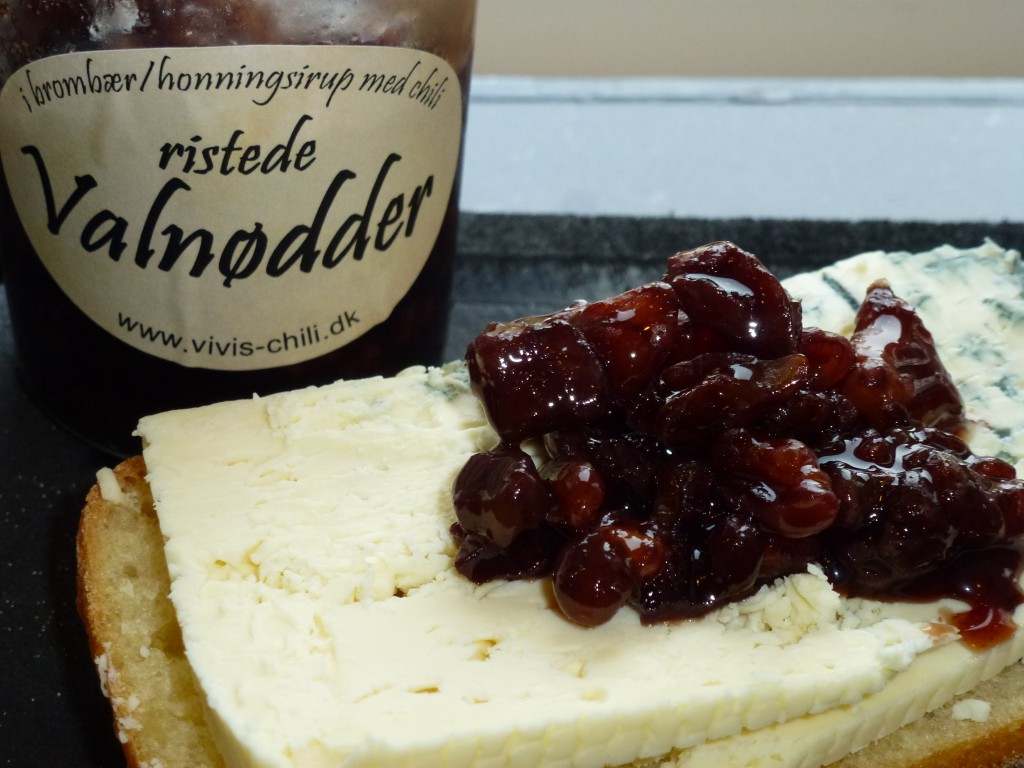 Ingredients:
2 kg valnødder
2 kg brombær (fresh or frozen)
6 dl rød balsamico
600 gr rå rørsukker
900 gr honning
Chillies to taste
6 tsk salt
Sodium benzoate
How to:
Come blackberry, chilli and balsamic vinegar in a saucepan, med låg hvis brombærrene er friske – otherwise without, and bring slowly to the boil. Let it simmer over very low heat until the blackberries are cooked out – det tager ca 15 – 20 minutes. During the mass reached the point where blackberries are covered by juice, you may well remove the lid if you have it on – which may be like a little vapor fluid of.
Kom massen i en sigte og lad den stå mindst 1 times tid og dryppe af.
Kom saften tilbage i gryden og tilsæt honning, sugar and salt. Bring slowly syrup to a boil while you proceed with walnuts.
Valnødderne ristes i ovnen ved 200 grader i ca. 10 minutter – måske skal de have lidt mere, perhaps less. Keep a close eye on them and mess around in them on the way. Den papirstynde skal skal begynde at krakelere og løsne sig lidt, but the nuts should not be too dark.
Gnid dem godt i et viskestykke så en nogle af skallerne fjernes. It does not need to be the whole.
Come walnuts on glass.
Smag siruppen til. Hvis der skal mere chili i, så finthak chilien og kom den i siruppen. Lad den simre med 2 minutter og tag siruppen fra varmen.
If they must be stored for a long, then you can choose to add a bit Atamon (lad så siruppen køle af 5 minutter inden tilsætning).
Then pour the syrup over the walnuts. Close immediately slides to.
Tips:
You can use. blackberry mass in a bread, a cake, muffins e.l.