A good chili classic that can be varied in lots of ways.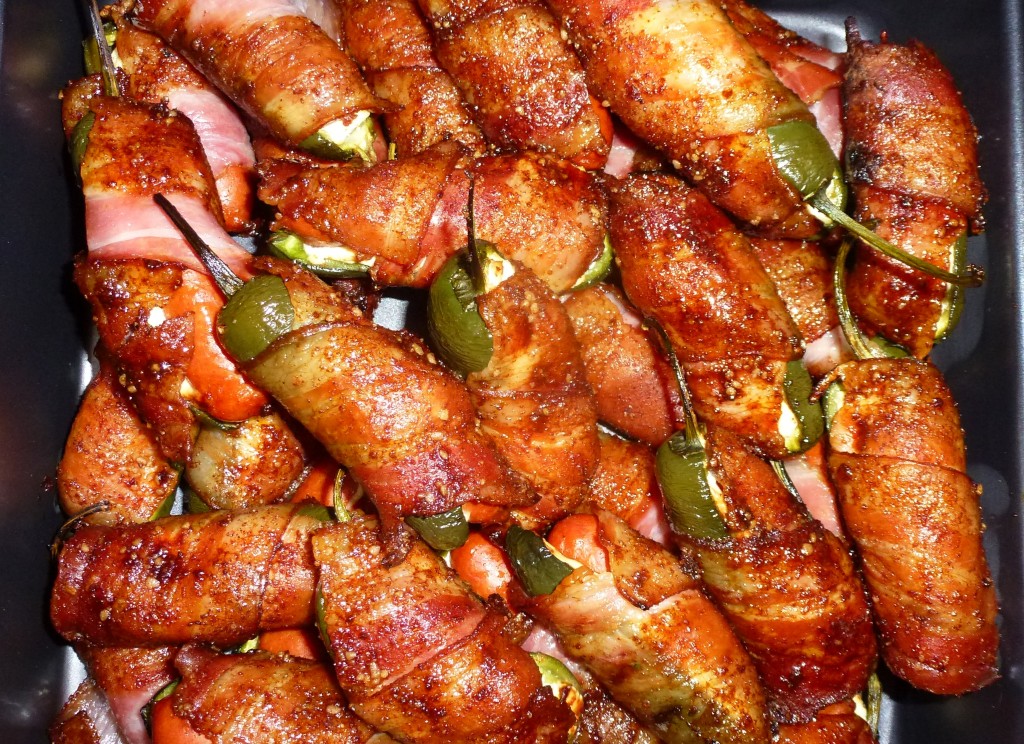 Ingredients:
Jalapeños – like green
In cremet ost, i.e.. Philadelphia, Savoury, Smoked cheese e.a.
Small, delicious sausages – i.e.. well seasoned small eco cocktail sausages
Good bacon into thin slices – like smoked and eco
maybe some. spices (kunne være noget i stil med 2 spsk muscovadosukker + 1 spk røget paprika + 1 spsk chilisalt)
maybe some. in Chilisauce eller barbecuesauce, like slightly sweet and strong
How to:
Wash Jalapeñoerne and share them along. It's a good idea to share them so that they can be 'nicely'.
Remove the seeds and frøstolen, it is most easily done with a small teaspoon.
Butter cheese with a butter knife. Fill them about half, so that to make a slight indentation along.
Pressure A small plug into each half.
Wrap a good slice of bacon. You can alternatively. fæstne bacon'en med en smagsneutral trætandstik.
If you are using spice, then came the bacon and presented it to look.
Now you can save ATB'erne covered in the fridge to be cooked. You can also freeze them for later use (without toothpick, if you use them).
When ATB'erne be cooked, you can use the oven or grill. They taste great if you have the opportunity to grill them with some smoke.
Grilles for bacon is crisp.
Serve as is or with a little chilli- or barbecue sauce.
Tips:
Instead of the spices you can brush a little chili- or barbecuesauce on bacon indene grilling.
If you use the oven, så stil den på grilltemperatur eller meget varmt 250-275 grader og stil ATB'erne midt i ovnen, not quite up under the grill body.
Using just the fillings and the possible. spices and dippingsauce as you like – there is room for antics. Can be used as a full court with some nice accessories. Good quality sausages and bacon (from animals with curl on the tail) kan smages og løfter denne lille snack/forret/ret til en sublim deltager på chilimadbordet.
Green Jalapenos tastes are not necessarily particularly strong. The longer time they have been sitting on the plant the stronger. You can also wait until they are mature, if you want a little more strength – just as you obviously can make Turds with other chilli varieties.