Harissa is a native North African and chillies growing in North Africa would be an obvious choice – but any kind may of course be used. I Marokko, Algeria and Tunisia used Harissa like in soups, couscous, simreretter, pasta dishes etc.
A mild Harissa is great at some good bread, on a baked potato or a piece of grilled vegetables.
Personally I do not think that Harissa must be made with chinenser – but like the other species.
You can use dried chili, som udblødet 20 minutter i varmt vand inden brug.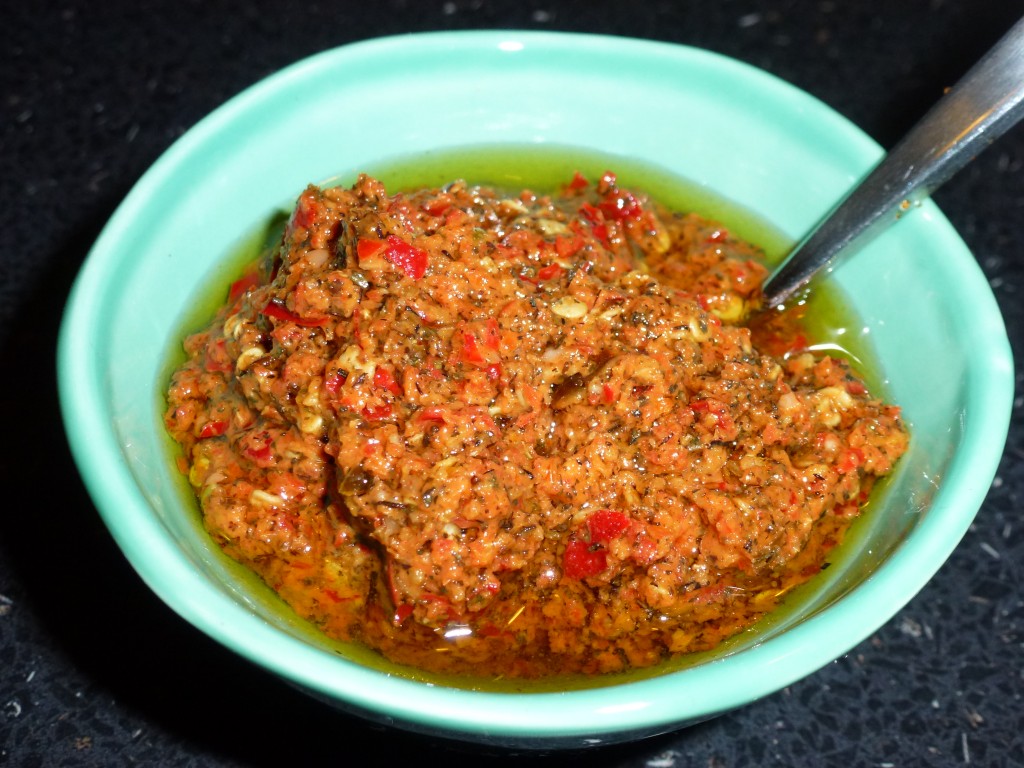 Ingredients:
Chili: i.e.. a handful of piri piri or two
2 spsk korianderfrø
2 spsk spidskommenfrø
1 spsk kommensfrø
2 tsk tørret mynte eller lidt frisk
1½ spsk salt – like salt flakes
About . ½ head of garlic
Saften af 1 citron
3 spsk ekstra jomfru olivenolie + ekstra til at fylde på til sidst
How to:
Coriander, spidskommen and commentary shaken look on a medium hot forehead for about. 4 minutter under konstant omrøring.
The roasted crushes spices in a mortar or shredded in spice grinder with mint until they are pulverized.
Blend all ingredients, at near the extra olie, to form a smooth mass.
Pour the mixture in a clean, sterilized glass and smoothed out. Pour olive oil over the mass for about. 1 cm lag.
Every time there is used by Harissa'en topped up with a little more oil to seal the mass with.
Opbevares på køl i ca 2-3 uger. Alternatively, any portion of frozen after production.
If you taste Harissa'en in the blender before pouring it on glass – and finds it too strong – you can blend a little pepper or sun-dried tomato in. Now you can do anyway just for flavor. I use økocitroner and often choose to use the finely grated must also. Variér selv løs ;o)