A delicious mayo which is somewhat less fat than the regular – and which of course can be seasoned to taste exactly as you like.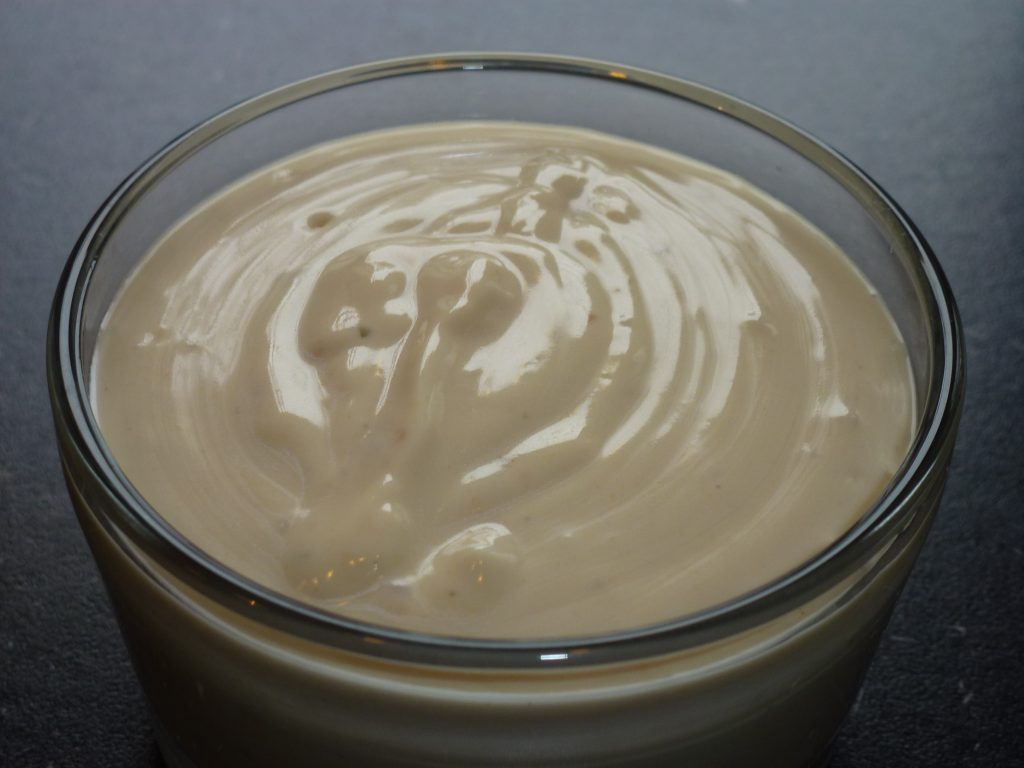 Ingredients:
1 package silken tofu (300 gr)
2 dl oil – neutral or with a taste that you like in mayo
3 tbsp applecider vinegar
1 tablespoon nutritional yeast flakes (Optional)
2 tsp dijon mustard
2 tsp of vegan bouillon powder (Optional)
1 pinch of salt – like Kala Namak / black himalayan salt
Maybe a little spice to taste. Some use a small pinch of curry in the basic mayo.
How to:
Place all the ingredients except the oil in a food processor and blend until they are mixed completely and the silken tofu is creamy and uniform in consistency.
Add the oil a little at a time while blending until it all is incorporated.
Season to taste – maybe you would like a little more salt, vinegar or mustard?
Now you can use your mayo as it is – or adding various flavors if you like. For instance. split into portions and try some different sesonings.
Some of our favorites are:
chili – fresh or dried
chipotle – either powder or canned
garlic
smoked paprika
finely zested lemon peel (Replace like the applecider vinegar with lemon juice)
various herbs, eg. rams, chives, coriander, dill
karry
When the mayo has been refrigerated a while it will set a little due to. the silken tofu.
We use the mayo everywhere we would otherwise have used an egg-based mayo, but also where we previously would use butter on bread – not with sweets, there we use different nut butters – but e.g.. as a spread under simple delicious veggies as cucumber, tomato or potato, and drizzled well with chopped herbs – yummm. Good for sandwiches and bread where you use fried tofu or vegan/vegetarian meatballs, mushrooms or seitan'meat '.
Season to taste with additional apple cider vinegar or vinegar powder, some sugar, a little salt and maybe. celeriac seeds and use it for coleslaw.