Chili Vinegar is delicious anywhere you would normally use vinegar. If you have made it very hot, it's easy to mix with a bit of pure vinegar before use. Use it in salad dressing, in mayonaise, dripped on french fries and baked vegetables, a tsp in the sauce or soup etc.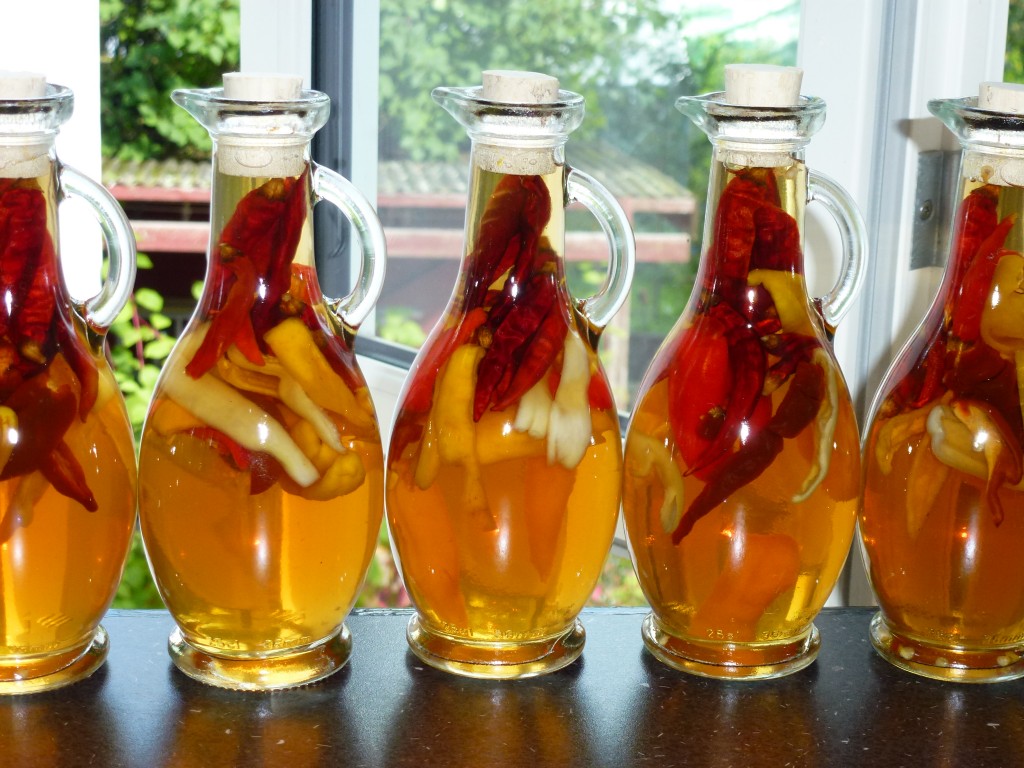 Ingredients:
2/3 White Wine Vinegar
1/3 Applecider vinegar
1 teaspoon of salt per 2 ½ dl vinegar
1 tsp raw cane sugar per 2 ½ dl vinegar
Fresh and / or dried chillies
How to:
Wash chillies well and scald them if you like. Just for a second using a sieve to hold them. Cut either the stem and top of or punch a few holes in them with a skewer. You can also choose to shred them – or mix the different models.
Bring the vinegar to the boil with the salt and sugar and immediately take if off the heat and let it cool for 10 minutes.
Pour the vinegar over the chillies and immediately close the bottle. If the vinegar level is sinking because you poked whole chillies, you can just wait and top up using a bit more vinegar in the bottles as it sinks, before closing them.
Store in a cool and dark place a few weeks before use.
Can be strained and poured back into the bottle when you think that it is hot enough, or if the chillies becomes a bit pale and boring to look at.
Tips:
You can choose to add garlic cloves, other spices maybe. or perhaps ginger in the bottle as well.
If the vinegar has become too hot, you can simply dilute it with a little more. I mix a pinch of salt and sugar with a little apple vinegar and use it to top up with.