It's easy to make your own ketchup and the taste is unbeatable. It takes a little time, so it pays to make a double portion when you are doing.
The following recipe can also be made without chilli – and you get a delicious' ordinary' krydderketchup of the – hvor det jo er tilladt at sætte sit helt helt eget præg ;o)
The taste is like a krydderketchup (in addition to the chili), that is, with more seasoning than a traditional ketchup.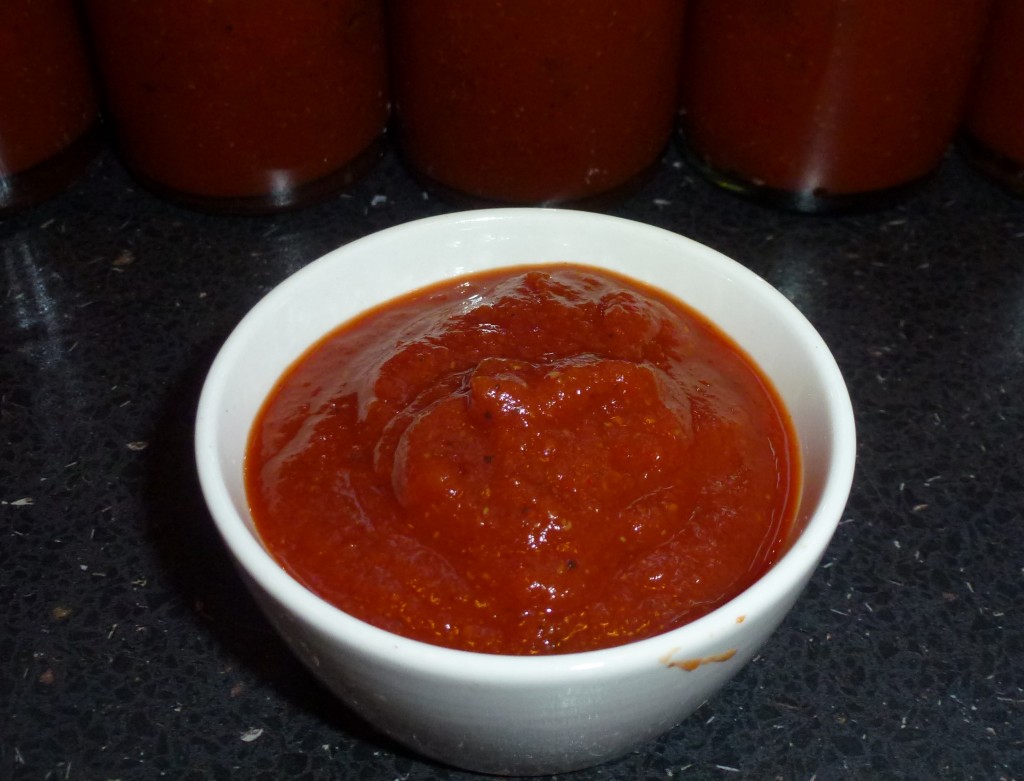 Ingredients:
1 kg tomater
fresh chili to taste – cut into small pieces (or a little chili powder / crushed chili to taste)
400 gr løg
2 apples
1 – 2 dl æbleeddike (depending on how tart both it and the tomatoes are)
4 spsk brun farin
2 tsp salt
1 tsk hele nelliker
½ rod whole cinnamon (the small rods)
1 tsk hel koriander
2 tsk sennepsfrø
maybe some. tomatkoncentrat (a small or large can)
Sodium benzoate
How to:
The spices ground in a grinder or a mortar.
Core the apples and cut tomatoes, onions and apples, diced. The apple is not peeled off.
Start med 1 dl eddike og tilsæt mere senere hvis der skal justeres. There is a big difference between acid unit in the different brands.
Get every ingredient holders, with the exception of tomato concentrate, in a pan and let the ketchup simmer without a lid on for about. 1 time.
Let the mass cool to the temperature of your blender can handle and then blend the mass several times. Pour back into the saucepan.
Let ketchup simmer until it is cooked to nearly real consistency – it should be slightly thinner than you want your ketchup – it thickens slightly when it cools. Jeg koger ca 1/3 af væsken væk – I think that's appropriate. There must be stirred frequently, especially towards the end, as ketchup does not burn. Season with more vinegar along the way if you think.
When it is getting there, season to taste with any. more sugar, salt, eddike og chili. I use powdered chili for this part.
If you choose to add the tomato concentrate made it a little before the ketchup is boiled down to desired consistency, when the concentrate acts as a light cultivation.
Season with salt, sugar and possibly. spices.
Remove the ketchup from the heat and add Atamon as directed on the bottle.
Immediately pour the scalded, atamonskyllede glas eller flasker som lukkes med det samme.
Note:
Tomato concentrate contribute with light cultivation, red color and more tomato flavor. If you do not have fået barrels of fresh cut, strong tasting tomatoes – the concentrate may be just providing a tomato flavor boost. It's a little different if I use it or not – it depends on smagen in the tomatoes that I have fået barrel / picked.
Of course you can replace the whole spices with ground if you do not have to paint them yourself. They all just tastes more (and better). The spices can of course also be omitted for a more clean and clear tomato flavor. Pinks tastes good through, then you're not so crazy about them – so you can get away with ½ teaspoon or any. omit them.
Remember to use a good large pot – it splutter a little when it boils into. I use a small soup pot.
I have experimented with smoked chillies and tomatoes also – which also tastes terrific.
En styrke som passer mig fint er en stor Habanero til 1 portion – and so possibly. taste with some hot chili powder eventually.