Here is one of the greats husfavoritter – them we have made a lot of.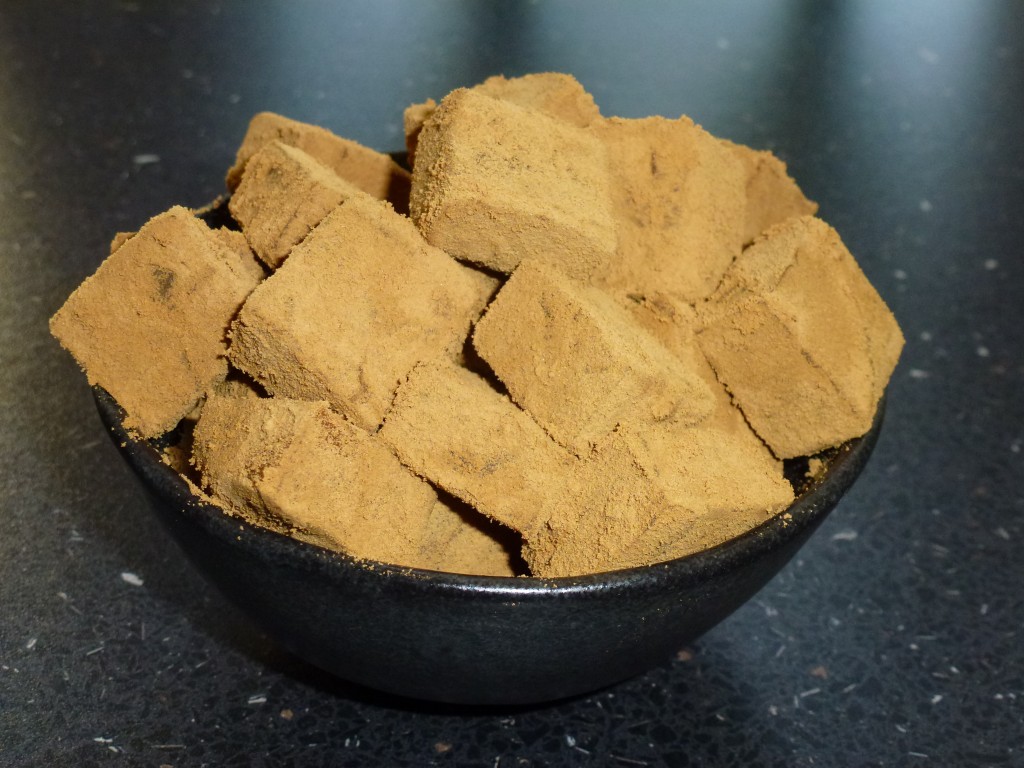 Ingredients:

250 g sugar
½ liter milk cream whip
125 gr glukose
2 tsk flagesalt – i.e.. Maldon
chili to taste – very finely chopped
2 spsk lakridspulver
A rectangular shape – that 18×18 cm, lined with baking paper that is coated with a thin layer of oil
Licorice powder to roll them in
How to:
Glucose, sugar and cream boil over a moderate heat in a not too small saucepan.
There must be stirred frequently and more often the longer it has been cooked and not to burn on. Towards the end stir constantly. It is easiest with a wooden spatula.
Cook and stir until the caramel is nice golden brown and begin to drop the bottom of the pan – it changes like the texture slightly. Det tager mellem 20 og 40 minutter alt efter hvor meget fut du har på gryden.
When the consistency is right to be there, then add salt and stir on to you think that it is nearing completion.
Tag gryden af varmen og rør hurtigt lakridspulver og de hakkede chilier i og hæld det fluks i formen.
Cover with greaseproof paper smeared thinly with oil.
Layer caramel stand and rest at room temperature until the next day – eller ihvertilfælde ca 4 timer hvis ikke du kan vente længere.
Take caramel block out on a cutting board, dry most of the oil with a paper towel and cut it into squares rolled in liquorice powder.
Tips:
You can get glucose in ex. E-deli and Special Merchant (ing links) if not your local shopping place has it. Now use a real licorice powder. You can buy from TI spices or Matas.
This recipe can pull some of the really hot chillies.
It can be difficult to hit just the right consistency of toffees each time – practice makes perfect – og de smager lige godt af den grund.
If they become too soft, they do not cooked long enough, if they become too hard, the cooked for too long.
Being toffees not tough enough, there is a high probability that they will flow out when you cut them and let them stand a little. If you find that the mass has become too soft when it has been, you can put it in the fridge in the mold for a few hours, melt some chocolate (dark, cream or white), take the cold caramel lot out and cut into small chunks which immediately turned into the melted chocolate and put out to dry. Not bad either.
1 meget stor Habanero eller 2 mindre synes jeg giver den rigtige smag