It is not chillies which are needed to be cute in this super easy recipe, but lagen. It is suitable also really good for the sweet and mild peppers types – you can always put a finely chopped hot chili with to give the sheet an extra touch, if you think. It tastes wonderful.
If you eat the really hot pickled chillies, I think that this recipe is a delicious change of pace from the more acidic vinegar pickled. They are nice to have in the fridge, so there just may smoke a few finely chopped with the food. The sweetness gives the chili a good fellow.
The chili will be soft and delicious and used as an accessory for just about everything. Also, just as a delicious snack on a plate haps – hvad enten man er til de milde eller de stærke.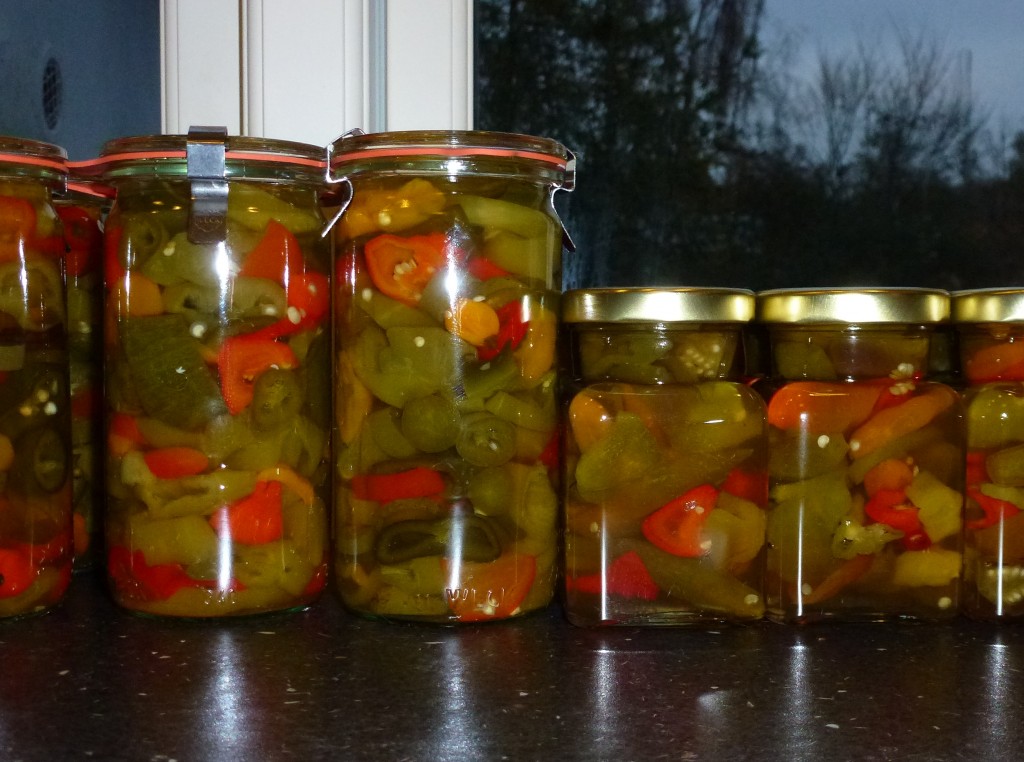 Ingredients:
1 kg chili
2 dl eddike – lagereddike or æbleeddike e.a.
1½ dl water
2 dl sukker – like raw cane sugar
possibly. Sodium benzoate
possibly. pickling spices – whatever you like. It can be a variety of cloves, bay leaves, peberkorn, fennel seeds, celeriac seeds, mustard seed, star anise, garlic cloves, sliced, ginger slices, etc..
How to:
Vask chilierne. Split them and remove the stem and seeds – frøvæggene you can remove, or let sit as you like. Cut any. chilierne i mindre stykker.
Bring a pot of water and vinegar to a boil. When it boils, gives chilierne et opkog 2-3 minutter og fiskes op med en hulske. The chili executed immediately on clean, scalded and optionally. sodium bezoate rinsed glass jars. There is not room for all the chili in the pot at once – then boil them a few laps or more. Pressure chillies easily together in the glasses with the back of a scalded happen.
Measure the sugar and possibly. syltekrydderier op og kog det sammen med eddikevandet i 5 minutter ved middel varme.
Remove the mixture from the heat and let it cool. Add perhaps. Atamon for instructions on flaske, if it is to last long.
Hæld lagen founders of chili in jars. Fill them all the way to the edge and close immediately good.
Let chillies to soak at least a few days – and store them in the fridge when embarked on them. Also like before, if you do not use preservatives.
Note:
Boiling makes chillies to be slightly soft and easy to press together in the glass – and remove most bacteria.
The recipe is also very useful for homemade Peppadewlignende chili, etc..
I'm usually not so silly with green, umodne chili – but sødsyltede they are quite reputable in taste.
I tilsætter ½ -1 cup extra sugar when I jellies superhot – it works well, I think.