Lots of licorice and chili to taste gives cranberries a nice kick in this jam. The taste of the otherwise bittersour little berries is at first nice and soft with spicy chili and then liquorice comes sneaking into the tast to round it off and kind of bring it all together.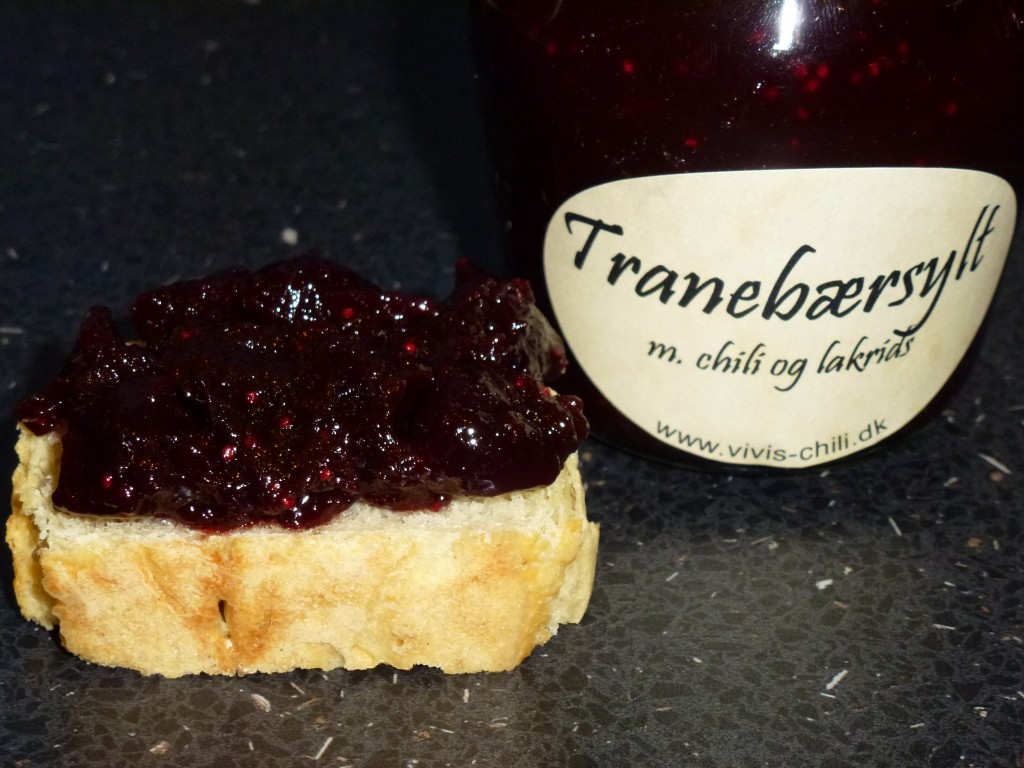 Ingredients:
2,5 kg cranberries
chili to taste – fresh or dried (i.e.. 3 Habananeros)
5 topped tsp vanillapowder
3 dl red balsamic vinegar
2 kg raw canesugar
200 gr raw canesugar
120 gr english liqourice powder
4 tsp gelling agent (depending on brand)
Sodium benzoate
How to:
Rinse the cranberries well if they are freshly picked and also rinse the chilies (remove seeds if you like – I do not) and chop them fine, possibly in the food processor.
Put cranberries, chili, vanilla powder, balsamic vinegar and 2 kg raw canesugar into a pot and bring it slowly to a simmer.
Simmer until cranberries are soft and mushy.
Blend 200 gr raw canesugar well with the liqourice powder and gelling agent in a separate bowl. Licorice powder is very susceptible to moisture, so do not take it out of the package before now.
Sprinkle licorice mixture into the pot with the boiling mixture and stir well while doing so. Simmer the marmalade for further 2 minutes and take the pot of the heat.
Add sodium benzoate as directed on the bottle (if you use sodium benzoate) and immediately fill the marmalade into clean, scalded and optionally. sodium bezoate rinsed glass jars, which are immediately closed.
Tips:
Licorice amount is always a matter of taste. If you are afraid that it is too much for your taste, then start by adding half of the suggested amount during the 2 minutes simmering time, taste and immediately add more if you like.