A recipe for a tortilla which is good for a cold beer or as a starter or…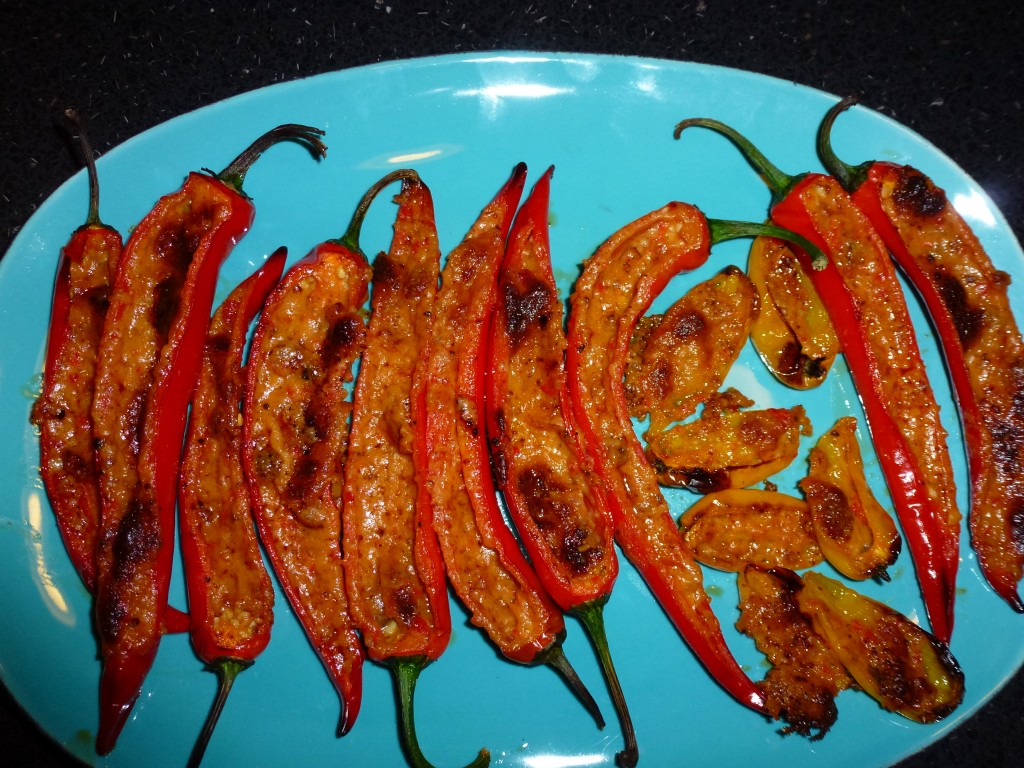 Ingredients:
Medium strong or mild chilies
A small piece of really good bacon
Et par batater (sweet potatoes) or kartofle – cut into cubes of about 1×1 cm
Grated or chopped cheddar cheese – ca 100 gr
4 spsk mascarpone
A little smoked paprika
Pinch of salt
A pinch of chilli powder or chopped chili or…
Whipping cream
maybe some. fresh chopped herb – i.e.. oregano or rosemary – use what you like – alternatively dried
How to:
Cut the bacon into small pieces and fry crisp in a pan – put it on a plate, but keep the fat in the pan.
Fry bataterne / potatoes until tender in bacon fat over low heat – put them aside and cool light of – discard remaining fat if there is anything.
Add chillies on cutting board and cut the top quarter of, such that the stem remains on the large piece and you have a fine chili to fill. Scrape out the seeds.
Chop the part of chillies as you cut away fine – and use it for filling.
Right, pastes and mix the filling – easily done in a food processor – Adjust the consistency with milk cream – it must be stiff as mashed potatoes.
Fill in chillies. You can use. an icing bag or freezer bag where you cut a corner of.
Grill chili in the oven until golden and serve immediately. Like a cold øll
Tips:
You can put almost anything in them here – old (almost) can be grilled in a chili.
If you think that the filling is liquid (it becomes almost) – so do mascarpone and cream and butter the solid fill in chilli them with a butter knife instead.
Serve: always – always – they taste good.
Idéelle as snack – small business – del af tapasbord.
The filling can be frozen in small portions – it's hard not to make too much – and thawed and used the next time you need to make stuffed chili.
It can also easily be used cold, it is delicious uncooked also – i.e.. topped up with a half-track sun-ripened tomatoes – or on pizza.
Here a few versions where chili is packed with other goodies – i.e.. chopped oksekød, Philadelhia, god cheddar, garlic, finely chopped ripe chili and a little (smoke)salt – and then oven- eller røggrillet.