These models are explodes with flavor and plenty of chili as desired. They are not particularly difficult to make, but you have to remember to put the chickpeas to soak in the morning. You can also boil the chickpeas the day before to make models and then store them in the fridge – or you can 'cheat' and use chickpeas from a can or papbrik or whatever they come in gradually.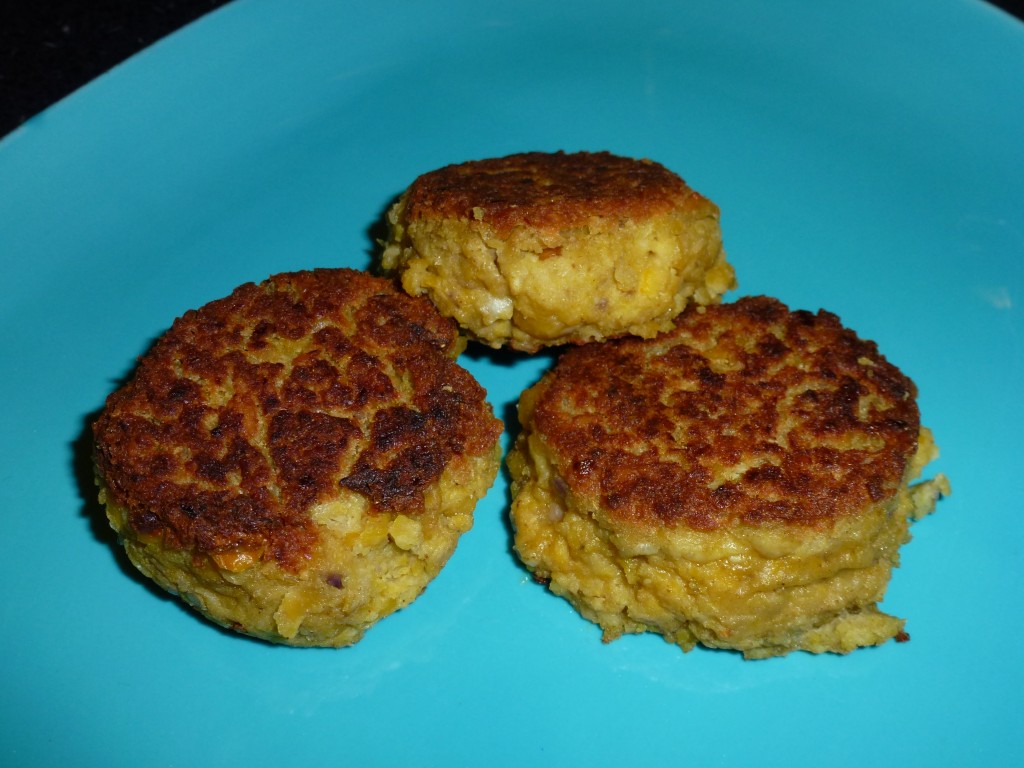 Ingredients:
500 gr tørrede kikærter
3 løg
½ head of garlic (not half fed – ½ head of garlic)
1 topspsk. ground cumin
1 topspsk. ground coriander
1 topspsk. flag salt or other coarse salt
red chili sauce to taste (I use my own, which is dødstærk) – or fresh or dried chili – lots of chili
5 æg
2 spsk hvedemel
olive oil for frying – ample
How to:
Hvis du bruger tørrede kikærter skal de sættes i blød 10-12 timer i koldt vand. Let them stand on the kitchen table. About . twice as much water as chickpeas (rather too much than too little).
They begin to stand and 'småpoppe' – it is quite normal.
Skyl kikærterne og kog dem i frisk vand med salt i ca 30 – 40 minutter. You can taste when they start to become tender.
Cool them by. They do not need to be quite cold, but hand warm they must be before you use them, so that they do not receive the eggs to coagulate.
Throw the rest of ingrdienserne in the food processor and run it to an appropriate mass – are allowed to be small pieces of onion in.
Pour the mixture over the chickpeas (you can not have it all in the food processor at once here with me) og bland det i maskinen af 2 – 3 omgange. How nice you 'hoes' it is up to you – I think it must have some structure – not be completely mash.
If you think that the mass is too dry, you can pour a little olive oil, cream, or more in an egg.
Varm en pande op med rigeligt olivenolie på og form og steg dellerne.
They must not be too large, so they fall apart. Kikærtedeller is slightly more porous than meatballs, so use a gentle hand and a very flat spatula – so they'll be fine.
Serve as you would serve meatballs – they can be used all the same thing – It is an exciting and spicy flavor – as well as a way to limit their meat consumption on without feeling 'cheated'.
Tips:
Use lots of fresh chopped herbs in them too – especially parsley, we are very excited about them here.
Chopped / grated vegetables are also a hit them here. Or cheese – feta or grated cheese with lots of flavor.
Fresh Came spices tastes absolutely the best. If you are the happy owner of a spice mill – then grinding them like myself for this recipe.
I do not know how many cans / pieces you use in place of fresh, men jeg vil gætte på 3 til denne portion.