Svupsakker is fritters served with a dash of brandy in the middle. It is a Lolland Behaviour, I was a bit skeptical, until I tried the first time. It gives very fine sense – mums. And the good old custom of actually putting apples in apple slices, 're not entirely bad in the version with chilli syrup cooked apple pieces. Svupsakker with chili is born – they provide heat – they also delight your (jule)bord ;o)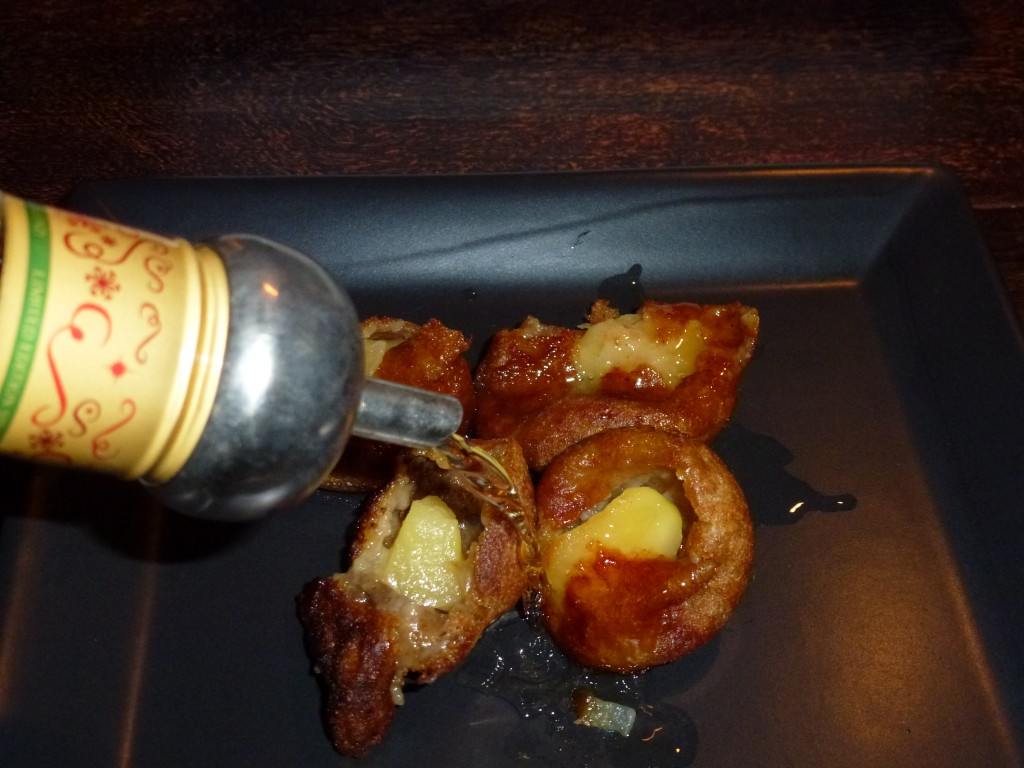 Ingredients – apples:
3 – 4 halvstore æbler
½ dl of water
1 dl rå rørsukker eller en mørk sukker
1 frisk chili, finely chopped (i.e.. 1 Habanero)
Ingredients – æbleskiverne:
250 gr mel
1 tsk natron
½ tsp fine salt
½ teaspoon ground cardamom
½ teaspoon ground cinnamon
½ teaspoon ground chili
½ teaspoon ground ginger
1 spk sukker
revet skal af 1 usprøjtet citron
½ liter of buttermilk
2 æg
snaps
butter for baking
How to:
Peel the apples, cut into wedges and remove the core. Skær dem i bidder på ca 2-3 x 2-3 cm – they are to be in an apple slice.
Bring apples, sugar, water and chili to a boil in a small saucepan and simmer la them to the apples are slightly tender, but not falling apart. Let the apples cool in the syrup.
Mix flour, natron, salt, cardamom, ginger, cinnamon, ground chili, sugar and lemon zest.
Rør kærnemælken i lidt ad gangen.
Beat the eggs lightly together and stir them into the dough.
Heat a dumpling pan and pour about ½ teaspoon butter each hole (I think it's easiest if you have melted butter first). Fyld hurtigt hvert hul 3/4 op med dej.
Getting a piece of apple in each for a moment and turn the apple slices with a knitting needle or a fork when they have formed a fairly solid bottom.
Apple slices turned several times until they have appropriate color – ved medium varme tager det ca 5 minutter.
Servers with the same. They might be. kept warm in preheated oven at low heat during baking of the rest.
When serving open one apple disc on the plate and pour a little brandy in.
Bon appetite – tag and try them – Fritters will never be the same again.