Trouts are grateful fish to cook and they taste great with a spicy flavor gives. I always use what I have just at hand from the herb bed – but here is a good example of easily fill with chili while we wait for herbs.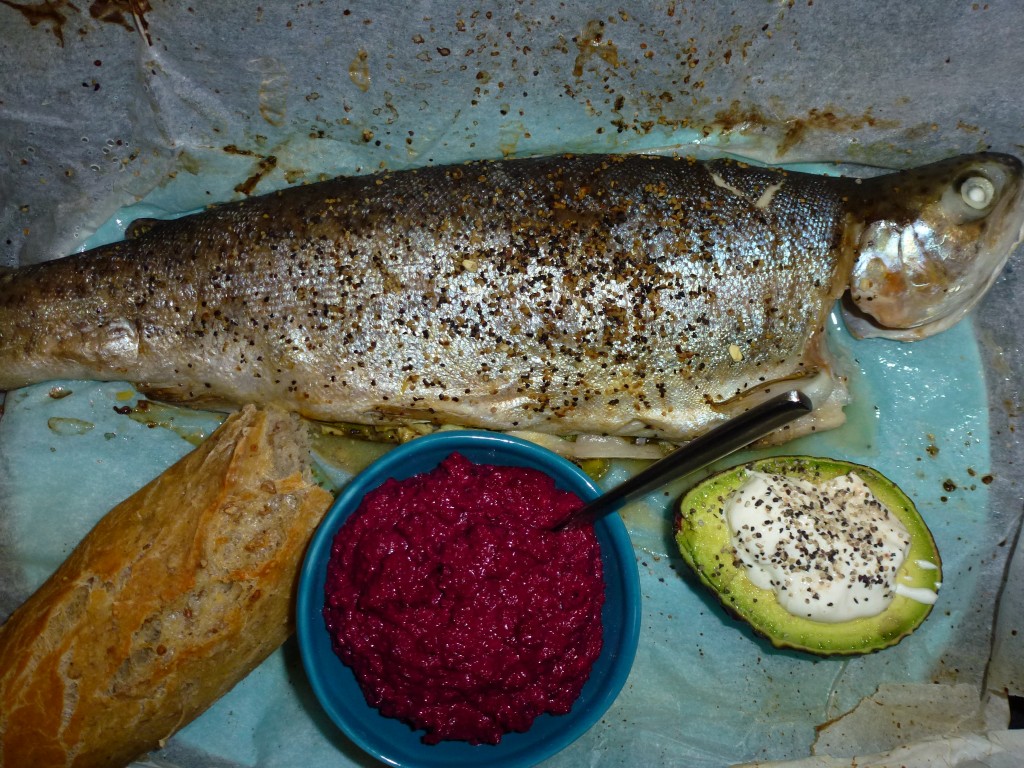 Ingredients:
Til 4 personer:
4 foreller
4 – 6 store forårsløg
4 – 6 fed hvidløg
4 toptsk dijonsennep
minced chili aftertaste
friskrevet skal af 1 økologisk citron
salt and peber
saft af 1 citron
4 stykker bagepapir til at pakke forellerne i
How to:
Clean the trout.
Finthak chilli and garlic. Hat scallions slightly rougher.
Mix scallions, garlic, chilli and lemon zest and season with salt and pepper.
Læg forellerne på hvert sit stykke bagepapir og smør 1 tsk dijonsennep inden i hver.
Spread the filling in the trout. Close to and squeeze lemon juice over the fish.
Close each package well and put them in a dish.
Bag forellerne 20 – 30 minutter (according to the size) ved 200 grader i ovnen.
Unpacked and served along with ex. salad, friskbagt flutes and pesto.
In the picture they served with halved avocado with lemon juice, creme fraice, salt and peber, and freshly baked baguettes and rødbedehummus.
Tastes even better grilled (without baking pair) in a 'fish keeping' on the grill outside – så gnides de med olie udenpå før grillningen og citronsaften dryppes først over ved servering.