It's easy to make your own fruit- or bærsirup and the many delicious summer fruits can thus help to make winter a much needed summer breath of fresh air.
The syrups can be used for many things in the kitchen – and sweetness, seasoning, strength (chili etc.) one can happily self-adjust according to your own taste buds.
Syrups may also include. used for ice cream and other soft desserts, on cakes, as a marinade for fresh fruit – like with a bit of balsamic vinegar. In this way, (with a bit of high vinegar or citrus juices) er nogle sirupper også velegnet til fisk og sammen med olie som salatdressing. Rene to spice up a tame jam up, in a glass of milk or nog, a little bit in marinades for meat and a few teaspoons of sauce, med vand og isterninger som saftevand, in drinks, for red cabbage – raw or cooked, et bløp i den varme te og meget mere.
I'm expanding with more pictures and ideas when I make the next several syrups – så kig endelig forbi igen ;o)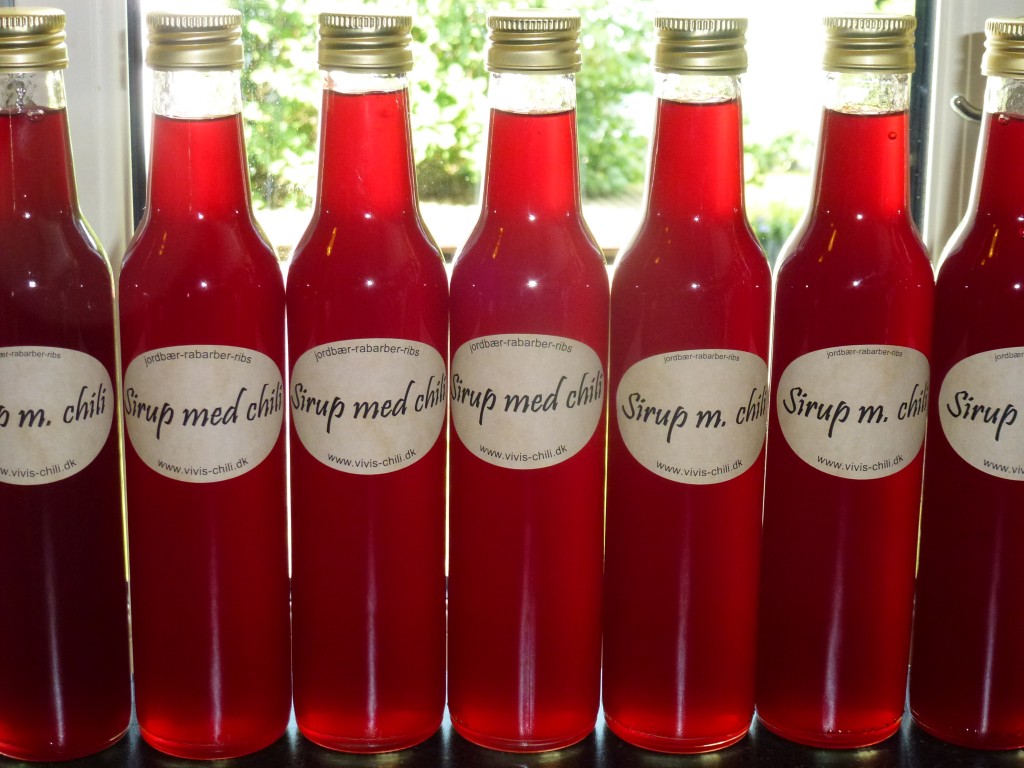 Ingredients:
Fruit and / or wear
Liquid glucose
Raw cane sugar
Chili to taste
maybe some. water
maybe some. citric acid or citric acid
maybe some. vanilla and / or other (the) spices
maybe some. Sodium benzoate
How to:
Clean fruits / berries and rinse them well. Remove the stones from stone fruits and cores from apples, bulbs etc.. – but do not peel unless it is damaged. Stones from cherries and apricots can leave some pieces boil with the – it gives a slightly almond flavor.
Share the rewards of not too large, uniform pieces. It is not necessary to share the small berry, but ex. jordbær skærer jeg i ca 4 skiver hver.
Fill a small body of water in the pot as you need, only about half cm.Frugten into the pot with the water that clings to the flushing.
Clean and finthak chilli and place in.
Add perhaps. whole spices and maybe a little lemon zest and juice.
Place a small porcelain- or glazed clay bowl or plate on ice.
Put the lid on the pan and heat slowly fruit mass to the boil. It should go slowly, so it does not burn on the bottom. Let the mass simmer until the fruit is tender and cooked out, but no longer.
Let the mass drain for a juice bag that you want to turn it into jelly. You do not need the last drops any. pectin-juice here, but on the other hand, there is no reason to let the good juice go to waste, let the mass drain minimum a few hours – but overnight is also perfectly fine.
Measure the juice and put it back into the pan. Tilsæt ca 5 gr flydende glucose og ca 50 gr rå rørsukker pr dl saft og kog saften op. Let it simmer on low heat until it begins to thicken slightly. It can take half an hour for a small portion of about half a liter for many hours for a larger pot full. During test the syrup until the consistency is OK. This is done by taking the icy plate out of the fridge, pour a teaspoon of juice on the, stiller den tilbage på køl i 2 minutter og tager den ud igen og rører i siruppen med en finger. Is it the right consistency? – otherwise it must cook a little longer. The plate cleaned quickly and put back in fridge, so it is ready for next test.
If you underway in indkogningen seems to juice is too tart, add just a little more sugar. Remember to sukkeriinholdet course also focused on the way, then season with forethought. Once you have added extra sugar, it is a good idea to make a plate test right away it is dissolved, when the sugar syrup thickens.
No matter how good a plate test has been made, the syrup will almost always felt a bit tykkeret when it cools down in the bottle – stop when the consistency is just by being there. Do you sense that the syrup is too thick, then add a little boiling water (did not cold water in the boiling sugar mass).
Is syrup sweet, you may. taste with a little more lemon juice or a bit of citric acid.
You'll soon notice that the syrup missing chili, so clean and halve some chillies and let them boil the syrup until you think it's strong enough. Remember that the only eat a little at a time, so it may well be in the semi-hot end of what you prefer.
Boils you only a small portion to be eaten fairly quickly, then there is no need to use preservatives. Make sure your bottles are clean and nyskoldede. The sugar preserves part and syrup kept cool.
Remove from the heat and remove the foam (it tastes good on a piece of bread).
Do you Atamon, accepted it as directed on the bottle.
Pour the syrup in bottles and close them immediately.
Tips:
You can easily use a juicer to get your fruit- and berry juice with.
When the syrup is boiled into, you can add a whole spices, if you seem to be a little more fun in syrup – vanilla is always a hit, use cereals and bars. Fish spices up, when the taste is as you want. They will not usually with bottled, but you can. I have ex. apple syrup made with the cinnamon sticks in the cylinders – it worked fine – and vanilla bars can of course sagten make and decorate.
Both pure fruit syrups and mixtures are good. With the exception of red berries, I blend rarely more than two kinds of – flavor becomes too mix when there is more than two, I think. Some fruits / berries taste after in mind not enough by itself in a syrup – here it may well be an advantage to give them a little counteraction.
If the drained juice is very sweet in itself, do not you start with a little less sugar per cup. It is easy to add more when indkogningen is in progress.
If you want to make a clean, hot chili syrup, clean and finely chopping chillies (blender or food processor is fastest). Come mass in a pot of water that just covers. Bring det i kog og lade det småsimre 10 minutters tid. Sieve the mixture through a normal køkkensi and squeeze the last remnants of the juice through the sieve with the back of a spoon. Measure the liquid and proceed as above from the country that you otherwise might have been with the juice from fruits and berries.
---
Pictures of Strawberry-rhubarb-currant-chilli syrup
Here a version with raspberries, strawberries, currants and Habanero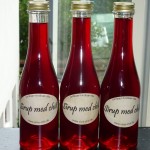 ….og her en med hindbær, strawberries, ribs, rhubarb, lots of vanilla, mixed Habanero, Red Morouga and BOC.