Goat meat tastes great in all forms and are lean and butter until tender if prepared correctly. The meat bought like in one of the organic farm shops (see links).
Here a version of goat neck which is braised and served with root vegetables. Vary the post for your favorite braiseringsmodel.
That is a large bone in the throat – så et stykke kød er til 2 maks. 3 personer synes jeg.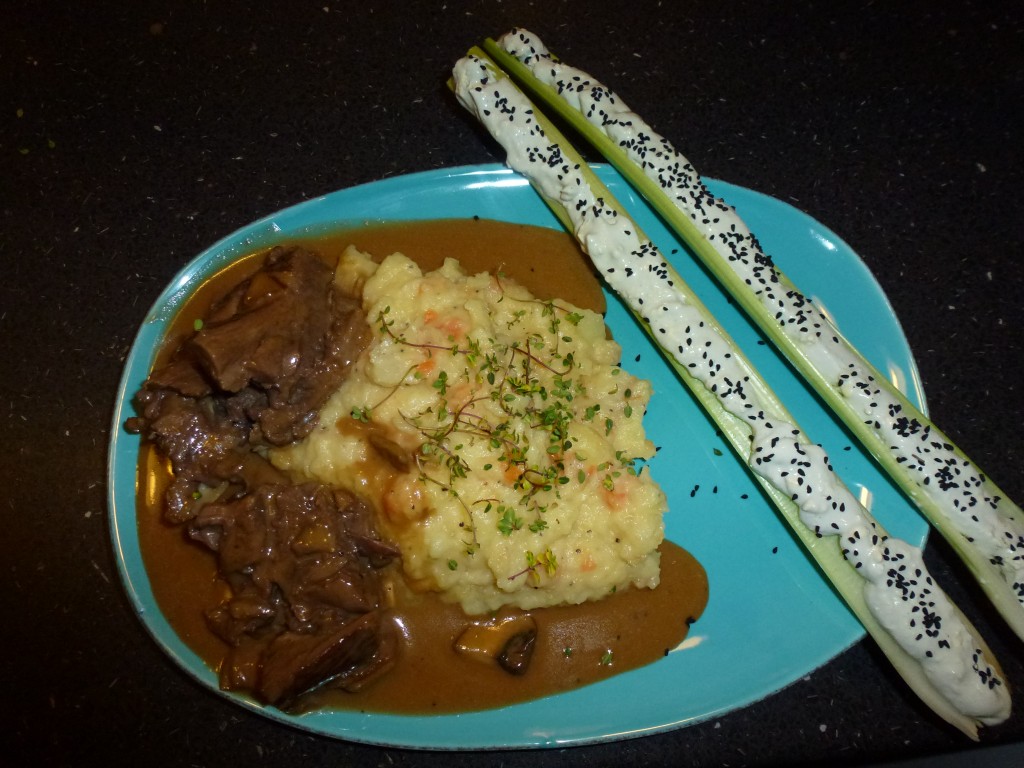 Ingredients:
1 gedehals (gerne skåret igennem til 4-6 stykker med ben og det hele)
1 stor øl eller 2 mindre (eller en øl + lidt bouillon)
Edible roots aftertaste – i.e.. potatoes, parsnips and gulerødder
Fat to fry in (f.eks olivenolie + smør)
2 – 4 forårsløg
1 – 2 stilke bladselleri
5-6 fed hvidløg
lidt chili
Gastric (kan erstattes med lidt balsamico + lidt mørkt sukker) – ca 2-3 tsk
ca 1 dl fløde + lidt mel
Markchampignons or other fungi / mushrooms
salt + peber
Butter and milk for mashing
How to:
Wash root vegetables well so there is absolutely no more land left. Peel them and save the ends and peel. Cut rodfrugerne in fairly uniform pieces and store them in a pot with cold water for later.
Sprinkle goat neck well with salt and pepper and brown it in a pot as it just may be.
Pick it up and brown rodfrugtsender and peel along with the white of spring onions. Once it has been colored goat neck back into the pot also – and beer is added.
Cut garlic, celery and the green of spring onions in half coarse pieces and place it in the pan too along with a little chilli (fresh, dried or chili sauce). There must be no more salt and pepper in now, wait with it until the sauce has to be tasted to.
Let the mixture simmer for a few hours time on low heat and turn the meat around. every half hour. Keep an eye on to be thinned with some more beer / broth along the way.
When there is a half hour turned back on root vegetables and boiled / steamed until tender – not. Stir them with a little butter and milk as coarse or fine as you prefer your mash and season with salt and pepper.
While the root vegetables steamer until tender cleaned the mushrooms and cut into slices. Toast until tender in a pan in a little fat.
When the goat neck've had enough taken it out of the pan and keep warm.
Strain the sauce and pour it back into the cleaned pan and let it possibly. boil a little in. Season with gastrik and stir the flour into the cream and smooth the sauce lightly with the. Season with salt and pepper and pour the mushrooms in.
Cut goat neck pieces (with or without legs) and heat it in the sauce before serving with bog.
Give like a little green to.
Image:
The picture is bog served with good sprinkle lemon thyme and next are two celery sticks with a cream made of blue goat cheese must in sour cream (with a fork) and sprinkled with sortløgsfrø.
Note:
Det er langt det nemmeste af få slagteren til at save halsen i 4-6 stykker med ben. Alternatively, you can do it yourself if you have a kødsav – or use kødøksen to chop it into pieces before cooking.
I have the picture first carved legs after they were prepared, which is certainly possible, but can be a mess. The meat can also easily just cut from the large leg – it's nice tender.
Goats you can for example buy in the organic farm shops – see links.