English here: Grilled or baked chilies with meat free stuffings
Here I will come up with a handful of suggestions to stuffed chilies without meat. The filling can be used in chilies of just the hotness that you prefer – they just need to be large enough so that it makes sense to fill them. We think that Jalapenos (preferably the larger ones) is perfect in size and hotness – but there's also so many other options. Over time new idéas will be posted – so drop by once in a while or subscribe to Vivis-chili on FB if ​​you like.
There is not necessarily measurements mentioned since it is more intended as inspiration than actual recipes – Look at the pictures and guesstimate.
Smoked soft cheese, pinto beans and sweet onions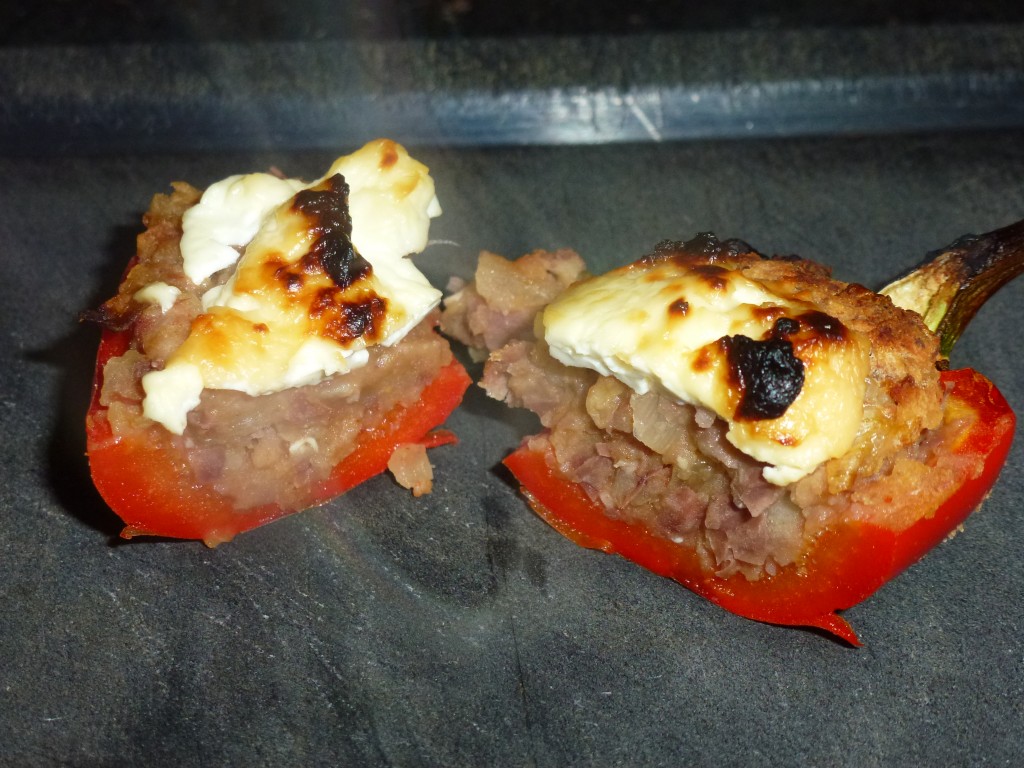 Ingredients: Chili, soaked and cooked pinto beans, onions, smoked soft cheese, olive oil, smoked salt and smoked paprika.
How to: Peel the onions and cut them into cubes which are fried golden and sweet in a little olive oil. Put beans, onions, paprika and salt in food processor and chop it into a coarse puree. Split and clean the chilis and stuff the halves with the mash. Place a piece of smoked soft cheese on top and cook / bake them in a closed grill or oven.
---
Mushrooms, butter beans and gorgonzola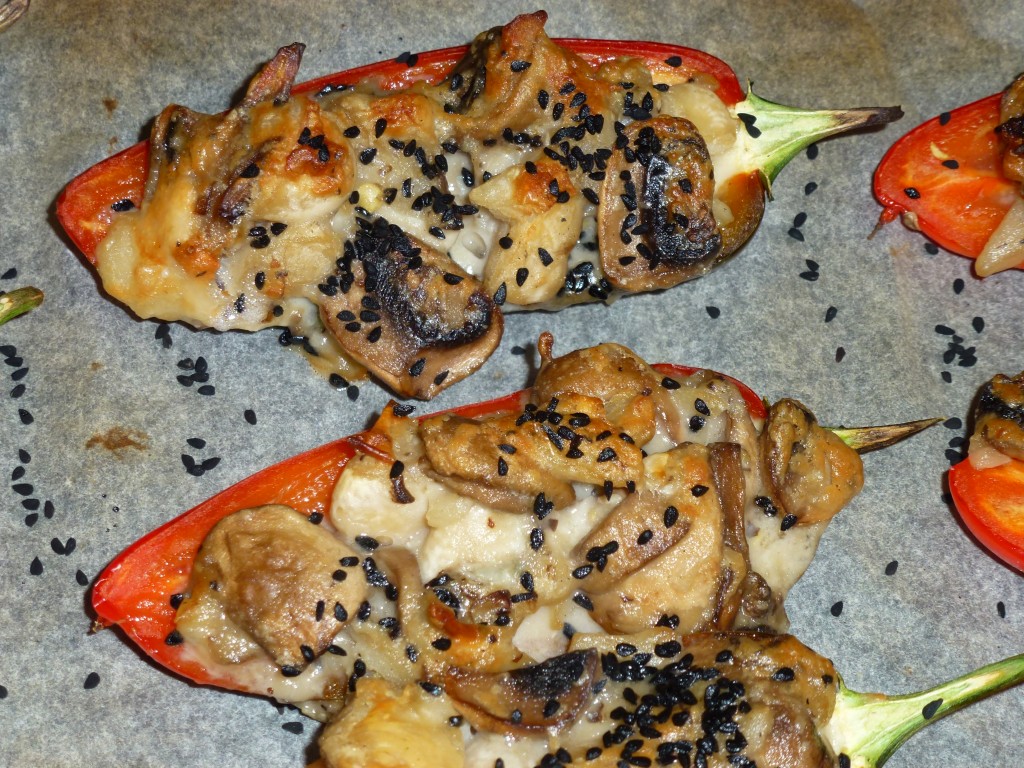 Ingredients: Mushrooms, soaked and cooked butterbeans, gorgonzola, olive oil, salt, pepper, black onion seeds (nigella).
How to: Clean the mushrooms and cut them into pieces. Fry them in a little olive oil until they have given up some liquid and this has been steamed away. Chop the butter beans while frying the mushrooms. Season the finished mushrooms with salt and a good amount of pepper. Turn down the heat of the pan and add the butter beans and gorgonzola. Stir gently until it has melted. Put the stuffing in the halved and cleaned chilis and sprinkle with nigella seeds. Grill / bake them in a closed grill or oven.
---
Hokkaido, goat cheese and black olives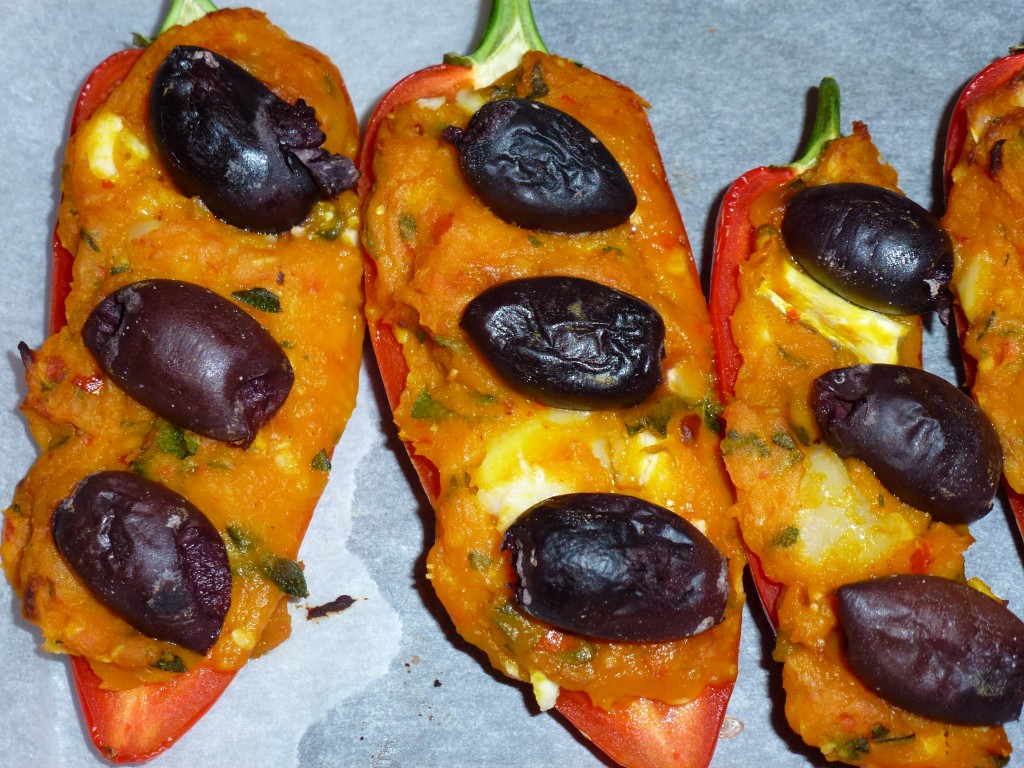 Ingredients: Hokkaido, goat cheese, black pitted olives, fresh or dried oregano, garlic, salt, olive oil
How to: Wash and core the hokkaido. It should not be peeled, but perhaps cut off. any spotted parts. Cut it into pieces and toss it with a little olive oil. Bake the pieces until tender in the oven at 200 degrees for about 30 minutes and allow to cool slightly or completely before use. Blend Hokkaido with garlic, salt and oregano – you decide how fine you blend it. Crumble the goat cheese and fold into the mixture. Add the stuffing to the halved and cleaned chili and gently push olives into the mixture . Grill / bake them in a closed grill or oven.
---
Butterbean-citron fyld og krebsehaler i hvidløgsolie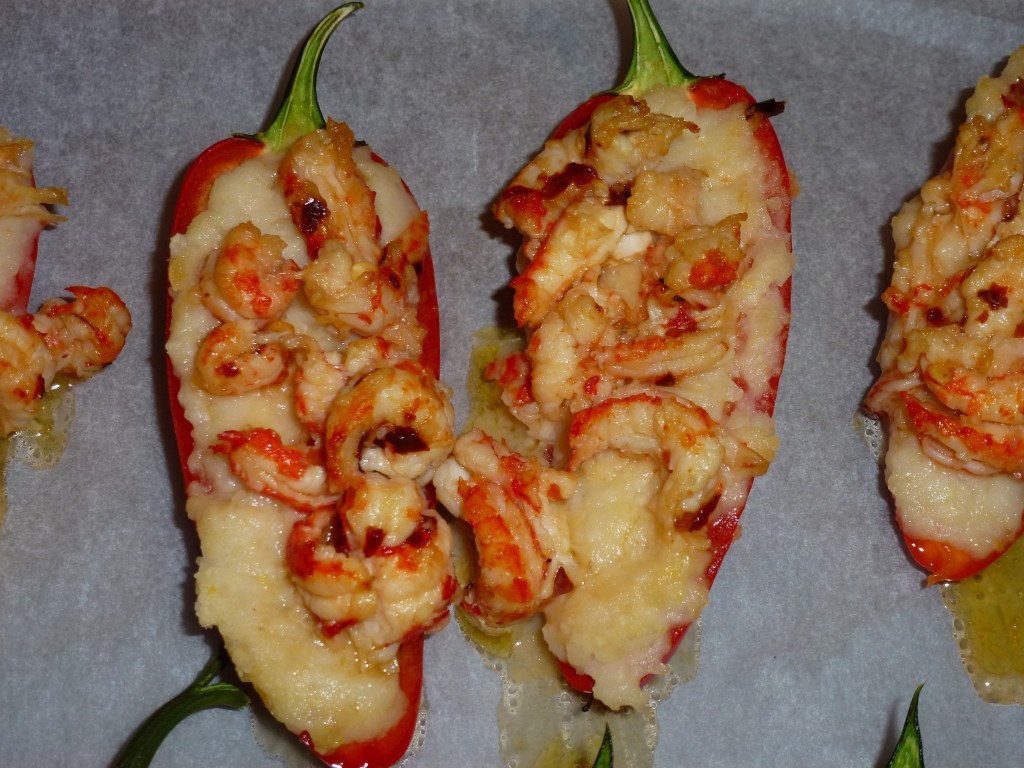 Ingredients: Soaked and cooked butter beans, lemons, garlic, olive oil, salt, chili, possibly. some chilli flakes.
How to: Blend oil and garlic together. Do not be shy with the garlic, it is the much milder when it is cooked. Let a bit of garlic oil stay back in the food processor and pour the rest into a bowl. Add the beans, salt, finely grated lemon zest and lemon juice in a food processor and blend it finely or coarsely as you like. Put some more lemon juice or a little water in it if it is too dry. Season to taste. It must be very acidic, as the lemon flavor like the garlic gets much milder when being cooked. Drain crayfish tails and toss them with garlic oil, and possibly. some chili flakes. Halve and clean the chillies. Add the lemon-bean filling and top up with crayfish tails. Grill / bake them in a closed grill or oven. Sprinkle a little fresh lemon juice over before serving and possibly. a dripping fresh garlic oil if you think.
---
Potato- and parsley root mash with lots of fresh rosemary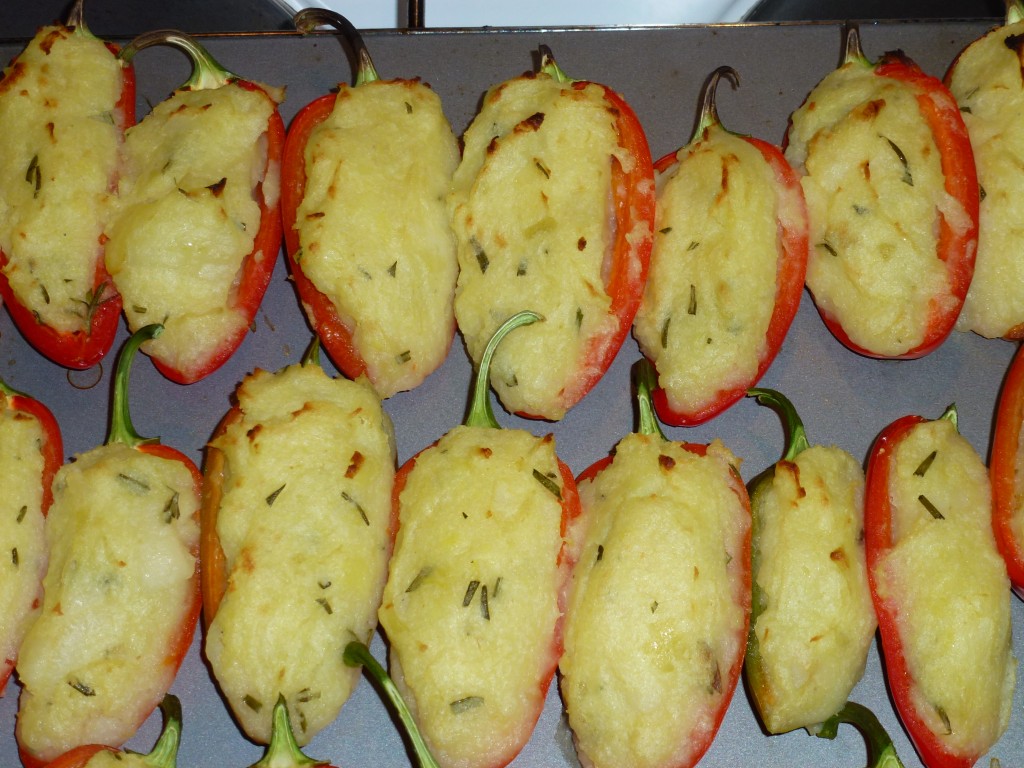 Ingredients: potatoes, Parsley root, fresh rosemary, olive oil, salt, onion powder, garlic powder, possibly. barbecue spice
How to: Boil the potatoes and parsley root until tender. Make a puree of it with olive oil, salt, garlic powder, onion powder and plenty of fresh rosemary. Do not be stingy with the spices – remember that it will be used as filling, not eaten as mash. Halve and clean the chillies. Fill with mash and maybe sprinkle . with barbecue spice. Grill / bake them in a closed grill or oven.
---
…and finally a link to more inspiration:
http://www.buzzfeed.com/emofly/31-fearless-ways-to-stuff-a-jalapeno-chile