WARNING: highly addictive.
This chili sauce is reminiscent of the style of the sweet mild 'thai' chili sauce that you can buy in stores – However, with lot's of more flavor – perhaps more like those that you get at a good Thai restaurant.
It may be thickened by adding cornflour or be boiled until right consistency – I do the latter. makes 2-3 dl sauce.
Try a single portion at first and see if it's for you, Adjust . the recipe if you like – then you can double up the amounts next times it made.
Use the sauce as a dipping sauce for everything, as a glaze for everything and to drip on everything – it tastes great – especially as sweet'n'very hot, I believe ;o)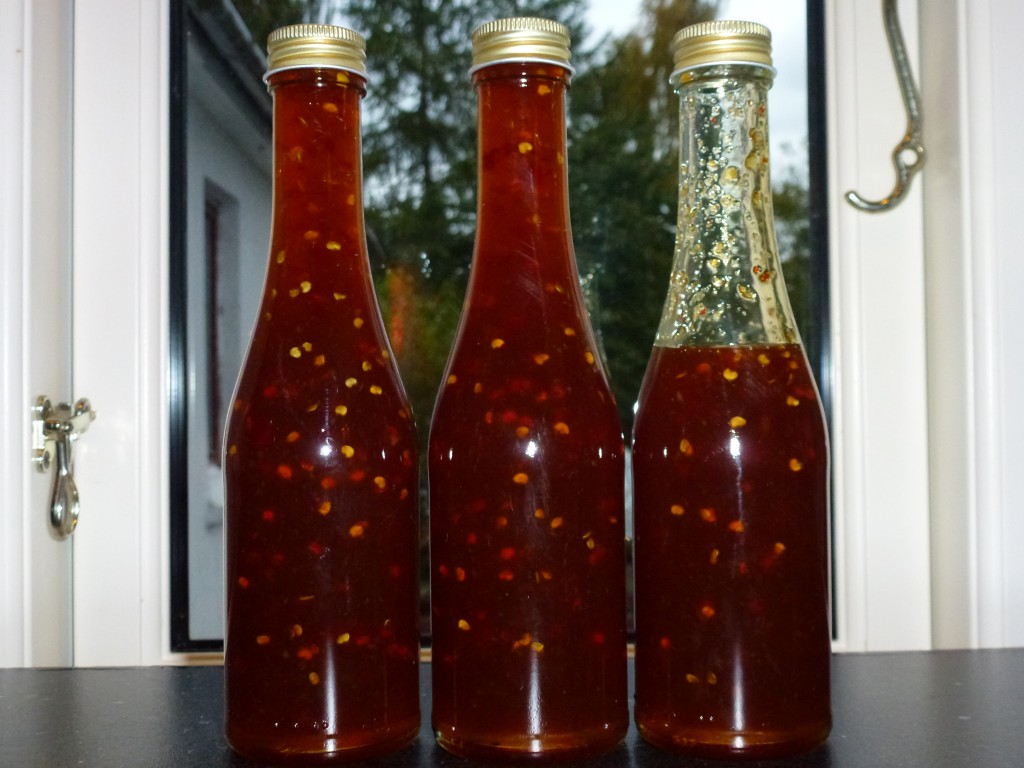 Ingredients:
Chili to taste – both volume and strength
½ head of garlic
300 gr palm sugar (in which the blocks are made of seethed palm juice) (or raw cane sugar)
1 dl rice vinegar (or white wine vinegar)
1 dl sherry (any sherry will do)
1 dl water
½ cup Fish Sauce
1 – 2 tsp salt
maybe some. 1 tbsp cornflour (i.e.. Cornstarch)
maybe some. Sodium benzoate
How to:
Pour rice vinegar, sherry, water and Fish Sauce in a saucepan with the sugar.
Bring slowly to the boil and meanwhile chop the garlic and chillies finely, but not to a mash – possibly. in food processor / blender and add to the pan. I use whole chili incl. seed and placenta – but do what you like. Pour a bit. of the liquid into the blender, it makes everything run more easily.
Simmer for 5 – 10 minutes and add salt to taste – and possibly. more chilli or vinegar.
Now you can do one of two things. Either boil the sauce until you think that it has the right syrupy consistency. It usually takes me up until 45 minutes at medium heat and remember to stir occationally and especially towards the end. If you multiply the portion up, it'l take a bit longer. The sauce has the right cionsistency when the bubbles become small and forms a kind of foam, such that one can not see the liquid in the bottom – then it needs 5 minutes more and then remove it from the heat.
Or you can adjust the thickness with cornflour which is first dissolved in 2-3 tbsp cold water and added to the ingredients in the pot. Start with half the corn flour / water mixture. Let simmer for 3-4 minutter and add more if needed. Then simmer for 3 - 4 minutes again. Remember in both cases the sauce thickens slightly when it cools.
Now you can either let the sauce cool slightly and stir in the chili distributed before pouring it into scalded and possibly. Atamonskyllede bottles – or you can pour it into bottles of the same and immediately close them.
Keep in the fridge up to a month if corn starch i s used. Should it last longer must you start Atamon'en just before the sauce is poured on bottles (den skal være under 100 grader). But why not make a fresh portion once in while instead. The starch is changing the consistency after it has been stored for some time – you can avoid that by boiling it until right consistency instead.
The reduced sauce has a very long shelf life in the fridge – but I like to add a little bit of sodium benzoate for safety's sake.
Tips:
You can easily use very hot chillies in this sauce – it need not be as mild as store bought version if you like it hotter. Finely chopped ginger can also be used for flavoring – added with the rest of the ingredients. The same applies to tomato paste – pour a small or large can of paste into the mixture and let simmer a few minutes at the end. If you use tomato paste, you must not do the corn flour version – as the tomato paste itself thickens the sauce.
One can discern Fish sauce in this – it is awfully nice, I think, but do not you care about the taste of the Fish Sauce, then halve the amount.
Bl.a. made with:
1 7pot Infinity 25 small Royal Black 7 Takanotsume for one double portion.
That was . (mega-hot)