I can not remember where I have the recipe from here and whether it is my own or borrowed and certainly facilitated – men det er en af husets karryblandinger nu og den smager godt og styrken kan justeres med chili efter ønske.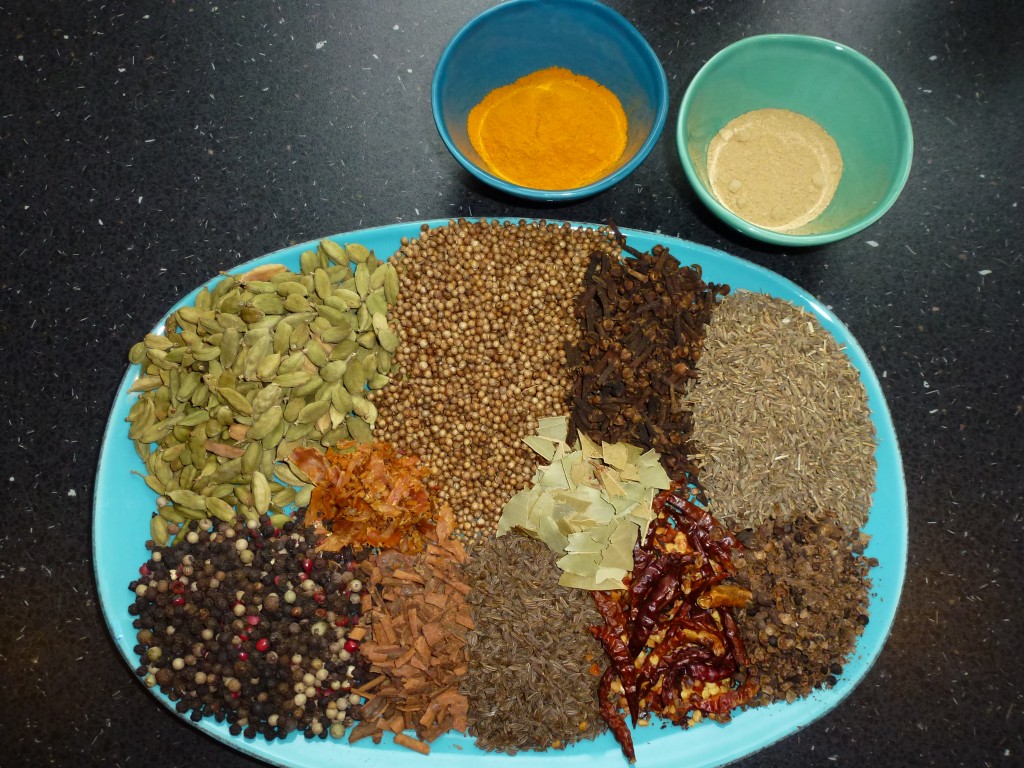 Ingredients:
1 dl hele grønne kardemomme
1 dl korianderfrø
½ cup whole cloves
½ cup cumin
½ cup whole peberkorn, black or whatever you prefer
3 stænger hel kanel, broken into small pieces
2 spsk kommen
2 spsk knust chili
1 spsk allehånde, letknust
Lidt KNUST, whole mace or muskatnød (possibly. come if you can not find another)
2 spsk gurkemeje
1 spsk stødt ingefær
8-10 laurbærblade i småstykker
How to:
The whole spices spread out in a baking pan and letristes / dried in a preheated oven (125 grader) i ca 40 minutter.
Stir them a few times along the way – they should not take color.
This makes them more brittle and easier to crush the curry powder. If you are patient enough, you can also wait to wipe them you need them – and then just tørriste them lightly before use portions.
Cool the spices easily and broken shell of kardemommen and throw it away. This can also be done as the spice is used instead. Crumble the chillies if you spent the entire small. Mix the last powdered spices in the mix.
Opbevares i lufttæt beholder og bruges ofte ;o)
Shock spices in a mortar – or use an electric spice mill – just before each use. They must be powdered, but not necessarily as great as buy curry.
They can benefit toasted lightly by either a dry pan or in ghee / butter / oil when used.
Tips:
If you use electric grinder, you do not need to peel kardemommen if you are busy – but the shell does not contribute with something interesting. I bought ground cardamom shell is not removed – for it is much cheaper and shell fills the part. Cardamom is one of the world's most expensive spices. I prefer to remove the – but that is therefore not strictly to need.
Cinnamon bars are small cassia cinnamon sticks as widely available by now. If you have the opportunity to buy ceylon-cinnamon instead, so, do it (taste even better) og brug en mængde tilsvarende 3 af de små stænger. Ceylon cinnamon is often thinner in the bark and the fine rolls can be in many layers.