Opskriften her er en som jeg har brygget sammen over lidt tid.
The combination of salts peanuts, dark sugar notes, chili og mørk chokolade er meget vanedannende hvis man er chilielsker ;o)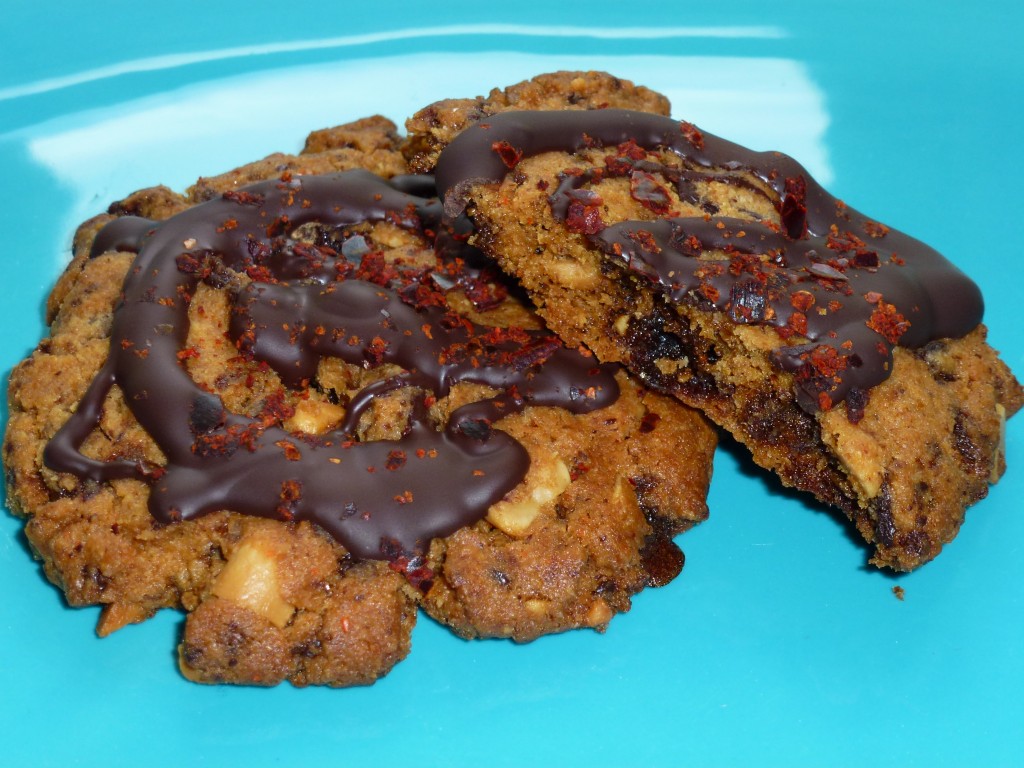 About . 32 stk
Ingedienser:
200 gr smør
250 gram creamy peanutbutter eller 300 gram crunchy peanutbutter
150 gram ristede saltede peanuts
200 gr mørk chokolade 70-80%
225 gram muscovadosukker, molasses or brown sugar
225 gram rå rørsukker
2 store æg eller 3 små
375 gram hvedemel
1 tsk bagepulver
1 tsk natron
Crushed chili powder or to taste (jeg bruger 3-4 toptsk hot pulver)
maybe some. extra chocolate and chili for garnish
How to:
Make sure the butter is at room temperature or melted before you start.
Beat butter and peanutbutter well. Whip the two kinds of sugar in – they must not whipped completely, de må gerne knase meget.
Hak peanuts og chokolade mellemgroft og hæld dem i smørblandingen sammen med de øvrige ingredienser.
Mix everything well – add a little water if absolutely necessary – but hand heat should be enough to soften the butter and combine them.
Roll balls of dough the size of a good tablespoon. Rul evt. 32 kugler med det samme, so the dough distributed 'right'.
Sæt 8 kugler på en bageplade beklædt med bagepapir og tryk dem let flade (6 – 8 cm). They flow together and a bit out during baking, so it does not matter that the dough 'break' i lidt patient. it goes nemmest if you dip your fingers in a bowl hiking when you press them flade – It does not matter that they get a little wet.
Bag dem i hold ved 180 grader i ca. 12 minutter. Keep an eye on them – maybe they should have a minute or two more or less in your oven. They must be finished, but not browned, on the surface and still soft in the middle.
List baking paper with the cookies gently plate and onto the kitchen table and let them cool a minute or two before they very carefully with a wide spatula moved to a wire rack to cool completely.
When they are cold, they can alternatively. decorated with melted chocolate and more chilli.
Store in a tightly sealed cake tin possibly. lined with baking paper.
I kagerne på billedet har jeg har brugt 3 toptsk knust chili af en hot variant hjembragt fra en tur i Indien. Cakes may take a little more chili than most people think, so be not nearly the first time.
Chilli upstairs is a 'Vaada' knust chili (pul biber) which ones you can buy from immigrant greengrocers. This is a strong possibility – they can be obtained from all mild and deropad.
Is not the chili will be some really good regular cookies without.
Tips:
Cookies do can be frozen with contains. We pack them in pairs to wrap. They can be eaten straight from the freezer.