Dessertsauce med en helt fantastisk 'sirup' som smager skønt på en god is, over en lys kage (eller chokoladekage) og risdesserten. Vær lidt varsom med chilien og smag til undervejs.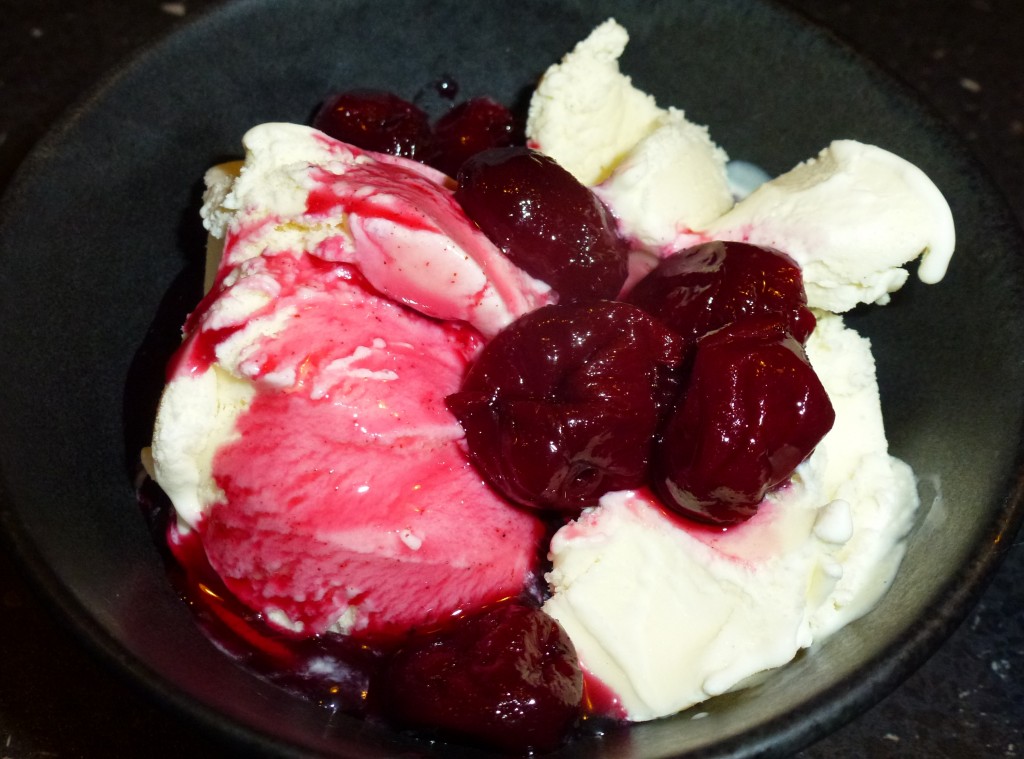 Ingredients:
1 kg rensede og udstenede kirsebær
1 flaske portvin – 7½ dl ( jeg bruger Burmester Tawny)
500 gr rå rørsukker
1 lille stang kanel
1 stjerneanis
10 nelliker
a little dried or fresh chii aftertaste
½ tsk vanillapulver eller korn fra ½ vanillastang
maybe some. ekstra friskstødte krydderier til tilsmagning
possibly. Sodium benzoate
How to:
Fill port, rå rørsukker og krydderier inkl. chili i en gryde og bring det langsomt i kog. Let it simmer until it is reduced to about half the original mass.
Si syrup and discard the spices out. Make the syrup back into the pan.
Add the cherries and bring it all slowly to the boil. Simrer 4 -5 minutter. Remove from the heat.
Fish cherries up and put it on the cleaned, scalded and optionally. sodium bezoate rinsed glass jars.
Boil the syrup again and maybe a little into – There are the cherry juice in the. Taste and. til med friskstødte krydderier.
Remove the syrup from the heat again when you are happy and add Atamon if you use it and then pour the syrup over the cherries. Close jars immediately. If there is left over syrup, then pour it on the bottle and use it for something useful.
Tips:
Residues of the syrup in the cherries flushed glass used in morgenhavregrynene or surmælksproduktet, on cheese, in sauce, a dessert, a drip of coffee, little in a glass of cold milk etc.
Sugar amount is calculated in accordance with ripe berries with a little acid. Do you have very sweet berries, you may need a little less – and very acidic, as little more.