It was just before the filling was not going anywhere, since I do not seem to pistachio and chili sounded like a special lucky combination. Jeg prøvede heldigvis alligevel – that is, as we know no sacred cows in my kitchen – things need to be tested.
The so-called pistachio paste, I really really like – in very small amounts – it just needs to be matched by some. It ended up being right pistachios and chili – little syrup to bind it all together with and thick dark chocolate. Now it just right.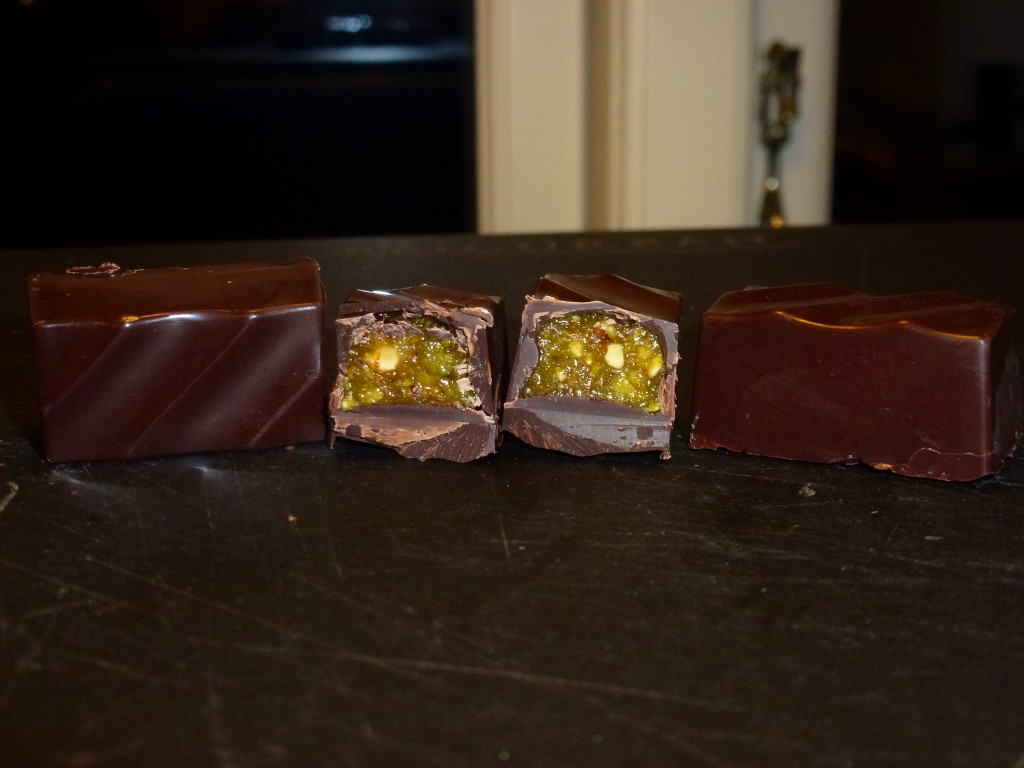 Ingredients:
Nice, dark chocolate molds
'pistaciemasse' – i.e.. dessertmasse med pistaciesmag
100 gr usaltede pistacienødder
1 – 2 tsk chili eller lidt finthakket frisk
150 – 200 gr lys agavesirup
How to:
Prepare chocolate shells, see . little about chocolate.
Finely chop the pistachios – lettest i foodprocessor – and mix with 'pistacie'massen and chili.
Stir it up with agave syrup until it has the consistency of dessert mass had from the start.
Filling the molds by means of a small freezing bag is used as a piping bag. Smooth after in each with a finger dipped in cold water.
Ask the shape of the keel ½ hour and closes with melted chocolate.