This is a delicious way to use tomatoes – in this house they disappear quite quickly as candy, hvis ikke man holder øje med dem.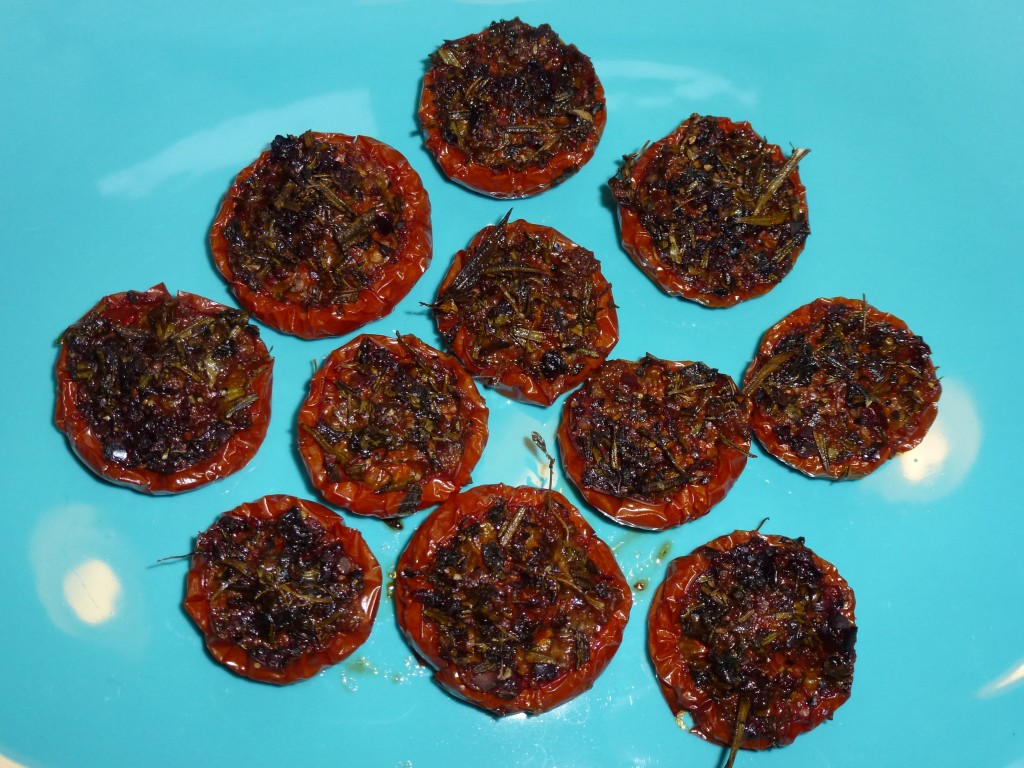 Ingredients:
1 bagepladefuld halverede tomater (go for the sweetest you can find – any small or medium size.)
3/4 dl ekstra jomfruolivenolie
1 helt hvidløg (remember that it is delicious mild in the oven)
1 – 2 friskhakket chili efter smag – chopped into pulp – or a little chili powder
2 spsk god, red balsamic vinegar
3 – 4 tsk rå rørsukker
3 – 4 tsk flagesalt – i.e.. Maldon
2 tsk groft peber
1 – 4 spsk hakket frisk oregano (1 – 4 tsk tørret kan bruges i stedet)
1 – 4 spsk hakket frisk timian (1 – 4 tsk tørret kan bruges i stedet)
1 – 4 spsk hakket frisk rosmarin (1 – 4 tsk tørret kan bruges i stedet)
How to:
Among Olien balsamic, the pressed garlic and crushed chili if using fresh chillies.
Brush the surface of the tomatoes with the oil – stir well in the way, so all the tomatoes get a bit of everything.
Among salt, sugar and peber (and powdered chili if you use it) in a bowl and mix well – mas mixture with the back of a spoon so salt flakes are slightly finer. Sprinkle the mixture evenly over the tomatoes.
Bland krydderurterne og drys dem på. Hvis nogle af dem er tørrede, so start with them.
Bages i ovnen ved 100 grader til de er nok. They can be eaten at any stage of 'drying' and tastes good. I think that they are best when slightly more than half of the liquid has evaporated.
Det tager mellem 4 og 6 timer i min ovn med halvsmå (cocktail/sherry)tomatoes – 5 – 10 timer med mellem (blomme)tomatoes. Experiment – and tastes like underway. The temperature in the oven can be set higher – op til ca 140, then it goes faster – men jeg kan bedst lide dem med den lange tid ved 100 grader. Herbs are not so well to the heat set higher – so they may well be dark. Husk at ventilen til ovnen skal stå åben.
Drys, possibly. a little extra fresh herbs on before serving if you use them as snacks / accessories.
If you'd like them very dry, it may be a little too much for herbs – You can then wait to sprinkle them over to the last hour ex.
Keeps fine a few days as they are refrigerated – but may also be stored in a glass scalded in the fridge, doused with extra virgin olive oil.
Tastes absolutely fantastic with sun-ripened tomatoes – as a snack along with some other goodies – and is excellent on pizza. Also to salads, in tomato obvious, in gryderetten and chopped drys on æggeretter.
If you do not have the opportunity to have freshly picked ripe tomatoes, so try CE. to go after small organic San Marzano or Datterino.
Vary your own spices – use export. citronpeber, røgsalt, other herbs, cumin seeds, sortløgsfrø etc.
There can also be dried at a lower temperature and over a longer period. You can easily dry completely down to the approximately. 50 grader som er de fleste ovnes laveste temperatur.
Herbs and sugar can help but linger on – but always remember salt. It is the salt which helps to draw the liquid out of the tomatoes.